October 25, 2022: This story has been updated to reflect ClubCorp's name change to Invited.
If you think golf is taking over Dallas, join the club. No, literally, join the club—at least, that's what David Pillsbury hopes you'll do. As the CEO of Dallas-based Invited, America's largest owner and operator of private golf and country clubs, Pillsbury thinks high-tech "golf entertainment" is great news for his 200+ clubs and venues nationwide. That's why he's going big with BigShots—by green-lighting a $100 million expansion plan.
Pillsbury became CEO of Invited (then called ClubCorp) in 2018 after decades of leadership roles with the PGA, Nike Golf, and American Golf Corp. Invited had focused on traditional golf clubs and country clubs since 1957, but it hadn't yet embraced the trend of golf as entertainment.
Taking the helm at Invited and buying BigShots Golf
"There was a piece of paper that had BigShots on it that was sitting around collecting dust," Pillsbury told Dallas Innovates. "I was like, 'What's this?'" It turns out someone at ClubCorp had met with BigShots, a Topgolf-like golf entertainment company founded in 2013.
Pillsbury had his team scour the marketplace, find the best tech, and ensure that BigShots' Vero Beach, Florida, facility worked to a tee.
"And that's when we bought BigShots," Pillsbury recalled. He closed the deal just six months after becoming Invited's CEO. There are currently three BigShots venues in Fort Worth, Springfield, Missouri, and Vero Beach. Three others are in development and slated to open in 2022, including BigShots Aggie Land in Bryan, Texas, and venues in Naples, Florida, and St. George, Utah.
$80M VICI Properties arrangement
Even more BigShots growth is looming. An arrangement announced earlier this month between ClubCorp and New York-based real estate trust VICI Properties calls for VICI to provide up to $80 million of mortgage financing for the construction of up to five new BigShots Golf venues in the U.S. Invited will provide another $20 million of its own for the planned $100 million expansion. One of those locations will be announced soon—and Pillsbury says the company is actively looking for a BigShots location in Dallas.
'Removing the friction' between people and golf
"I've said since my 11 years at the PGA Tour, 'What other sport has an infomercial on Thursday, Friday, Saturday, and Sunday 45 weeks out of the year?' And the answer is there isn't one," Pillsbury told us.
Yet, a barrier has long existed between enjoying golf on TV and actually learning the game, getting lessons, buying a set of clubs, finding a golf course, renting a cart, and finally teeing off on your first hole. (Most likely, right into the woods.) 
"Topgolf helped unlock the answer," Pillsbury said. "It's called friction. If you take the friction out, beginners say 'Hey, I'm gonna go to Topgolf. All I've got to do is bring a credit card. I don't need clubs. I don't need a tee time.'"
"Topgolf validated this thesis I've had for many years, which is there's enormous latent demand for golf. And I think Topgolf—and now, BigShots, Drive Shack, and Puttery—all these concepts are doing something which I call democratization of the sport. And I think it's fantastic."
Dallas as a "golf Mecca"
Speaking of Topgolf, the golf entertainment company founded in 2000 just outside London, England, now has its global headquarters in Dallas.
Drive Shack's headquarters? Dallas.
Drive Shack's new adults-only mini-golf concept, Puttery, also has its HQ in Dallas.
The PGA of America is moving its headquarters from Palm Beach, Florida, to Dallas suburb Frisco next year in a planned $500 million-plus mixed use development dubbed "the Silicon Valley of golf"—with The Link, a complementary $1 billion development, going up right next door.
Oh, and what about the second-largest owner of private, resort, and daily fee golf clubs in the U.S.? That would be Arcis Golf. And it's based here in Dallas too.
Pillsbury says a big driver for all this is location, location, location.
"The geography of Dallas is fantastic for any national footprint model," he told us. "You can get anywhere within three hours. The weather's fantastic, and it's a  burgeoning  metropolitan marketplace with a large population of affluent, demographically attractive folks."
Also, golf has history here.
"Golf is a big deal in Dallas and has been for many, many years," Pillsbury said. "Go back to the history of Byron Nelson. [ClubCorp] has been here since 1957. We think Dallas has taken its rightful place as a golf Mecca, and we're just delighted with the number of golf companies that have come to Dallas."
Golf tech and golf entertainment
Invited is coming a bit later to the game with BigShots, but Pillsbury says that actually gives it an edge.
"We're a new entrant, so we don't have the baggage of being the first guy in," he said. "Topgolf 20 years ago had new technology. Probably 50 of their [locations] still have the RFID ball with the chip in the ball, and that's old technology now.  Nobody will do that going forward, including Topgolf."
New golf entertainment venues now use either camera-based tracking or the radar-based option, Pillsbury says. 
"We happen to be radar-based because we think it produces better data, which then translates into the game and the scoring and all the pieces that add that dimension to the experience."
Pillsbury says BigShots also has "a different feel, a different attitude."
"We think it's a more of a premium experience," he said. "We have scratch kitchens—everything we make is from scratch on property. The food is a really important part of our model. We also have games that we think are more cutting edge."
Along with driving and putting games, BigShots has games for people who can't hit a ball straight or at all—including non-skill-based, randomized games like Pinball and Knockout. 
But at the end of the day, even Pillsbury admits there's not a lot of difference between BigShots, Topgolf, and Drive Shack. "Essentially, it's pretty close," he said.
Still, he believes there's plenty of room for BigShots to grow. 
"There are plenty of markets that can support this. We don't see any constraints other than capital, and I think we've solved that," Pillsbury said.
Managing threats and opportunities
Pillsbury says he spends around 75 percent of his time focused on running Invited's business, working with his leadership teams, and making sure his clubs are getting the support they need to deliver for their members.
"I spend probably 25 percent of the time thinking about the future, trying to anticipate what's coming," he said—both good and bad.
Water shortages, tight labor markets, income inequalities
"I think the challenges are going to be around natural resources. Water, particularly in the West—is going to continue to be a challenge," Pillsbury said.
The tight labor market affecting businesses across the U.S. has been hitting ClubCorp, too.
"It appears some of the challenges we're having around labor are not, unfortunately, temporary," Pillsbury said. "That's been very challenging. Fortunately, our demographic is doing fine economically. But I do worry about the working class, and the fact that they're not doing as well economically—and eventually that's going to cascade and impact the more affluent demographic categories. So I worry about that."
Pillsbury also thinks a lot about capital and capital allocation, "because this is a capital-intensive business."
But one thing he didn't even talk much about three or four years ago is on his front burner now.
Climate change and 100-year rains happening "all the time"
"Climate change is a big deal for us," he said. "We have a lot of real estate, and it's very sensitive to floods and extreme weather events. And insurance on land improvements is virtually unaffordable at the moment. So there's a lot of risk around climate change and your physical plant being damaged as a result, and having to pay for that without insurance. That's tricky, and I worry about that, because that's not going to go away."
"When you look at markets like Dallas where you've got Rowlett Creek, you've got all this watershed from Frisco south that now is putting enormous pressure on these rivers, these water distribution channels. They can't handle the volume. And most of those rivers run through all the golf courses in Dallas."
"Every time there's a major event, there is serious damage. Unfortunately, these major events—they used to call them 50-year rains and 100-year rains—[now they're] happening all the time. We've had four of them in the last year! So I worry about climate change, and the impact that it's going to have on our business," Pillsbury said.
On the bright side: opportunities
Pillsbury sees lots of room for optimism, however. One thing he's most excited about is technology.
"BigShots is a very exciting, vibrant business for us," he said. Invited is now incorporating BigShots technology into many of its country clubs, City Clubs, and Stadium Clubs.
"We've got four lines of business," Pillsbury said. "We've got golf and country clubs. We've got City Clubs. For example, we have Tower Club Dallas at Thanksgiving Tower with a BigShots lounge on the 48th floor," where members can play 18 holes of simulated golf high above downtown Dallas.
Invited also just opened a BigShots lounge in the Metropolitan Club in the Willis Tower in Chicago (formerly Sears Tower).
"And then we've got Stadium Clubs at Texas Tech, UT [Austin], Baylor, where we have city clubs inside of collegiate football stadiums," Pillsbury said. "We're going to be bringing BigShots into those as well. So we are now pushing our BigShots technology into our core business channels."
Not a golf company. A lifestyle company.
Invited wants to be thought of as a lifestyle company, not a golf company. 
"We've got a big concert at Gleneagles Country Club on the driving range this coming Wednesday night with [country music singer] Lee Brice," Pillsbury said. "That's a great example of what we call Club Life experiences."
From culinary creations to a speaker series with former Dallas Cowboys to robust racquet sports and aquatics programs, the company tries to keep its members engaged and coming back for more.
That happens virtually, too—something that happened a lot in the first year of the pandemic, but that's really caught on.
"We do a virtual winetasting where we ship the wine to your house and you do the wine tasting on Zoom with a winemaker," Pillsbury said. "Virtual magic shows. You name it, we've done it all, and we continue to do it virtually. All of these things really add up to lifestyle. It's all the things that accrue to you when you are a member, and part of this community that has all these cool amenities and services."
The big driver moving forward: BigShots growth
Invited will continue acquiring golf and country clubs, Pillsbury says. But the company plans a "steep" growth curve for BigShots that could mean even more units added. 
Starting with what Pillsbury calls the "VICI five pack," BigShots will have 10 open locations before long. "And then we'll want to double that in 2023 and 2024," Pillsbury said. "So it's a pretty steep curve."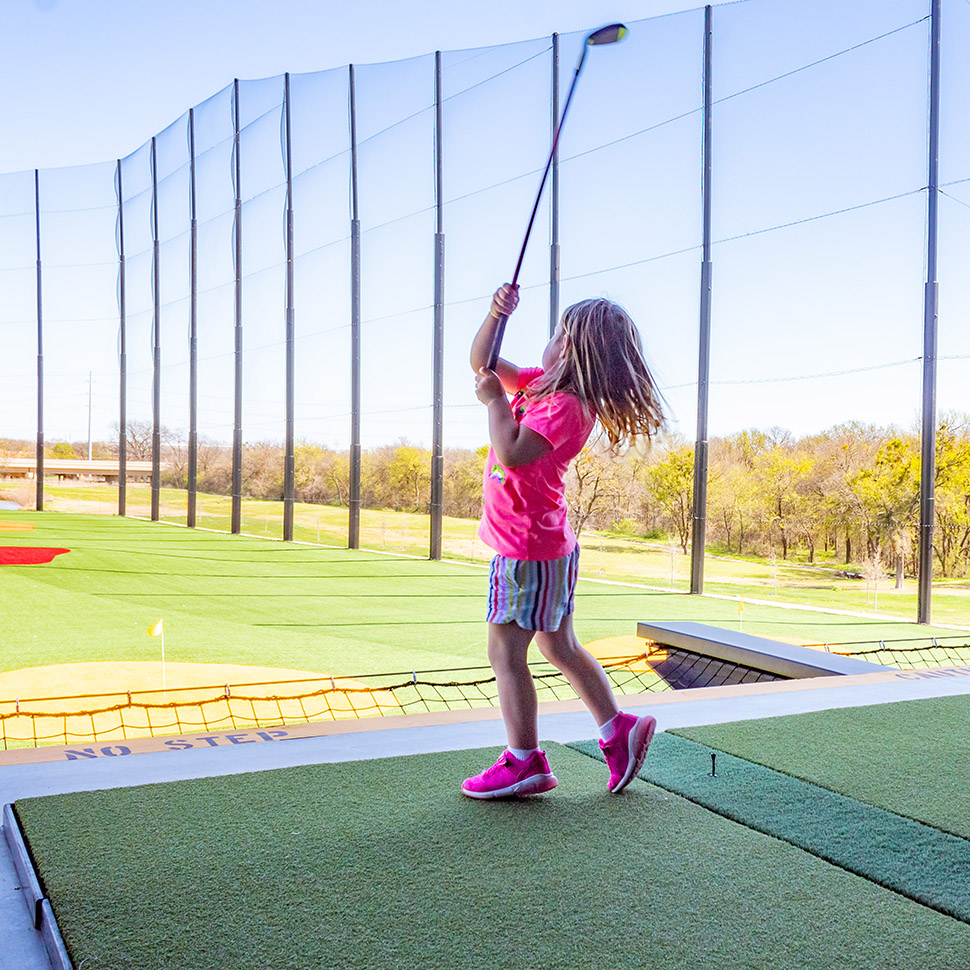 The trick, the CEO says, is finding the right land for a venue like BigShots.
"For one of these to make economic sense, you can only go so far on the land value," he said. "It's generally not the highest and best use for a piece of real estate. So there needs to be some factor—like, you need an entertainment anchor in a broader development. Or you have a parcel along a freeway that you really can't develop for anything else."
"If it's well located, by definition the value goes up. So there's a tension  between having a good location, and being able to afford the land. Bryan, Texas, and Naples, Florida, are both leases with governmental jurisdictions that own the land, because we can make the economics work. We can never have afforded to buy the land. It's too expensive."
Pillsbury thinks about all this when he actually makes it out to the links on a course like Las Colinas Country Club, which is owned by Invited. But just because he's a big-time golf CEO doesn't mean it's a walk in the park.
"I think the lowest I've ever scored was an 88, I'm sorry to say," Pillsbury said. "From 25 yards out I'm fine. It's the short chips right now that are a nightmare for me. I can't chip! But I actually feel like I'm about to break through to another level. As soon as I get my short game together."
Yeah, right. Golf is a game that will always drive you crazy, even when it gives you hope on one hole before dashing it on the next.
Sound familiar? Join the club.

Get on the list.
Dallas Innovates, every day.
Sign up to keep your eye on what's new and next in Dallas-Fort Worth, every day.