The Design With a Big 'D' series digs into the scope and depth of the Dallas-Fort Worth UX/UI industry as the region becomes a hot spot for design talent and companies. To follow the series and get the news on what's now and next in Dallas-Fort Worth, sign up for Dallas Innovates Every Day.
---
The user experience sector is exploding in the Dallas region. That's the observation of University of North Texas' Michael Gibson, interaction design program professor at the University of North Texas. Gibson says he's seen an influx of workers with user-experience skills from higher-cost places such as Oregon, Austin, and San Francisco to the region.
"Dallas-Fort Worth is viewed as extremely liveable," he says. "The (work) market here is really robust. People love the idea of working in Austin (for example), but it's expensive, and there are a jillion people trying to get the same job as you."
These professionals head to where there is work: Dallas-Fort Worth has added more than 800,000 jobs since 2010. Employers report the widespread hiring of workers with user experience skills (which cover an increasingly broad range, from design research to user-interface testing to graphic user interface (GUI) builder).  Nearly 16,000 of these workers claim UX skills, according to the EMSI labor market analytics firm.
Nearly four out of 10 workers in Texas with user-experience-related skills live in Dallas-Fort Worth.
It might be a surprise to some to learn that the region employs more workers with those skills than  Silicon Valley, Austin, and metro Denver. This is no surprise to the likes of Michael Courtney, a futurist and market researcher who was involved in incorporating the first camera into a cell phone when he was working at Nokia.
"In general, Texas has been a good market for (job) growth," says Courtney, founder of Aperio Insights. "There are lots of tech-savvy people, and they stayed here, even after the telecom (bubble bust). We have a large population of people who are good at dealing with things that are complex."
The region's strong tech pedigree remains. In fact, nearly four out of 10 workers in Texas with user-experience-related skills live in Dallas-Fort Worth, according to EMSI.
Dallas-Fort Worth is among the top 10 metro areas, in the number of high-tech jobs, computer occupations, and software developer and computer programming jobs, according to an analysis of federal jobs data.
BY THE NUMBERS
The Dallas Region employs large numbers of tech workers at varying occupational scales, including being home to the seventh biggest high-tech workforce in the U.S. For the decreasingly smaller subsets of computer occupations and software developers and programmers, Dallas ranks sixth and eighth, respectively.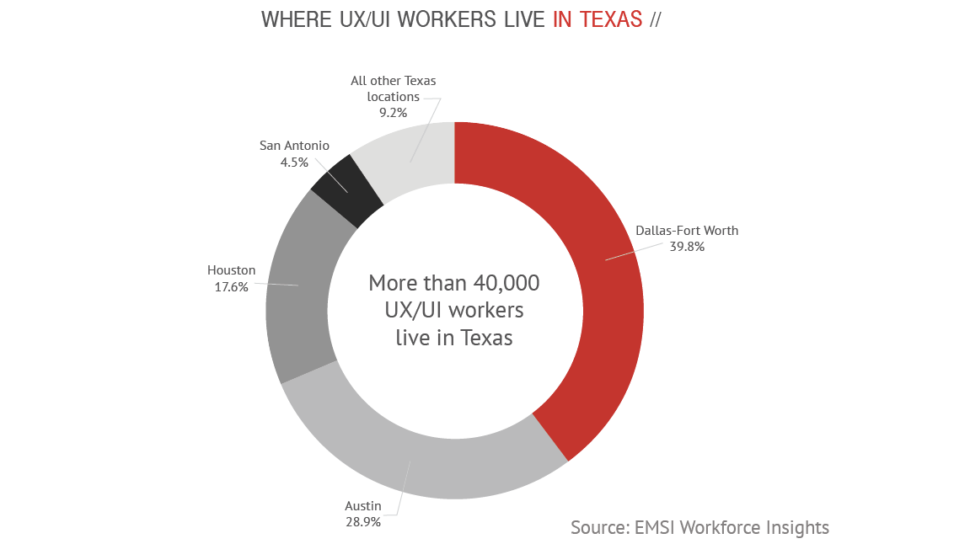 A version of this story was first published in Sept. 2018 in a Dallas Regional Chamber brochure: "Design With a Big 'D'".
---
READ NEXT
Part one examines DFW as a UX hotspot. Today, four out of 10 Texas user-experience professionals work in Dallas-Fort Worth.
Part two looks at the beginnings of the conference. Big Design co-founder Brian Sullivan shares its origin story.
Part three shares insights for how design pros help companies such as Walmart, Accenture, Bottle Rocket, Sabre, and more gain competitive advantage.
Part four covers a few big thinkers who are leading by design at companies such as Capital One, BBVA, Intuit, and USAA. Whether it's slaying piles of paper receipts at tax time or making shopping an adventure, these Dallas area thoughtleaders are making their marks in their respective industries. The common thread? Dogged persistence.
UX/UI designers and experts are integral parts of many company operations and span across almost every industry. The Dallas-Fort Worth region has no shortage of thought leaders who are helping create the solutions for some of today's most popular products. Here are six you need to know.
Tap a menu on your smartphone to pay for your coffee, or edit a Word doc. Either way, you can think of Norm Cox. The North Texan was was on the Xerox team that developed the graphical user interface systems that we still use today.
In the service economy, winners will be companies who can best anticipate customer needs and can provide the best customer experience. Enter Extended Reality. Here are four DFW companies making bets on its future.
From developing autonomous trucks to incorporating science and the arts, universities in Dallas-Fort Worth are churning out UX-perts
Multi-dimensional UX: Preston McCauley has been working to help UX professionals discover new ways to approach the craft.
It would make sense that the best education in user-experience would involve a first-person experience. It's about finding needs and figuring out how to fill them.
The user experience sector is exploding in Dallas-Fort Worth. That's a good pairing with the region's history as a high-tech hotbed.
There are plenty of area associations, events, organizations, and educational institutions to help designers brainstorm, commiserate, learn, and hone their skills. Here's our resource guide to get you started.
#DesignThinking #UX/UI #DesignWithABigD

Get on the list.
Dallas Innovates, every day.
Sign up to keep your eye on what's new and next in Dallas-Fort Worth, every day.