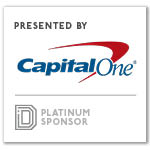 Just a few weeks ago, I was in an interesting position. I was interviewing CNN's Anderson Cooper at our Capital One campus in Plano, Texas. We had invited him to be our keynote speaker for the Collin County Business Alliance's (CCBA) 8th Anniversary Luncheon. He shared incredible endeavors that have taken him around the world in search of truth in the midst of catastrophic events—often to war-torn places like Syria, Iraq, Bosnia and Rwanda.
The room was transfixed. While I've never jumped into the middle of a war zone, it did get me thinking about the many places I've traveled over the years. Across different regions and cultures, I've seen communities struggle when local businesses don't engage. On the other hand, I've witnessed many vibrant areas where local leaders and local businesses work together to get things done.
As we celebrate eight years of the CCBA, I'm more convinced than ever that local businesses must work together to ensure that Collin County and the greater Dallas-Fort Worth region continue on their current upward trajectory. North Texas has seen unprecedented growth in recent years, and while that's something to be proud of, it also creates unique challenges as city services must reinvent how they support this level of growth. Our current population of 1 million is projected to rise to 3 million around 2050.
Now more than ever, we must transcend city boundaries and cooperate on a regional level to address our most critical needs. By partnering with stakeholders across North Texas, the CCBA has worked for nearly a decade now, as a united front, to address key issues around water, education and transportation.
Here are three key things we learned along the way.
The Power of Partnerships
Since 2011, we've seen more and more how important it is for the CCBA to foster strong alliances with key stakeholders in the community. When local businesses, chambers of commerce, city councils and the school systems can align on key priorities, meaningful interactions quickly follow.
I saw this first-hand across initiatives like #CollinCountyVotes, where we leveraged key relationships to amplify our message of civic engagement. We convened public policy meetings, facilitated local mayoral candidate debates and provided residents with non-partisan information to raise awareness of important policies and referendums that would impact our region. By combining partner marketing efforts and materials to provide a holistic view through CCBA, we saw great results in increased voter turnouts across multiple local elections.
Now, we've turned our attention to amplifying our #CollinCountyCounts initiative, making sure local residents know how important an accurate 2020 Census count is. As populations expand, so do needs throughout the area, including school capacity, housing prices, additional development for mixed and residential use, and increased demand for police and firefighters. For every resident who isn't counted, we'll lose $11,610 in funding along with the potential for additional congressional seats. We're working together to get that message out there.
Thinking BIG to Elevate Collin County
As we work together to create innovations that shape the future, we simultaneously seek to learn from respected leaders from the state and national level who can broaden our thinking.
I loved being able to bring Anderson Cooper to Collin County. Not just so that our community could hear from him and get his perspectives on the state of the world, but also to share with him all of the great things going on across North Texas. While he joked about moving here, I do think there's value in bringing high-profile names in to visit Collin County and elevating the work we're doing to the national stage.
In years past, we've hosted Arianna Huffington, President George W. Bush, Former UK Prime Minister David Cameron, Former Secretary of State Colin Powell and Governor Greg Abbott. By bringing high-impact speakers to our county, we're able to showcase all that our community has to offer, while making influential people aware of our top priorities for continued growth and vibrancy. At the same time, we're sharing a framework that we hope other communities find value in, so they can simultaneously maximize their own efforts.
We Need Every Business Leaning In
One of our key accomplishments over the years has been getting businesses more engaged in highlighting issues from the local community and taking the initiative to improve things. DFW has become home to many corporate headquarters over the years, and it's imperative that our business leaders align on shared goals and work toward solutions for the good of our entire region.
The war for talent is regional and we should all be interested in keeping our cities attractive for families and workers who are considering relocation. Early on, we realized the biggest threats to continued growth were water shortages, transportation gridlock and shortfalls in education.
By keeping our focus on these key topics along with civic engagement and voter turnout, we've been able to move the needle on several fronts. Most recently we lent our voice in support of House Bill 3, which will improve public school finance reform.
Again and again we find that informed communities help influence policy and legislative reform, which is critical for continued economic success. We've convened roundtables to strengthen the stakeholder alliances around education reform, transportation bills and tax policy.
I'm extremely grateful for the contributions of each of our CCBA board members. And while we're excited and proud of the way we've moved the needle over the past year, there's still a lot of work to be done. We must all lean in and work together if we want to continue the incredible momentum we've seen over the past several years.
From Collin County to the broader Dallas-Fort Worth Metroplex, we all have a responsibility to take action now to shape the future of North Texas. Let's make the next decade even better than the last.
Sanjiv Yajnik is President of Capital One Financial Services and serves on the Capital One Executive Committee. Within the community, he serves as Chairman of the Collin County Business Alliance (CCBA), Chairman of the nationally-acclaimed Dallas Symphony Association and sits on the Board of the National Academy Foundation (NAF) and serves as its Treasurer. Sanjiv believes that vibrant businesses and vibrant communities go hand in hand, and he is passionate about turbo-charging innovation across Collin County and Dallas-Fort Worth.

Get on the list.
Dallas Innovates, every day. 
Sign up to keep your eye on what's new and next in Dallas-Fort Worth, every day.