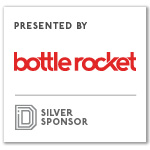 Just one month into its eleventh year, Bottle Rocket continues to post an impressive track record of growth, as evidenced by its successes in the last five quarters. With monthly revenue hitting an all-time high (March 2019 has been documented as the highest producing month in the company's history), Bottle Rocket is laying a sustainable foundation for its future while advancing its ability to provide comprehensive solutions that help clients navigate and win in the vast and ever-changing world of digital.
"As leaders in digital transformation and connected experiences, now, more than ever, our clients are looking for us to lead the way. Customers' needs and expectations can shift on a dime, and our clients must be prepared to deliver, or their competitors will," states Joslin Sansom, Bottle Rocket's VP of Client Success, Strategy and Transformation. "Helping our clients succeed and outperform their competitors depends on our ability to continuously deepen our knowledge, expand our competencies, and find new and different ways of connecting digital consumers to what they want."
Bottle Rocket's latest strategic priorities include the addition of an SVP of Experience Design (XD) to lead the organization's award-winning staff of design strategists along with new senior leadership to head up its emerging business strategy, analytics, and change management practices. The company has augmented its Project and Program Management Office to be able to fully support its clients through difficult and complex internal agile transformations while its emerging Product Management practice continues to help clients build digital products that are objectively valuable to customers, and in turn, delivering winning business strategies and increasing their speed to market.
About Bottle Rocket
Bottle Rocket is a Connected Lifestyle specialist and a designer and builder of preeminent technology-enabled experiences. For over eleven years, we are privileged to have partnered with many of the world's most iconic brands to deliver sustainable competitive advantage and undeniable business impact. Our over 450 connected experiences continue to create meaningful connections between brands and consumers and have changed how our clients compete and win in the marketplace. Bottle Rocket is a strategic partner within the worldwide WPP integrated communications network. To learn more, visit us at bottlerocketstudios.com or drop us a note at [email protected].

Get on the list.
Dallas Innovates, every day. 
Sign up to keep your eye on what's new and next in Dallas-Fort Worth, every day.