Texas-based Hypergiant, an artificial intelligence company announced its launch today.
The firm, with offices in Dallas, Austin, and Houston, describes itself as "the office of machine intelligence for the Fortune 500" in a release. Its three strategic divisions — Hypergiant Space-Age Solutions, Hypergiant Applied Sciences, and Hypergiant Ventures — address the enterprise, scientific, and AI startup sectors, respectively.
Serial entrepreneur Ben Lamm, co-founder and CEO of Hypergiant, said it offers a completely new model for a new industry. The company's tagline, "Tomorrowing Today," nods to Hypergiant's mission to help major brands navigate and capitalize on the fourth industrial revolution of machine intelligence tech.
The AI startup is "sector agnostic" in terms of business areas where its technology can be deployed, Lamm told Dallas Innovates, adding that Hypergiant's machine learning solutions can address almost any business pain point.
'WHERE IMPOSSIBILITY INTERSECTS REALITY'
The enterprise AI marketplace is rapidly growing, but also is facing challenges. The release pointed to research that found 91 percent of executive decision makers see significant barriers to adoption and a Gartner study with execs reporting up to 85 percent of AI projects won't deliver because of data bias, poor team management, or unsuitable algorithms.
"AI is the most transformational technological advance we've made as an industry …"

Ben Lamm
At the same time, Accenture's recently released Technology Vision 2018 report found 66 percent of global respondents planned on investing in AI over the next year, topping a list of emerging technologies that included the Internet of Things, robotics, blockchain, and virtual reality.
It's "a space where impossibility intersects reality," according to the company.
 "AI is the most transformational technological advance we've made as an industry, but in the current landscape it's too difficult and risky for enterprise companies to jump in with both feet," explained Lamm.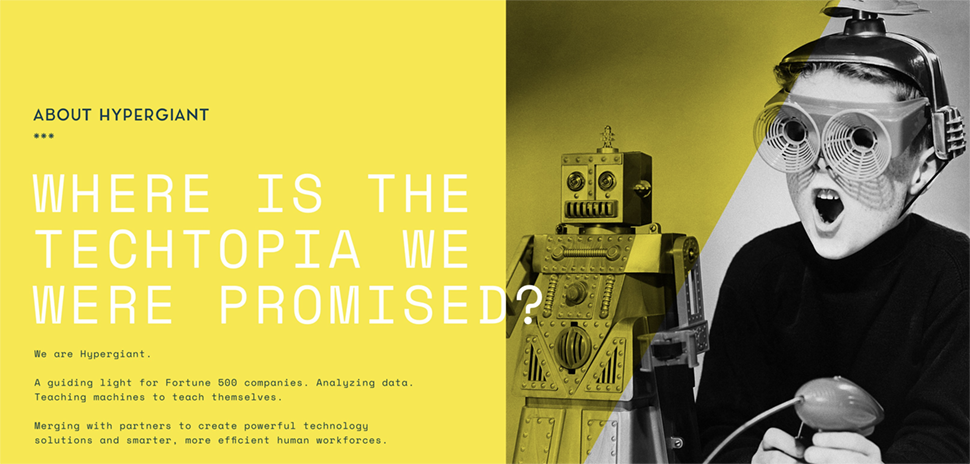 "They need solutions, done the right way the first time, and faster than it takes them to create in-house," he said. "We created Hypergiant to be the guiding light for brands to start implementing AI and AI-related technologies, today."
THREE DIVISIONS IN FULL OPERATION
Hypergiant is taking a somewhat holistic view of the AI landscape. Lamm said the company doesn't believe any one company will "win AI" and that Hypergiant's three-pronged approach is the right model in the emerging AI frontier.
An example of Hypergiant's machine intelligence in action can be found at TGI Fridays, one of the company's first customers of the Hypergiant Space Age Solutions division. It created an AI-driven bartender called "Flanagan" (named after the Tom Cruise character in the 1988 movie Cocktail) that used AI to create personalized drinks based on customers' moods and flavor profiles, Lamm said.
Hypergiant is taking a somewhat holistic view of the AI landscape.
"Customers get personalized, tailored drinks and TGI Fridays gets to learn more about what their customers want and celebrate their bar-centric history," he said.
Hypergiant Applied Sciences is the company's product innovation division with a focus on invention and field testing technologies. With proprietary patents, Hypergiant Applied Sciences researches, develops, and commercializes AI innovations, according to the release.
And through its venture capital division, Hypergiant Ventures, the company aims to make investments in companies that are contributing to the rapid advancement of the machine intelligence industry.
THE FUTURE OF AI
Looking toward the future of AI, Lamm sees the technology as just starting to realize its full potential. Over the next two years, it will take shape as a "must-have" for brands from a competitive advantage perspective — and even as a simple necessity to compete in a dynamic business ecosystem.
Looking out to the next 10 years Lamm believes AI will move beyond "must-have" for businesses to become a technology that will underwrite every business operation.
"It's going to be as core to business as email or the cloud," Lamm said.
"It's going to be as core to business as email or the cloud."

Ben Lamm
Along with TGI Fridays, Hypergiant launched with Fortune 500 companies including Bosch, and Schlumberger as clients as well as five strategic partnerships, including GE and Adobe, within its Hypergiant Space-Age Solutions division. Hypergiant Ventures has made investments in Pilosa, Cerebri AI, and Clearblade.
It's been an "insanely productive stealth period," Lamm said.
Hypergiant was founded by Ben Lamm, John Fremont, and Will Womble.
Lamm, executive chairman, and CEO of Hypergiant, also is founder and CEO of conversational intelligence platform Conversable. Previously, he was the founder and CEO of Chaotic Moon Studios, which was acquired by Accenture, and gaming company Team Chaos, acquired by Zynga.
Fremont is chief strategy officer of Hypergiant, and was previously the artificial intelligence lead for Accenture.
Womble is chief revenue officer of Hypergiant. Prior to Hypergiant, he was the energy/oil and gas go-to-market lead for North America at Accenture and the North America lead for design and innovation across all sectors at Accenture.
Hypergiant is backed by Mythic Ventures, Align Capital Partners, and Beringer Capital.
READ NEXT
Get on the list


Dallas Innovates, every day. 

Sign up here to get what's new and next in Dallas-Fort Worth.