Demand for private jet travel will only increase in North Dallas and Collin County with the influx of new corporate headquarters and campuses.
And Addison Airport wants to be ready.
For now, rows of old metal airplane hangars offer a stark contrast to the upscale Addison Circle shops, restaurants and apartments just across the street. .
Business Aviation Group aims to change that with a new 22,500-square-foot terminal and 56,000-square feet of new hangar space specially designed for long-range business jets. The old sheet metal hangars will be torn down.
ROOFTOP RESTAURANT AND OBSERVATION DECK
The second floor of the new terminal will have a rooftop restaurant and observation deck that will be open to the public, not just airport users.
"It's the biggest redevelopment that the airport has ever undergone," said David Vaughan, co-principle for Business Aviation Group. "We're taking an area that's under utilized and putting a facility on it that will be gorgeous. That's the center of town and very conducive for hosting all kinds of events"
Construction will start next year and the facility is scheduled for completion in 2019.
The redevelopment also includes a 5-acre airplane ramp to safely handle larger aircraft traffic.  Other perks include an indoor auto-spa where customers can get their cars detailed and a valet service.
The airport currently has more than 600 aircraft on-site and logs 95,000 flight operations per year. That will likely increase when the new FBO opens, said Darci Neuzil, deputy director at Addison Airport.
Flight operations haven't caught up to the pre-recession peak of 140,000 operations in 2008.
Still, the airport has set a record for revenue every year since 2012. And fuel usage has increased every year since 2009. The airport fills in an important niche in today's corporate travel industry.
"The business travelers often have changing travel requirements and the need to go places that commercial airlines do not serve," Neuzil said. "Business aircraft can take travelers more efficiently and quickly to their destinations avoiding congested airports."
Other perks include an FAA-manned control tower, 24-hour customs services, no landing fees and more than 70 related businesses on-site.
Business Aviation Group will develop the project and will own the facilities under a 40-year agreement with the city. A third-party will operate the facility.
ADDISON AIRPORT COULD EXPAND MORE IN THE FUTURE
Future expansion could add another 62,500 square feet of hangar space and additional office space.
"Our vision is to design, develop, and construct a world-class business aviation campus," said Iver Retrum, co-founder and co-principal. "There is a need to support the continuing growth of the large business jet market within the region."
Business Aviation Group won the request for proposal from the town recently.
The airport opened in 1957 as a private airport with two runways, though one closed to make way for hangars. Addison purchased the airport in 1976 so it could better control zoning and development in the area.
Negotiations are still ongoing for the city's participation in the new terminal project, said Joel Jenkinson, director of the airport.
"Typically, the airport does not invest in new facilities beyond some site preparation work, funding for airport development projects such as this one come from private third-party sources," Jenkinson said.
PHOTO GALLERY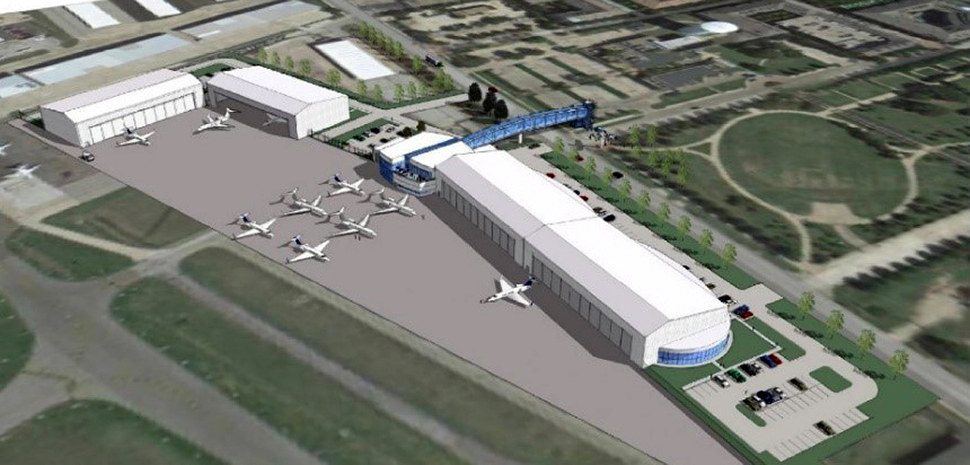 ---
Delivering what's new and next in Dallas-Fort Worth innovation, every day. Get the Dallas Innovates e-newsletter.