A version of this story first published in Dallas Innovates—The Tech Talent Issue.
---
Let's begin with a cautionary tale.
In the late 1990s, Initech was a mid-size Texas-based tech firm. A banner hanging inside its suburban office park headquarters proudly proclaimed the company's watchwords ("Initiative + Technology = Initech") to serve as a daily reminder to its employees about its core values.
But as Initech had grown, so had its policies, procedures, and layers of redundant management. Practices intended to increase efficiency—like a mandate that all official reports must be filed with a cover sheet—ended up bogging workers down in minutiae rather than spurring them to innovate.
Worse yet, as the company's fortunes floundered, it took a top-down approach to righting the ship and doubled down on asking employees to work weekends in order to increase productivity. Such requirements undermined attempts at fostering camaraderie among its team, such as relaxing the dress code for a "Hawaiian shirt day."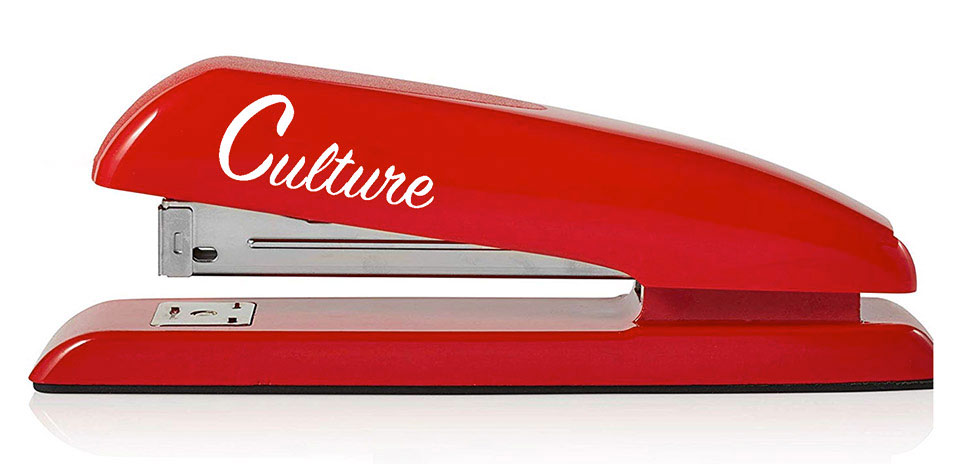 When finances (unsurprisingly) worsened, consultants were hired in the name of increasing efficiency. Most employees, however, recognized that the company wasn't being truthful—that the consultants were there to provide management cover for instituting layoffs. Meanwhile, Initech's corporate messaging made a further misstep when another banner was prominently hung at headquarters. This one implored employees to ask themselves one question any time they took an action at work: "Is This Good for the Company?" You can only imagine the effect this sort of overbearing attitude by the C-suite had on a team that had already seen additional work piled upon them, especially as the layoffs began.
Looking back, it's hardly surprising then that some tech-proficient employee introduced a virus into the company's accounting system that skimmed money from each of its financial transactions. It's believed the intent was for the virus to take just the fractions of pennies usually rounded off—as was done in the film Superman III—so as to avoid detection by slowly embezzling the funds. But whoever wrote the virus code must have gotten a decimal point in a wrong place or something because hundreds of thousands of dollars was taken in just about a day. Unfortunately for Initech, whoever made off with the funds also apparently set fire to the headquarters building. This triple whammy of insecurity in its own software, financial losses due to fraud, and an office gone up in flames resulted in the company's ignominious end.
Thing is, all of it could have been avoided, it would seem, if the people in charge had better appreciated the power of corporate culture.
Many of you probably know that we've just described the plot of the 1999 comedy Office Space, and Initech was never a real company. But as absurd as writer-director Mike Judge's film is, it fairly represents how tone deafness, hypocrisy, dishonesty, and lack of transparency can result in a demotivated workforce that handicaps a company's ability to innovate.
It's not that there's anything wrong with hanging inspirational banners that proclaim your company's core values. But when communicating the mindsets and philosophies that they hope will influence the behavior of everyone within their organizations, companies must "walk the walk" as well as "talk the talk."
That was the single most common refrain we heard in recent conversations about the interaction of culture and innovation that we had with six technology companies—Dialexa, Koddi, Salesforce, Deloitte University, Atos, and Alkami—that have significant operations in the Dallas-Fort Worth area, as well as Simon Mak, a professor in SMU's Cox School of Business whose areas of expertise include corporate entrepreneurship.
"Whether you recognize it or not, your employees are looking at you and watching you, and trying to decide how they should behave and how they should act relative to how you act," Mak says. "Now where I think the mistakes happen, is walking the talk, especially when the business has taken a turn for the worse." He cites the example of a company that says one of its core values is that "people are our most important resource," and yet unceremoniously lays off workers with little notice or severance when times are bad. Companies should ask themselves how well they're prepared to navigate such corporate stress tests, even if they expect the good times to keep on keeping on.
Scott Harper, co-founder of tech and product design studio Dialexa, which is based in downtown Dallas, agrees that too many organizations put too much emphasis on what they say versus what they do when it comes to instituting a productive culture. "It's like they say it, and it's like they want to wish it into existence, which is just f****ing crazy," he says. "It doesn't work that way. Your culture is who you are."
Dialexa describes itself as a company "built by engineers that are also great business people."
The danger for a company's leadership in operating with inconsistency between what they say and what they do is a loss of trust among employees. If a company says, for instance, that it believes in transparency as one of the central tenets of its operations but then only communicates positive rather than negative financial news at employee meetings, that's a problem. Marnie Robbins, director of people and culture at Fort Worth-based startup Koddi, which provides tech marketing solutions to the travel industry, praises the benefits of being candid with employees. "It's building trust," she says. "If they think we're only delivering company-wide news when it's in a positive fashion, then there's a lack of trust there. So it's very important to share both the positive and the negatives."
Each of the six firms with which we spoke—ranging from relatively young startups to multinational corporations—had unique ways of emphasizing and enhancing their corporate cultures (see "Innovation Lab" sidebars throughout), but they all agreed that establishing a healthy and inspiring culture is a vital component to any organization hoping to innovate in its field.
A distrustful team is a demotivated team, and demotivated team members are sending out their resumes in search of escape hatches, not looking to help the company.
As companies grow larger, their cultures must evolve along with their approaches to innovation, according to Mak. A startup should have one overriding vision—the vision of the founder or founders—to guide the enterprise. The focus in those earliest days should be marshaling a team to execute that vision, as opposed to constantly trying to innovate beyond it. "On the other hand," Mak says, "with a corporation, you need a lot of people thinking up new ways to grow the vision—thinking of ways to grow the business."
Communication is key
Stephanie Kinser, a Dallas-based enterprise solutions executive with Salesforce, the customer relationship management software giant, says the key to maintaining culture across such a massive organization is finding ways to communicate consistency among its tens of thousands of employees in 64 offices across 28 countries worldwide.
"That's really important to our employees," she says. "Our use of technology has helped to support that. Our employee engagement experience is important … We are using some of our technology to help employees collaborate socially and eliminate those meetings where you might not be accomplishing as much as you might think that you might be."
Salesforce has been named one of Forbes' "World's Most Innovative Companies" eight years in a row and is No. 2 on the Fortune "100 Best Companies to Work For" List.
Financial services and consulting giant Deloitte likewise faces the challenges of uniting hundreds of thousands of workers distributed all over the world under a common banner. One of the ways in which it works to do so is apparent at "Deloitte University," which it operates in Westlake. Deloitte seeks to hire people with exceptional problem-solving skills, ones who enjoy exploring how strategy, business processes, and technology help shape the future of organizations. The more than 700,000-square-foot campus was the first dedicated training ground (the company now has five worldwide) for employees from all over the country. They come there for onboarding and additional education in various aspects of the professional services that Deloitte provides its clients.
"We have a goal that we get individuals here within the first 90 days of being part of our Deloitte organization," says Heidi Soltis-Berner, the managing director of Deloitte University. "We want to embed them in our culture because Deloitte University really embodies our cultural experience and helps them get up and running and understand the expectations of what it means to be a consulting professional." Visiting employees at DU are provided a break from their usual day-to-day work and encouraged to be creative and innovative. "Deloitte University brings that culture to life each and every day," Soltis-Berner says.
Perhaps just as important as establishing an honest and transparent corporate culture that encourages employees to get creative is what a company does when those attempts at innovation fail. Too many leaders want to brush missteps under the rug when an idea doesn't work out. Instead they should reward employees simply for taking smart risks, regardless of the outcome and communicate in advance that they will have their backs if the worst-case scenario comes to fruition.
"You have to say, 'If you are going to try this, I just want to let you know, if things don't work out, don't worry. You're not going to get fired,'" Mak says.
Another unfortunate tendency among companies is wanting employees to work up new ideas in their own spare time, rather than providing workers resources to support their ventures. All of the firms we spoke with cited a lack of time—due mostly to the legitimate need to focus on necessary day-to-day business—as the most significant stumbling block to innovation. A few of the firms said they've been able, at various stages, to dedicate teams to researching and developing new ideas. IT services and consulting firm Atos, which recently relocated its North American headquarters to Irving and unveiled its latest Google Cloud Artificial Intelligence (AI) Lab there, actually hired a digital transformation officer this year specifically to help "move the envelope" on innovation, according to Amy Brown, a senior vice president of human resources with the company.
"He's working on building our portfolio and simplifying it and bringing together where we have those pieces and those pockets throughout the organization that are focusing on innovation in different ways," she says. "Our industry is constantly changing. I look at what we did five years ago, compared to what we do today, and compared to what we'll do in three years—it's vastly different."
Meanwhile Adrianne Court, chief human resources officer of Plano-based Alkami—which is recognized among the nation's fastest-growing companies—emphasizes that the digital banking company works to ensure that its culture encourages a bottom-top as opposed to top-bottom approach to innovation by keeping every member of its team (whom they refer to as "Alkamists") accountable for it.
"Courageous innovation is really key to our culture," she says. "We talk about it in our performance reviews. We talk about it when we win deals. We talk about it, and that's what encourages original thinking."
Indeed, that sort of feedback and willingness to adapt a corporate vision to the ideas generated and lessons learned by people in its organization—as well as from clients and customers—is a hallmark of companies that are primed to maximize innovation.
Mak recommends that companies continually innovate—but not necessarily always be focused on big, transformative ideas. "You should have a pipeline of short-term innovation, mid-term innovations, and long-term innovations—or, low-risk innovation, middle-risk innovations, and high-risk innovations," he says. "We call that a portfolio approach. You should have a balanced portfolio."
---
Read it online
Dallas Innovates: The Tech Talent Issue, a special edition of the Dallas Innovates magazine, looks at how companies in Dallas-Fort Worth are attracting and retaining the best talent. Startups, corporates, nonprofits, and organizations work hard to create a strong culture, promote diversity, and implement training programs that can help achieve success. As Hypergiant Industries CEO and co-founder Ben Lamm puts it, companies need to push culture to the extreme: it needs to be cult-like.
Take a look inside.

Get on the list.
Dallas Innovates, every day.
Sign up to keep your eye on what's new and next in Dallas-Fort Worth, every day.