This weekend, Funkytown becomes a gateway to Japan as it plays host to the first Anime Frontier powered by Crunchyroll. The launch of the experiential event brand will be the "ultimate Japanese pop culture experience," say the creators behind the second biggest anime convention in the nation—Anime NYC.
Left Media aims to take over Fort Worth from December 3-5 with the "biggest talent and content the Japanese pop culture industry has to offer to the Lone Star State." 
Japanese popular culture is a major force in entertainment. Left Media's Anime NYC, which was held in November, was sold out with 53,000 fans attending. The innovators behind the nationally recognized convention expect the Fort Worth experiential event to be a similar big draw.
The three-day Anime Frontier offers more than 300 unique experiences, including one-of-a-kind activations, premiere experiences, and exclusive sneak peeks. "It's all about celebrating all things cool in Japan," organizers say.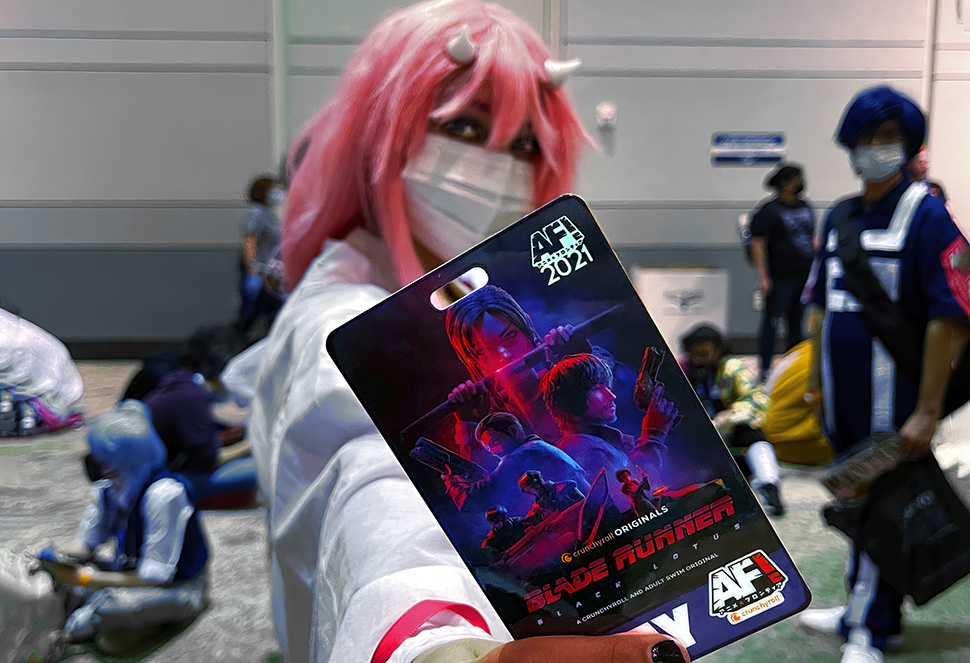 Why Fort Worth?
The anime brand picked Fort Worth for its Texas expansion "where the West begins," says Peter Tatara, show director of Anime NYC and Anime Frontier. "Fort Worth is a perfect representation of American heritage and modern innovation in one amazing community, and we're deeply thrilled to now showcase the future of Japanese entertainment in its heart," he said in a statement.
Anime NYC brings together fans and the biggest guests and studios in the Japanese pop culture world, Tatara says. "We're excited to now grow this same experience in Texas. We look forward to creating a gathering place in Fort Worth for fans of anime, manga, cosplay, Japanese music, and more." 
Gallery pop up of acclaimed "Attack on Titan" exhibit
Fort Worth and New York are the only two cities in the U.S. to host an exhibition featuring the acclaimed international manga and anime hit "Attack on Titan" during the event, showcased in the center of Anime Frontier's expo floor at the Fort Worth Convention Center.
The gallery pop-up of work from series creator and artist Hajime Isayama represents the evolution of over a decade of storytelling that's obsessed fans worldwide.
"'Attack on Titan' is one of the biggest manga series of the 21st century, and its ending is a tremendous moment for Japanese popular culture overall," said Tatara.
The exhibition celebrates the conclusion of the series' 11-year saga. It's positioned between last spring's manga finale and the final season of the anime TV series, slated to arrive in January 2022.
"We're very excited to bring the 'Attack on Titan' Manga Gallery to Texas," said Kodansha USA Events Director Misaki Kido in a statement. "Rarely do fans in Texas get to take part in experiences like this, and it's important for us to share this celebration with you, too. Texas is known for having a huge anime and manga community, and we want to recognize it by showcasing this testament to Attack on Titan's meaning with fans around the world with fans at Anime Frontier."
Powered by Crunchroll
Anime streaming platform Crunchyroll is the event's title sponsor.
Crunchyroll, considered by many to be the world's most popular anime brand, was acquired by Sony's Funimation for $1.175 billion in August.
"The era of Big Anime is officially here," Wired wrote at the time of the deal that merged Sony and AT&T anime interests. (Dallas Innovators may remember Sony's acquisition of Flower Mound-based Funimation in 2017.)
What to expect when you go
The Anime Frontier experience includes a "massive expo floor" with more than 100 companies and publishers to explore. Fans can also meet their favorite celebs in person, snap pics, and buy autographs. An artist's alley will feature hundreds of fan artists, and other features are an Itasha car showcase, video game tourneys, Japanese pachinko, and J-Pop DJs.
On Saturday, December 4, cosplay will take over the Main Stage with Anime Frontier's Masquerade. Cosplayers can compete to win prizes for craftsmanship and showmanship.
There's something for everyone, Tatara says.
"From our incredible cosplayers to our creators and entertainers who will be in attendance, veteran fans and first-timers are invited to explore and connect with our community!" he said.
Event highlights
Provided by Anime Frontier
Attendees can listen to Q&A sessions with celebrities, experience publisher panels to find out what's next in the world of anime and manga; and see screenings. That includes "never before seen trailers, new artwork, and anime films never before shown in Texas," according to Left Media. Here are some highlights . (As always, check Anime Frontier schedules online for last-minute changes.)
FRIDAY, DECEMBER 
Bryce Papenbrook Q&A — 2:30 PM to 3:30 PM [Ballroom AB]
The voice of Attack on Titan's Eren Jaeger, Demon Slayer's Inosuke Hashibira, will talk about his roles, his career, and his future.
Japan 2.5D Stage Play World: Anime, Manga & Game Theater Online, Panel 2 — 2:30 PM to 3:30 PM [Room 202 BCD]
2.5D describes theatrical presentations based on Japanese manga and video games. The meaning implies that theatrical shows exist somewhere between 2D, the realm of manga, anime, and video games, and 3D—the realm of the theater. Japan 2.5D Stage Play World will present rare clips from Japanese 2.5D Plays that are seldom seen in the U.S.
Zombieland Saga LIVE ~FranChouChou Saga yo tomoni waite kure~ Panel 3 — 3:30 PM to 6:00 PM [Room 203 AB]
Dubbed the "biggest live event in Zombieland Saga history," this is a special presentation of a concert originally presented in October at Makuhari Messe in Japan. It's an exclusive opportunity outside of Japan, presented only at Anime NYC and in Fort Worth at Anime Frontier.
Colleen Clinkenbeard Q&A, Panel 2 — 5:30 PM to 6:30 PM [Room 202 BCD]
One Piece's Monkey D. Luffy, My Hero Academia's Momo Yaoyorozu, Black Clover's Erza Scarlet.
PROMARE Screening — 8:00 PM to 10:00 PM [Ballroom AB]
The first feature-length film from the acclaimed studio TRIGGER, creators of the hit series KILL la KILL and Little Witch Academia, and director Hiroyuki Imaishi (GURREN LAGANN, KILL la KILL). The film uses a bold cel-shaded visual style to tell "a blistering action-adventure story and is the spiritual successor to many of director Imaishi's former works." 
Introduction to the Japanese Language – Presented by Japan-America Society of Dallas/Fort Worth, Panel 1 — 11:00 AM to 12:00 PM [Room 201 AB]
Curious about learning Japanese? Join Anime Frontier and the Japan-American Society for a lesson on the Japanese language and culture! An interactive presentation includes topics on Japanese characters, greetings, and bows.
i☆Ris Panel, Panel 3 –- 5:00 PM to 6:00 PM [Room 203 AB]
Idol music group i☆Ris makes a unique virtual appearance thanks to Avex Pictures! Fans can experience concert highlights from i☆Ris's 6th Live Tour 2021 ~Carnival~, a pre-signed autograph giveaway, and an exclusive pre-recorded Q&A from i☆Ris with fan-submitted questions. Note that *i☆Ris is not physically appearing at the convention.
Satoshi Kon: The Illusionist, Documentary Panel 1 — 5:30 PM to 7:00 PM [Room 201 AB]
Satoshi Kon: The illusionist recalls the trajectory of a lonely author whose life was dedicated to the power of comics and animation. Anime filmmaker Satoshi Kon died suddenly in 2010 at 46, leaving behind a short and unfinished collection. His work has become one of the most disseminated and influential in the history of contemporary Japanese culture. Ten years after his death, his family and collaborators finally express themselves about his work, while his heirs, in Japan, France, and Hollywood, look back on his artistic legacy.
Black Trailblazers in Anime, Panel 2 — 5:30 PM to 6:30 PM [Room 202 BCD]
Popular and influential Black professionals are paving the way for diversity in the anime industry. Panelists include Anairis Quiñones, A.J. Beckles, and Zeno Robinson.
Stagecrowd presents: Sword Art Online Film Orchestra Concert 2021 Anime Frontier Edition, Panel 3 — 6:30 PM to 7:30 PM [Room 203 AB]
 This special edition was edited exclusively for Anime Frontier and will feature the first half of the Tokyo Concert. Fans can experience the Sword Art Online through orchestral interpretations of the original score, with musical arrangements and supervision by composer Yuki Kajiura.
GET OVER ーJAM Project THE MOVIEーPanel 3 — 8:00 PM to 10:00 PM [Room 203 AB]
The first documentary film to celebrate the 20th anniversary of Japanese rock group JAM Project's formation was closely covered with the group over a period of 15 months, starting from their anniversary live in 2019.
SUNDAY, DECEMBER 5
Ramen Culture in Texas – Presented by Kintaro Ramen, Panel 3 — 11:00 AM to 12:00 PM
Award-winning ramen and sushi chef and founder of Kintaro Ramen, Jesus Garcia, moderates a discussion about ramen culture in Texas.
Demon Slayer: Kimetsu no Yaiba Entertainment District Arc Screening (Sub) and Talk Show, Panel 2 — 12:00 PM to 1:00 PM [Room 202 BCD]
Enter the Yoshiwara District with a special screening of Demon Slayer: Kimetsu no Yaiba Entertainment District Arc. Following the screening is a talk show with English cast Zach Aguilar (Tanjiro), Aleks Le (Zenitsu), and Bryce Papenbrook (Inosuke)!
A New World: intimate music from FINAL FANTASY Concert — 2:00 PM to 3:00 PM [Ballroom AB]
Hear"spectacular" arrangements of music from the 30+ years of the FINAL FANTASY catalog. Featuring string quartets, piano, and guitar solos, and other mixed groups of instrumentalists, the program aims to transport listeners to a personal encounter with FINAL FANTASY's themes, characters, and settings. The concert concludes the first annual Anime Frontier. "This show is much more than a concert; it's a celebration of the legacy that the FINAL FANTASY franchise has left generations of audiences," organizers say.
Anime Frontier details
For more information, go here.
WHEN:
December 3-5, 2021
WHERE:
Fort Worth Convention Center
1201 Houston St
Fort Worth, TX 76102
Tickets start at $30. Packages include:
Three-day ticket bundle: $50
Sunday Family & Friends 4-Pack: $75
Find tickets here.

Get on the list.
Dallas Innovates, every day.
Sign up to keep your eye on what's new and next in Dallas-Fort Worth, every day.