Uber DFW showed off its new office space during an open house event Wednesday complete with awards for its top drivers, tours, and a blue car-shaped cake. 
The ride-sharing service debuted in Dallas four years ago this month. Now, it has furthered its reach throughout the Dallas-Fort Worth area with offices in Fort Worth and Plano. 
Uber has expanded its presence in Dallas' West End from 3,000 square feet to nearly 13,000 square feet, according to D CEO. When it first moved into the office in 2014, it employed six people. Currently, there are 20 employees.
The office gives numerous decor nods to Big D including a colorful mural of downtown that spans an interior wall.
There's also an Apple Genius Bar-like area Uber calls the Greenlight Hub, where drivers and partners can receive information and support. 
Wednesday's event gathered Uber representatives, State Rep. Helen Giddings, Dallas City Council member Sandy Greyson, and other community leaders. 
"Many of you have worked with us to help solve some of Dallas' biggest problems, such as parking, transportation deserts, and drinking and driving," Uber DFW General Manager Beth Huddleston told the crowd during the event.
"Dallas is a great city because it is filled with dedicated people like you. We aren't done yet, but we couldn't have done it without you!"
READ MORE
Sneak Peek: A Look Inside Uber DFW's Newly Renovated Office
How Tech's Allure is Reshaping Historic West End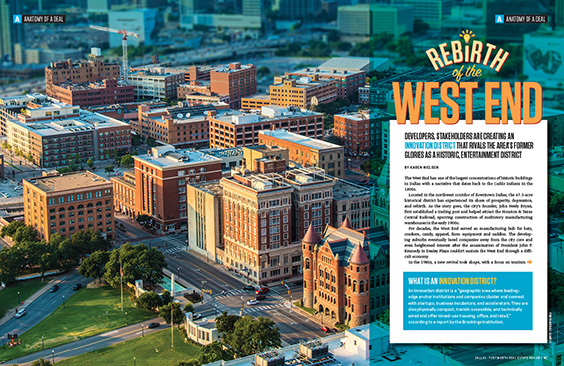 Dallas-Fort Worth Real Estate Review: The Rebirth of the West End
AT&T, Uber Partner for Football on the Go
Uber DFW Names Huddleston as New GM
City of Dallas, Uber Team Up for DriveSouth Initiative
DIA Unveils Vision for Living Lab in West End
---
Delivering what's new and next in Dallas-Fort Worth innovation, every day. Get the Dallas Innovates e-newsletter.