As CEO of Texan by Nature, Joni Carswell leads the charge to bring business and conservation together. The fourth-generation Texan puts her engineering and tech background together with her passion for the outdoors to drive sustainable impact in Texas. But her work gets well beyond the "warm and fuzzy" emotions the natural world evokes, she says.
The nonprofit's recent Conservation Summit was a merging of industry and conservation. As the future comes at us faster and faster, "we can build on each other's expertise and capacity," Carswell said at the summit. "We're combining our business acumen and leadership like never before."
The overarching theme, "The Future of Conservation," brought together more than 550 leaders and changemakers. Ideas were shared, relationships were formed, and questions were asked, Carswell says.
They engaged.
Texan by Nature has set out to make Texas the model for conservation for the world. But how we get there is together, the CEO says.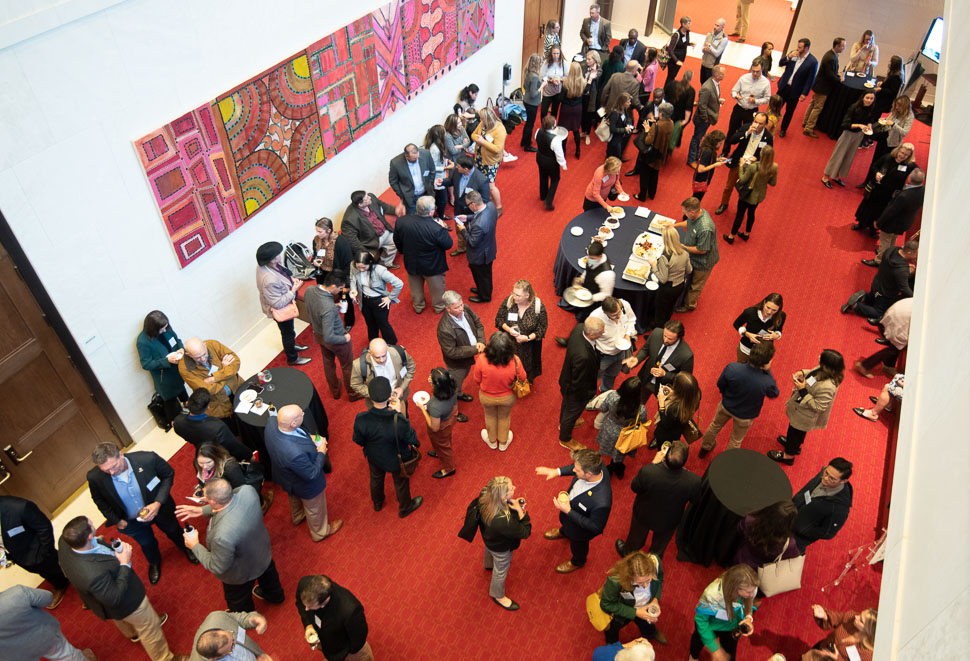 There's a business case to be made for conservation innovation.
If the future is innovation, it's also metrics-focused: "Let nature do what nature is meant to do," she says. "The value is there. We can dive into the metrics that are in front of us."
Panelists who represented both industry and conservation shared success stories, best practices, lessons learned, and more in a day of learning and dialogue. The hybrid event, held in early November at the George W. Bush Presidential Center—which is situated on a restored 14-acre prairie in the center of Dallas—was livestreamed.
Read on for the day's recap.
"People and land make Texas great"
Texan by Nature's work is inspired by Laura Bush, who hosted the event. The former First Lady, who founded Texan by Nature in 2011 with a group of friends and committed conservationists, has a deep love for the natural world and Texas. The organization believes people and land make Texas great. And when they work in harmony, everyone benefits.
Carswell wants to "make sure every tech firm is engaged in conservation impact as we move forward."
"The future is collaborative," Carswell said at the event. "It's looking at the entire lifecycle and engaging every single point in the value chain."
Each of us is shaping the future that we're defining collectively. Texan by Nature, which unites business and conservation leaders, aims to be an accelerator. The summit was a call to action: Carswell wants to "make sure every tech firm is engaged in conservation impact as we move forward."
And today, nearly every company to some degree is a tech company.
Companies make a difference
Texas has the world's ninth-largest GDP, 29 million citizens, 11 diverse ecoregions, and incredibly diverse resources, says Carswell, who believes the state is poised to combine its business acumen with conservation. We can advance sustainable usage of the natural resources that are critical to our future—and we can also increase profits.
"In Texas, we're on display as a top state for entrepreneurship … we're also on the cutting edge of conservation"
The key is innovating and adapting new models.
"In Texas, we're on display as a top state for entrepreneurship. Whether it's technology, food, biohealth, energy, we're on the cutting edge of industry across the board. We're also on the cutting edge of conservation to protect the bountiful resources that we enjoy," she said.
The "future is action"
Innovation doesn't happen without action.
The goal of the summit was to drive new partnerships, conservation innovation, and most of all—action. The summit gave innovators and leaders a good look at the many ways to engage—and the "hows" to do it. 
It was a deep dive into partnerships, metrics, analysis, and new models.
Examples of how companies make a difference are all around us, Carswell says. She cites companies using recycled materials in beneficial ways like Dell or developing new products to achieve neutral impact, such as CEMEX with its net-zero concrete. 
Other organizations apply forward learning, such as the research to provide practical solutions for the beef industry from Dr. Jason Sawyer at the King Ranch Institute. Sawyer works to innovate to improve the sustainability of ranching.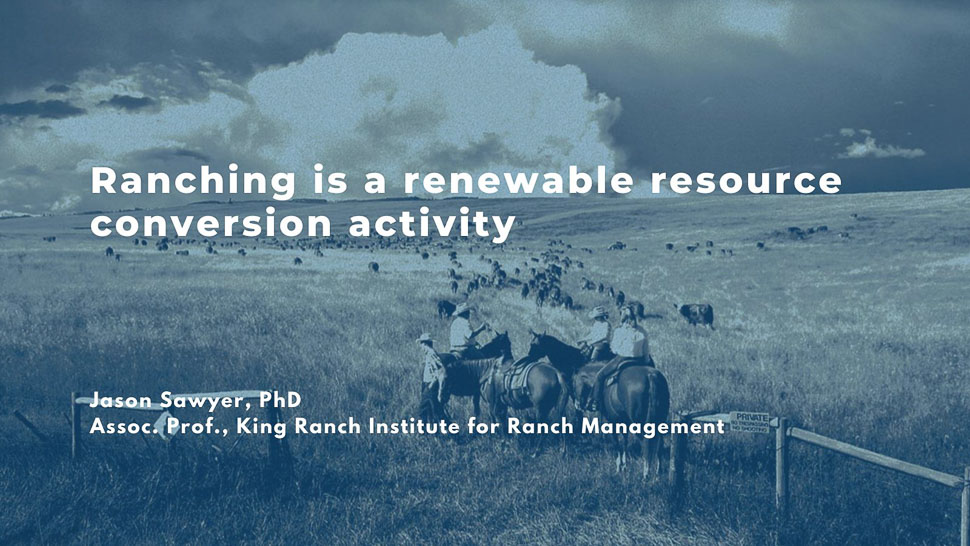 Funding for the future
We can also engage differently with banks in the future with new funding opportunities and financial incentives. Bank of America Dallas President Jennifer Chandler discussed the bank's multi-year financing commitment to provide financial and "significant" intellectual capital to develop solutions to climate change and other environmental challenges. She notes focus areas of low-carbon energy, energy efficiency, and sustainable transportation. Other important areas are water conservation, land use, and waste.
Chandler also discussed sustainable finance themes—the "E" vs. the "S" in ESG. In 2020, the bank launched its Global Sustainable Finance group to work across its eight lines of business to deploy capital aligned with the 17 United Nations Sustainable Development goals. Its two business focus pillars are Environment Transition (the "E" — renewable energy, sustainable food, forestry, and more) and Inclusive Development (the "S" — affordable housing, healthcare, education, equality, and more)
Supporting landowners
Texan by Nature CEO Carswell points to diverse organizations working with landowners on native biodiversity like Desert Door and the San Antonio Zoo.
Desert Door makes distilled spirits from wild-harvested sotol plants. While people are well-acquainted with tequila—made from the agave plant—the conservation-minded liquor maker uses a "mysterious" shrubby plant that thrives in hot, dry areas.
The company also raises money for research on the sotol plant and regenerative farming practices. The Texas-based company's "Wild Spirit Wild Places" program provides direct support to landowners through education, research, and conservation practices.
The San Antonio Zoo's Texas Horned Lizard Reintroduction Project is re-introducing our state reptile via zoo-hatched lizards where they've disappeared in recent decades (thanks to invasive red fire ants, habitat loss, pet trade, and other species threats). That project, which started in 2017, builds on work from Texas Parks and Wildlife, the Dallas Zoo, the Fort Worth Zoo, and Texas Christian University.
Horned lizards are hard to find in the landscape. The zoo's Center for Conservation and Research also partnered with Chiron K9, a group that trains detection dogs, to seek out horned lizards by scent. Texas-based Chiron has been involved in oil spill responses with its oil detection canines.
Models for merging industry and conservation
The examples above just scratch the surface of what the Texan by Nature "home team" and its partners are implementing in Texas.
In three panels during the day-long summit, industry experts and conservation leaders provided models for merging industry and conservation.
"Don't make today just a listening session. Make today an inflection point."
Their learnings and expertise are a "true opportunity" to build upon, Carswell says. "Don't make today just a listening session," she said. "Make today an inflection point."
Texas is no stranger to new models and innovation, the CEO says. We clearly have an independent, entrepreneurial mindset that extends to conservation. The panels shared a diverse set of perspectives on new ways to realize progress:
The Panels
(Click the links to watch.)
Models in Conservation panelists shared new methods, market-based models, and examples of facilitated collectives that benefit not just our natural resources, but our economic development and our health. Emerging models are already impacting the future of conservation. Speakers included Jennifer Chandler, president, Bank of America Dallas; Jerae Carlson, VP Sustainability, Communications, and Public Affairs, Cemex USA; Jason Sawyer, associate professor, King Ranch Institute for Ranch Management; and Tom Constantino, CFO, Iron Ox.  
Business in Conservation opened a dialogue on aligning goals, metrics, and reporting across industry and conservation. From financial recognition to new methods of impact measurement, the business of conservation is progressing, the panelist said.. A key is learning to understand and report the total return on conservation. Speakers included Jenny Sanders, coordinator, Texas Longleaf Team; Edwin Pinero, president, EcoMetrics; and Ryan Malone, sustaining capital portfolio manager, BP America.
Collaborative Conservation shared perspectives from speakers Alexis Baldera, coastal program manager. Audubon Texas; Dr. Andy Gluesenkamp, director of conservation and research, San Antonio Zoo; Dr. Rachel McCormick, consul general of Canada in Dallas; and Ryan Campbell, CEO of Desert Door. The panelists discussed ways that collaboration produces better results, including "deeply engaged" teams that come up with more innovative solutions and have higher loyalty and morale.
"Research shows that teams working collaboratively stick to the task 64% longer than those in solitary endeavors; report higher engagement levels; cite lower fatigue levels, and have a higher success rate," according to Texan by Nature. The experts said collaborative conservation initiatives that span business, communities, landowners, and conservation organizations can deliver similar positive results—and accelerate the pace of conservation action.
BP's Ryan Malone: "It's a tall task, but I do think Texans are up for it."
Texan by Nature has largely built the model for "how we're going to move forward in sustainable change—whether it's utilizing the land in a different way or forming partnerships between businesses and conservation groups," said BP America's Ryan Malone during the panel on Business in Conservation. "This is at the heart of how we're going to make that transition a reality."
The executive, who's an outdoorsman and a rancher in addition to his role as sustaining capital portfolio manager at BP, feels strongly about "preserving the culture, the history, the natural resources of the state and in doing so in a really powerful way."
Today you can "talk about oil, you can talk about gas, you can talk about energy, ranching, agriculture all in the same sentence."
His West Texas ranch has cattle, sheep, and goats. "We do everything possible that we can not only to make a living from the land, but to also preserve the natural grasses," he said. "We're constantly battling invasive brush that takes away from some of that."
That dichotomy illustrates the type of struggle that we face in making the transition going forward, he says.
But there's progress, he notes. Today you can "talk about oil, you can talk about gas, you can talk about energy, ranching, agriculture all in the same sentence." We're just doing it differently than 50 years ago, he says.
'Aha' moment
Malone credits an "aha" moment for his own period of rapid transition. When he was asked to be Chief Transformation Officer for BP's Gulf of Mexico and Canada businesses, Malone attended a leadership seminar with Olympic medalist John Coyle. His biggest takeaway was when the speedskater said, "Your slowest day is today." He says that "stuck with me from the perspective of going forward: Information is going to be inevitable. There's going to be more interconnectivity, more artificial intelligence, more fast pace, more fake news, more social networking."
"So, today is your slowest day."
"So, today is your slowest day," Malone said.
"There will never be less than what we have today," he said. "How do you prepare yourself, your family, and your company for a rapidly transforming world? I think that's the challenge that many of us in this room are facing right now."
The pace of transformation
BP has had to face the nature of the pace of transformation, he says. Last year the company announced a new purpose to reimagine energy for people and the planet. "We knew that would require reinventing our company from the inside out" after more than 100 years, he said. "We also laid out a new ambition to reach net-zero by 2050 or sooner, and most importantly, to help the world do the same."
It's a big task ahead, going from an international oil company to an integrated energy company delivering solutions for customers worldwide. But BP is already achieving measurable results, Malone says. "We've already reduced our carbon footprint in every aspect of our global business from emissions, the potential for capturing carbon. We're going to draw down our oil and gas production by 40%," he said. "We're scaling up renewables in critical sectors, and we're investing in low-carbon opportunities."
"Change is inevitable."
BP spent time listening to what people had to say about the company and its future. "The reality is we learned we had to change. We want to change, because the world right now is on an unsustainable path. It doesn't matter what side of the spectrum you're on regarding the energy transition," he said. "Change is inevitable. How you position your company and the partnerships and advocacy that you have going forward is going to be critical."
Malone expects the next five to 10 years will determine the pace of change. "There are multiple scenarios for how it's going to advance but I think the end state of that transition is pretty inevitable," he said. BP wants to be a leader in the transition.
You need targets, and you need a governance structure to make sure you're on pace to deliver them, Malone says.
An engine for change
Before the panel, Malone and the speakers talked about the need for an engine for change. "We've been very, very clear that oil and gas are a key pillar of BP strategy going forward and [will] remain that way for quite some time," Malone said. "It is for us the engine that drives the transition and provide[s] the cash flow needed to fund BP's transition into that integrated energy company."
That said, the company is not holding back on what it's doing today, Malone says. "We're running the best oil and gas business possible," he said. "BP is focusing on value, not volume, to create that engine. That helps us on the transition over the next few years [and] decades. We have the 'engine room' to propel that transition. We have targets established."
"We want to unlock circularity."
Malone said BP believes the "biggest U.S. opportunity that we see in the energy transition exists on the U.S. Gulf Coast." The company plans to focus on making wind more energy efficient and less emissions-intensive. "Texas has the largest installed wind-generating capacity in the U.S.—over 33,000 megawatts installed," he said. BP will also focus on solar. The state has the second-largest installed solar capacity in the U.S. "Doing it here, which we are, provides the blueprint to move the dial globally," he said.
BP wants to build partnerships with 10 to 15 cities and three core industries globally. "It's a big reposition of the company," he says. While the aims are in the very early stages, "They're bold. They will make a difference in driving meaningful and sustainable change for the cities, states, and countries in which we operate," he said. "We want to unlock circularity."
There's a baseline of work, and some of the deliverables are underway, Malone says. But 2030 and 2050 aren't far away in terms of what the transition takes across multiple facets. Most in the room note that intuitively, and some are just grasping the enormity of the paradigm shift, Malone adds.
"The future for our state,—for the world—is a different world," he said. "I'm really energized as my BG colleagues and our partners position ourselves for that transition ahead. And I'm also really excited at some of the partnerships that exist in this room."
EcoMetrics: Making a business case for nature-based projects
Metrics are essential for making a business case for a project. But nature-based solutions create a variety of impacts and values. Ed Pinero, president of EcoMetrics, helps solve for that. His company can capture, measure, and monetize for the full value of a project. "We figure things out, and we apply it to other projects," he said during the business panel. "We try to capture the full value of a project in the context of all of the CO benefits, environmental, economic, and social. We have to do this in a way that is credible, transparent, and reproducible."
Things don't happen by accident, says Pinero. "EcoMetrics was born out of a solution from another nonprofit called Restore the Earth Foundation that had a mission to restore 1 million acres of forests in the north Mississippi River Valley," he said. "That's called landscape-scale restoration. To be able to do that, you need significant investment from all kinds of sectors—private sector, public sector, civil society, philanthropic organizations."
No single organization could cover costs at a scale to be able to do that, so Restore the Earth needed to figure out a way to get that support. The foundation asked companies like Shell and a series of others: "What do you need to know to convince you to invest in natural restoration? What kind of information do you need to know to invest in these kinds of projects?"
A "Rosetta Stone" to translate benefits
At the time, Pinero was working for a multinational infrastructure company and was one of the ones they asked. "I said, 'Well, we all love to do this kind of work. But the reality is when you get into the C-suite, you have to make a business case because you're competing against other departments that have very tangible numbers.'" Pinero said. "They're always going to beat you out. Or you will always be relegated to fighting for the few dollars that are in the corporate social responsibility budgets or in the foundation part of the organization."
"The reality is, when you get into the C-suite, you have to make a business case because you're competing against other departments that have very tangible numbers."
What you want to do is tap into the operational side of the organization—the revenue, the profitability, the risk mitigation, says Pinero. How do you do that? "If you can show business value and a business case for natural solutions for the bigger scope of the company, you're opening up a bigger and bigger channel."
With the feedback, Restore the Earth decided to find the tool that would do that. They searched globally, but they didn't find a tool that was integrated. That's when EcoMetrics was born, Pinero said. They asked, "'Why should we keep it for ourselves?'" he said. "We spun off the metrics so they could be applied to other projects."
It's critical to keep track of what you're doing, he says. That's why we decided to make the tool both predict and evaluate.
To get partners and make the business case you have to be able to do two things, Pinero says: You have to be able to forecast, and you've got to do scenario planning. Think about questions like "What do you want to do? What could you do? And what are my best choices in terms of getting everything that I want in terms of value, but also with the mission or the vision in mind?" he said.  
At its most fundamental, EcoMetrics identifies, quantifies, and values benefits.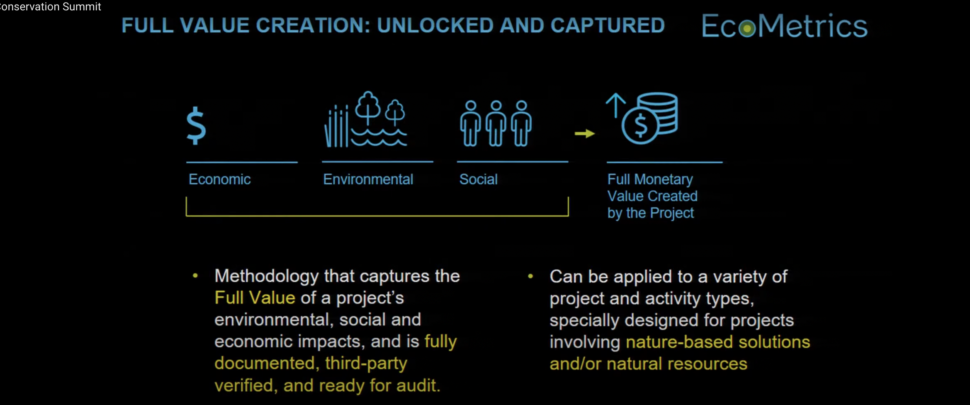 "It's straightforward," Pinero said, "but there's a challenge." Take, for example, carbon sequestration of a project. Maybe you can determine how many tons of carbon can be sequestered. "We have per ton costs, but what about social value? What about community resilience? What about the sense of well-being in your community? What about educational value that carries through from youth through adulthood, and into career?" he asks. "How do you monetize those?"
It gets more and more complicated, Pinero says. 
The other extreme, he adds, is that "you do it all, but for one or two benefits, and you miss everything else that happens."
"One of the great things about nature is it's incredibly efficient and incredibly effective," he said. "So almost everything you do that's a nature-based solution is going to have multiple benefits that fit in many different categories." You need to show the big picture.
Engage cross-sectorial stakeholders
Visibility of value has two primary purposes: Showing the business the financial value and storytelling.
Nature-based projects typically have a "very unique, very engaging value in a cross-sectoral multi-stakeholder way."
To make a business case, it's vital to show the return on investment: "'What am I going to get for the investment?' But that doesn't have to be a dollar back in my bank account," Pinero said. "It could be value created for someone else, but you do need to answer the question of what value you are creating: 'What is literally the bang for the buck?'"
These nature-based projects typically have a "very unique, very engaging value in a cross-sectoral multi-stakeholder way," he says.  If you don't tell that story, "you miss an opportunity to be able to really get people to rally around what you're trying to do."
Pinero says the "value information has helped both sides—the very mechanical, financial side, but also the storytelling side." The storytelling is a very broad category, "everything from very formal ESG-type reporting to just chatting with people to get excited about your project."
Either way, it's a key to success.
The progress we're seeing is Texas leading the world
Texan by Nature Board Chair Cynthia Pickett-Stevenson, a practicing attorney in Houston who embodies Texas pride, passion, and progress, made concluding remarks at the summit.  Described as a force of nature who models the merge of industry and conservation, she's a fervent supporter of health and conservation in the state and across the energy sector.
Pickett-Stevenson said the summit is a reassurance that our hopes for conservation are traveling hand-in-hand with industry. They're not just a dream—they're going to be realized.
"You Californians got here as fast as you can."
The fourth-generation Texan thanked all the folks who made the summit possible. It's a great time to be Texan by Nature, and she welcomes everyone to be a part of it, noting the steady stream of transplants to the state: "You Californians got here as fast as you can."
The progress we're seeing is Texas leading the world, Pickett-Stevenson says. She points to tangible impacts that include building healthy Gulf Coast wetlands and habitats, saving Texas' iconic lizards, restoring the East Texas Piney Woods, finding new and sustainable ways to feed our growing population, and recycling our water. We're pushing the envelope, she says, in products and processes.
"I believe that nature is a healthcare delivery system," Pickett-Stevenson said. "It's everything," and it's in our hands to steward.  "In our great state, we've come together at Texan by Nature with each of you to create a model—a model unlike anything else."
"One brick at a time we make a wall—and with that wall we change the world."
Pickett-Stevenson acknowledges that Texans are "criticized from time to time for the way in which we extract and utilize energy." But we're solution-oriented: "We care about our resources, and we care about traveling between conservation and industry so that we all can leave this world a better place," she said. "We can all create a model that will lead not only this country but the world."
"What we've discussed and learned … are bricks in a wall which each of you here is a part of," she said. "One brick at a time we make a wall—and with that wall we change the world."
2021 Texan by Nature 20 revealed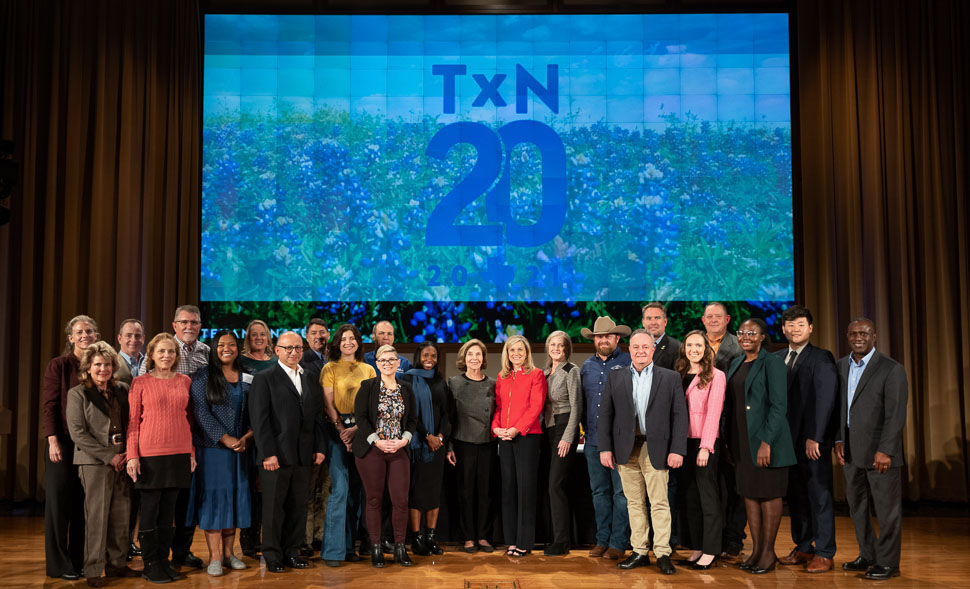 Pickett-Stevenson revealed the 2021 Texan by Nature honorees. The designation celebrates industry leaders pushing the envelope for conservation and sustainability in Texas. The Texan by Nature 20 recognizes the best and the most innovative work in conservation coming from businesses operating in Texas. The awards honor companies across 12 industries in the Lone Star State whose ingenuity cultivates impactful programs and forges new and beneficial paths in conservation.
Pickett-Stevenson congratulated honorees Alamo Group, Bank of America, BNSF, CEMEX, the City of San Antonio Office of Sustainability, Dell Technologies, Desert Door Texas Sotol, Dallas Fort Worth International Airport, Farmer Brothers, H-E-B, HDR, Sanderson Farms, Shell Oil Company, Sysco, Texas Health Resources, Texas Instruments, The Beck Group, Vistra Corp., Walmart, and Waste Management for helping to drive vital conservation and sustainability impact across Texas.
---
To read about the 2021 TxN 20 and the companies' impact in Texas, go here.
---
To select the 2021 Texan by Nature 20, data submissions were evaluated and independent research done across more than 2000 of Texas's publicly traded and private companies in 12 industry sectors. The list was narrowed to the top 60 companies in Texas. "That was a hard job to do," Pickett-Stevenson said.
All companies were evaluated on key criteria with a 17-point scoring system, the organization says.
With 170 million acres of land and global leadership across multiple industries, "Texas is blessed to have industry leaders who see the value in partnering with conservation initiatives while also developing innovative sustainable methods and processes within their businesses," Pickett-Stevenson said.
'Start the movement'
Carswell may have said it best in the day's wrap-up. "We've heard the stats," she said. "We are the leaders in renewable energy—we're leaders in all energy. We're powering the world, and we have an opportunity to do that in a very different way moving forward."
"Go with intent, participate, be stewards."
Yes, the future is innovation. But it's also intentional. Carswell asks people to "go with intent, participate, be stewards."
"Do something differently," she said. "Make sure every Texan in your organization, in your community, and your schools—everywhere—has the opportunity to make an impact. Start the movement."
Carswell wants people to come to the table and bring what they have. Because today is our slowest day.
Watch the summit
You can watch the summit in its entirety here.

Get on the list.
Dallas Innovates, every day.
Sign up to keep your eye on what's new and next in Dallas-Fort Worth, every day.