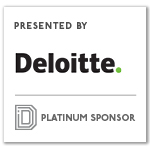 Pandemic and societal pressures accelerated the worker-employer relationship's evolution. How might the worker-employer relationship evolve to meet the opportunities and challenges of the post–COVID-19 world? Deloitte shares various scenarios in the recently released '2021 Global Human Capital Trends: Special report' as a continuation of their 10-year series on Human Capital trends.
In a world full of uncertainties, Deloitte used scenario planning to explore the possible futures of the worker-employer relationship, seeking to challenge conventional wisdom, stretch our thinking and horizons, and chart a new course. The insights from the 2021 Global Human Capital Trends report leverage our scenario planning methodology and are fueled by research findings from a combination of social media polling, live survey polling, artificial intelligence (AI)–enabled focus groups, and interviews with business and HR executives across industries and workers all over the world.
We suggest four potential futures that illustrate how the worker-employer relationship could develop and how organizations and workers might respond.
Work as fashion: In a "work as fashion" future, employers are in constant motion as they chase worker sentiments, competitor actions, and marketplace dynamics. The worker-employer relationship is REACTIVE: Employers feel compelled to respond in the moment to workers' expressed preferences, and to competitor moves, without connecting those actions to a sustainable workforce strategy.
War between talent: In a "war between talent" future, workers compete for limited jobs due to an oversupply of talent. The worker-employer relationship is IMPERSONAL: Employers view workers as interchangeable and easily replaceable, and workers are more concerned with competing with each other for jobs than with the quality of their relationship with their employer.
Work is work: In a "work is work" future, workers and employers view organizational responsibility and personal and social fulfillment as largely separate domains. The worker-employer relationship is PROFESSIONAL: Each depends on the other to fulfill work-related needs, but both expect that workers will find meaning and purpose largely outside of work.
Purpose unleashed: In a "purpose unleashed" future, purpose is the dominant force driving the relationship between workers and employers. The worker-employer relationship is COMMUNAL: Both workers and employers see shared purpose as the foundation of their relationship, viewing it as the most important tie that binds them together.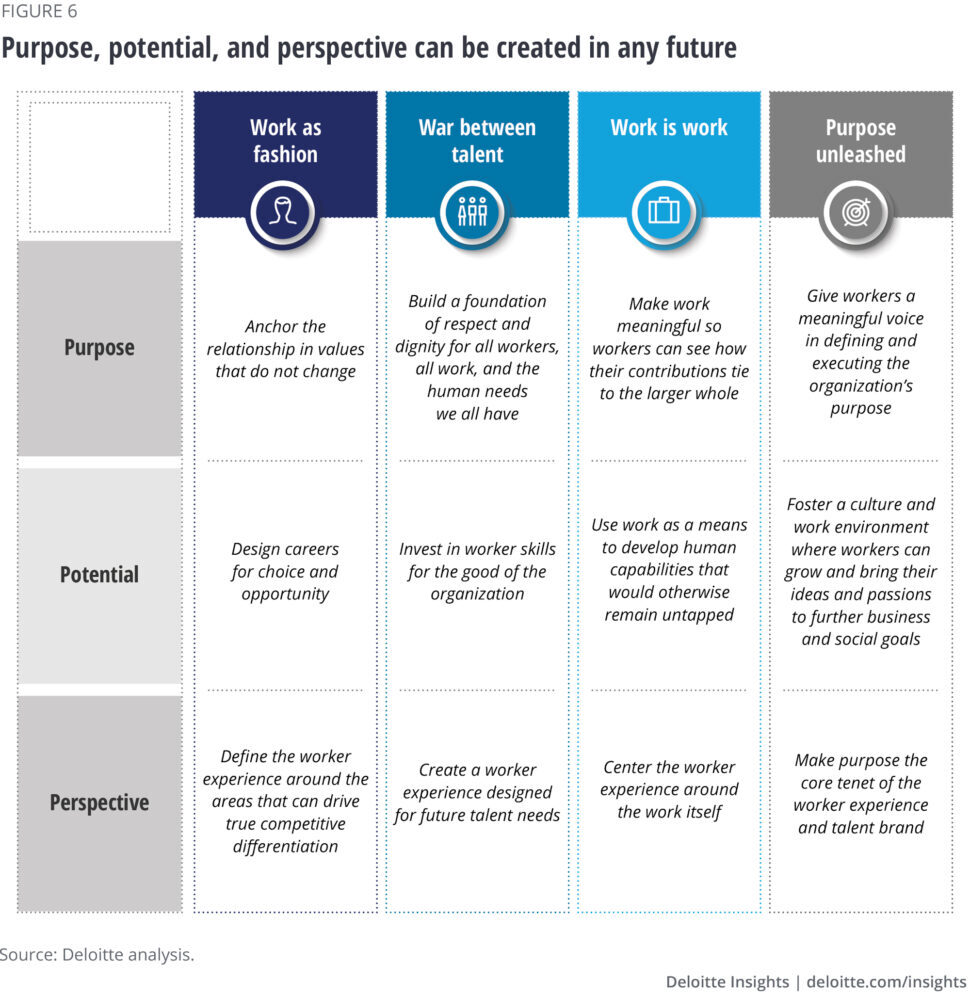 We invite you to explore these futures in our full report, where we discuss potential risks, how to know if you are in a particular scenario, and strategies to not only survive, but thrive. And as you explore them, try not to automatically conclude that the coming years will accelerate the changes you already expected or believed were inevitable. Instead, imagine how the future might assume a different course—and how you might address the opportunities and challenges that future course might present. As Peter Drucker famously said: "The greatest danger in times of turbulence is not the turbulence itself, but to act with yesterday's logic."
This publication contains general information only and Deloitte is not, by means of this publication, rendering accounting, business, financial, investment, legal, tax, or other professional advice or services. This publication is not a substitute for such professional advice or services, nor should it be used as a basis for any decision or action that may affect your business. Before making any decision or taking any action that may affect your business, you should consult a qualified professional advisor. Deloitte shall not be responsible for any loss sustained by any person who relies on this publication.
About Deloitte
Deloitte refers to one or more of Deloitte Touche Tohmatsu Limited, a UK private company limited by guarantee ("DTTL"), its network of member firms, and their related entities. DTTL and each of its member firms are legally separate and independent entities. DTTL (also referred to as "Deloitte Global") does not provide services to clients. In the United States, Deloitte refers to one or more of the US member firms of DTTL, their related entities that operate using the "Deloitte" name in the United States and their respective affiliates. Certain services may not be available to attest clients under the rules and regulations of public accounting. Please see www.deloitte.com/about to learn more about our global network of member firms.
Copyright © 2021 Deloitte Development LLC. All rights reserved.

Get on the list.
Dallas Innovates, every day. 
Sign up to keep your eye on what's new and next in Dallas-Fort Worth, every day.