Creating the "infallible human" is no easy feat.
Four North Texas artificial intelligence experts joined United States Patent Office Director Andrei Iancu last week in Dallas to jumpstart a discussion on AI between government, industry, and universities. 
The panel, during an invitation-only discussion at SMU, tackled topics ranging from building AI without bias to the USPTO's role in patenting AI to the future of the emerging tech in business.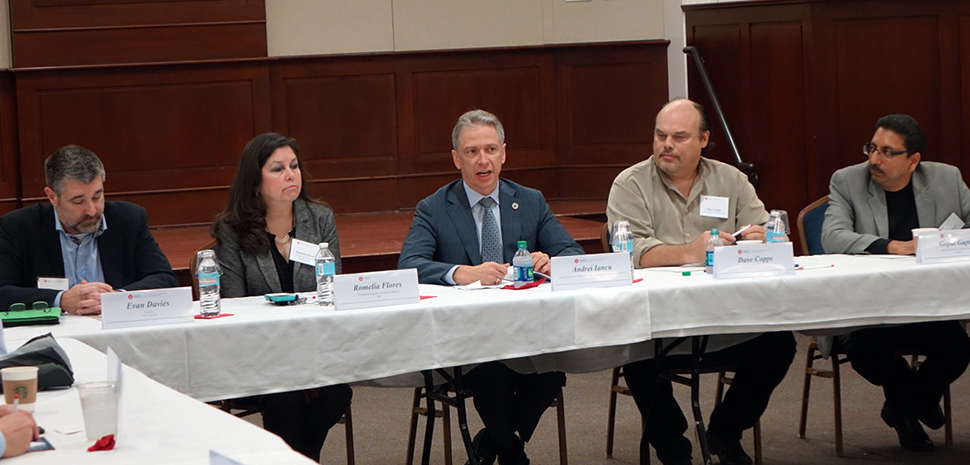 Left to right: Evan Davies, Romelia Flores, Andrei Icanu, Dave Copps, and Gopal Gupta. [Via Brittany Fisher, USPTO]

The panel consisted of Iancu, along with Dave Copps, founder of Brainspace; Evan Davies, president of Active Network; Romelia Flores, master inventor at IBM; and Gopal Gupta, computer science department head at University of Texas at Dallas.
"AI is the promise that machines can think and learn like we do, and perhaps go beyond that."
Dave Copps
Iancu was appointed to the position of  Under Secretary of Commerce for Intellectual Property and Director of the United States Patent and Trademark Office by President Trump in February. Iancu spent 19 years as a partner at Irell & Manella LLP in Los Angeles, according to his LinkedIn profile.
Here are key takeaways from the panel.
What is Artificial Intelligence?
AI, the panelists agreed, is an innovative tool that uses learning and reasoning to solve problems. The technology can process data far faster than humans and solve problems in new ways. But AI doesn't come without its issues.
Flores: "It's all about the senses — being able to analyze someone's tone, analyze someone's decision-making processes, analyze what they're seeing. It's about the senses and how you do that more intelligently in all kinds of devices, and certainly in the future, even systems."
Copps: "AI is the promise that machines can think and learn like we do — and perhaps go beyond that… AI has this amazing ability to crunch numbers and facts and make connections between massive amounts of information (millions of documents). A person still has capabilities that AI won't have for a long time: to reason and make judgments and decisions from that data."
Gupta: "If you want to really understand AI, you have to first understand what is meant by human intelligence. … Intelligent behavior essentially encompasses that we're able to reason, and the other is equity to learn, among other skills."
The Challenges of Patenting AI Technology
The U.S. Patent Office requires patent applicants to explain the method by which technology works. Artificial Intelligence is difficult to explain because it learns in a unique way, Copps said. Iancu agreed that a change of laws might be necessary as technology continues to evolve.
Copps: "Congress even came out and said all AI has to be explainable. I chuckled a little bit because it's at the point now where it's a comfortable myth for us that AI learns the way we do. It doesn't. I was talking to one of the developers of a translation system, and I asked how translation systems learn. He said, 'We don't really know.'"
Iancu: "How do you patent something when you don't actually know how it does it? Under the patent system right now, the patent laws require disclosure, claiming how to do a method. If you're just presenting the results — right now at least — theoretically under our laws you have to disclose how you do it. It might be the case that we need new laws to address that issue. It's a very complex thing."
Making The Most of Data with AI
Data is the lifeblood of AI. The technology analyzes data and identifies trends to make decisions and learn. Without sufficient data, AI can be unreliable, biased, or even useless. Davies agreed, noting that mature AI technology, used correctly, can act as a database.
Copps: "For instance, with Google Translate, we took 12 years of human curation data, and we fed it to a learning system that read that information and learned it in 48 hours. From then on, it took that knowledge and kept growing smarter and smarter and smarter."
Gupta: "You can do nontrivial things by trying to observe patterns from data and gleaning knowledge out of data. If you've got a huge amount of data, with machine learning you can [achieve] knowledge."
Davis: "AI is really a category of maturing technology. As we look at things like Google's doing, Microsoft's doing, IBM's doing, they're taking those technologies and making them more like tools, like databases."
Ideal AI Simulates an 'Infallible Human'
Gupta describes the perfect AI system as a technology that simulates an "infallible human," going as far as to identify its own biases.
Gupta: "Hopefully an infallible AI system that simulates an infallible human would be able to at least tell you, 'OK I'm biased in this way.' The problem with machine learning is that it's as good as the data you feed into it."
Copps: "For us to say that we can build AI without bias is not really right. I don't know what the answer is. When I talk to scientists about it, they say, 'We need more data: The more data we have, the more and more these biases will level out and go away.' But right now, it's a big issue."
Ethics and AI
Artificial Intelligence has the power to collect and use massive amounts of data. Flores recommends instituting the role of Chief Ethics Officer to oversee AI and ensure it's staying on task to meet the goals and ideals of an organization.
Flores: "It's important to be thinking about all this data — depending on if it's a chatbot or some kind of customer service AI interface or web interface or marketing interface that has AI in it — you want to make sure that it's on target, and that it's presenting your corporation in the right light."
Copps: "The most valuable, naturally-occurring resource in the world is data. It has interesting properties other resources don't, in that when you combine data with other data, it becomes exponentially more valuable. With that equation in place, it makes the data that we're giving AI very important… Because AI systems are still learning from the information we give them, we've got to make sure we give them the right information."
Is the U.S. Doing Enough to Move AI Forward?
Technology markets in China are far surpassing the United States when it comes to patent applications for AI technology. And, as Iancu said, patent applications are a strong indicator of progress. But, Gupta said innovation remains strong in the U.S.
Iancu: "Patent applications are a leading indicator of where technology might be. We know China, for example, has publicly announced that AI is one of their main areas of focus. We also know that China files at least three times — some estimates are six times — as many patents as Americans do on whatever can be categorized as AI."
Gupta: "To innovate, you really need to have a society and intellectual climate where you can freely talk about anything. That's a great asset the U.S. has … From our perspective at UT Dallas, we've been adding students. UT Dallas is the fourth fastest-growing campus in the US. A lot of that growth comes because of computer science."
The Future of AI
It's unclear what the future holds for AI, but Flores said she thinks AI will begin to take shape or "solidify" in the next decade. For the foreseeable future, Gupta recommends creating a strategic plan.
Gupta: "Every company can really take huge advantage of this and answer the big questions on data. I think every company should have a strategy around AI."
This story was updated at 2:30 p.m. on Oct. 23 to correct Gopal Gupta's university affiliation. Updated for clarity on at 5:53 p.m. on Oct. 24.

Get on the list.
Dallas Innovates, every day. 
Sign up to keep your eye on what's new and next in Dallas-Fort Worth, every day.