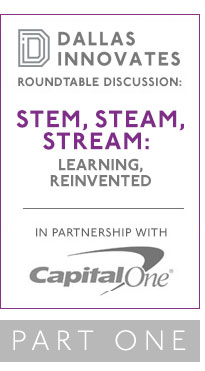 When it comes to business, education matters.
Moving into the digital age means that a STEM curriculum of science, technology, engineering, and math is a foundation for a robust, high-tech workforce. As a burgeoning tech hub, North Texas is overflowing with changemakers driving this dialogue.
Dallas Innovates brought eight experts across sectors together for a three-part series to talk about how that's going to happen and where we're at as a region.
Some of their projects stand alone and others cross-pollinate through creative collaborations. Each has a unique perspective on the significant impact education can have on the workforce, along with the actions that need to be taken to drive meaningful change. But they're all in agreement: Learning is being reinvented. It's time to collectively do something about it here, and beyond.
The interest of local students and the business community are directly aligned, says panel moderator Drexell Owusu, Senior Vice President of Education & Workforce at Dallas Regional Chamber.
Hilary Jackson, Capital One Financial Services' vice president of technology agrees. "It requires an ecosystem of people working together to create a positive change, which is why we are passionate about building partnerships and facilitating conversations that will turbo-charge innovation, especially around our future workforce," Jackson says.
Capital One has a desire to be a convener in the community, bringing together all sectors—educators, nonprofits, corporations, the city, and small businesses—to elevate Dallas-Fort Worth as a vibrant place to live, work, and create, she adds. "Together, we can get the next generation future-ready and attract world-class talent to our region beginning with the core components of STEM, STEAM, and STREAM."
That can mean sparking an innate interest in students early on to prime them for a later career. From 2017 to 2027, growth is anticipated to be 14 percent in STEM jobs, Sorabh Saxena, President of Global Operations & Services at AT&T Business, says.
STEM is "cool" these days because nothing works without technology anymore, our panelists agree.
An aspect that Saxena believes is vital, beyond the interrelationship between tech and creativity, is fluidity between disciplines. But, as Oswaldo Alvarenga, DISD's Executive Director of STEM, puts it, it's okay for those to look different. And for Dallas ISD, social-emotional learning is tied to STEM.
Education boils down to creating valuable life skills, Dr. Jason Treadway, Director of the STEM Institute at DCCCD, says. Problem-solving, critical thinking, communication—it's all a funnel to the same dissertation, To him, the bulk of STEM occupations require middle skills, so it's up to us to do a better job of helping the general public understand that demand, as is done by their regional site STEMinsight.org.
Tread lightly though, Dr. Stephanie Knight, SMU's Leon Simmons Endowed Dean, says. If we keep adding things to STEM, we might forget the basic needs of conceptual rigor and learning. Visualize how you want STEM to look in the classroom and lean into that. 
And we can also take that a step further—expanding the idea that everything has to have STEM to include everyone having equal access to it.
"Everyone is a STEM person and every space is a STEM space," Dr. Koshi Dhingra says. "STEM equals robotics. STEM equals coding. I'm not saying stop doing that. That's great, but we need to think beyond that."
Dr. Dhingra, the founder and director of talkSTEM, thinks we need to work backwards in order to achieve a truly diverse workforce. Graduates need to have agility, flexibility, and depth in order to fulfill what today's companies want. That also means everyone is represented—but the nice thing about Dallas, she says, is that we already have all of the ingredients. We just have to use them.
Approaching STEM with a lens of equity is essential, according to the president and CEO of Big Thought, Byron Sanders. With a lack of representation comes a lack of role models, which leads to the absence of belonging. Addressing institutional barriers has to happen; if we don't do this, he says, marginalized communities won't have access to the same idealized American Dream that others do.
As Jennifer Sampson, the president and CEO of United Way of Metropolitan Dallas, points out, the university path might not be right one for all students. There's a myriad of jobs available without a degree that can lead to a successful climb up the career ladder. But, she asks, "How do we build the workforce for the future and connect young people to really good jobs?"
One way is through the numerous partnerships these people have formed together. United Way has partnerships already in place with DCCCD and Big Thought—and that's among the multitude of other integrations gathered around Dallas Innovates' roundtable.
While their views—and definitions—of approaching STEM, STEAM, and STREAM vary, all of the trailblazers agreed: The time is now for Dallas-Fort Worth to be advantageous about its approach to learning. The pieces are already in place. But where do we begin?
Our panelists had a lot of ideas—but they agree, a good place to start includes broader discussions such as our STEM, STEAM, STREAM roundtable. Throughout the next few weeks, you'll get a deeper dive into some of these calls to action, starting with the opportunities already here in the region.
We'll give you a hint how it ends, though: All our panelists agreed to get together and pick each other's brains more. Because this is important, and it's only the beginning of pushing the boulder up the hill to impact North Texas, and beyond.
In Part One, our experts discuss just what STEM is, and what it means to add an arts and reading component—STEAM and STREAM. It's a large conversation. As SMU's Dr. Stephanie Knight points out, "I have encountered in STREAM three "R"s. Is it reading? Is it reasoning? Or it is religion?" 
Meet the eight innovators who tackle these topics and share what they're working on, as well as the opportunities they see in the region. 
MEET THE EXPERTS
MODERATOR

DREXELL OWUSU
Senior Vice President, Education & Workforce,
Dallas Regional Chamber 
Owusu promotes educational and workforce efforts in order to bring the DFW region prosperity and equity in education. He says his job is "to play cupid, in many ways, between education and business and, conversely, between business and education." Owusu is also the founder of advisory and investment firm Brave Capital Partners, as well as a board member for Education is Freedom.
THE PANEL
OSWALDO ALVARENGA
Executive Director of STEM, Dallas ISD
Alvarenga leads DISD's STEM department, which includes mathematics, science, STEM environmental education, computer science, health and physical education, and the district's new career institutes. DISD also hosts the largest STEM expo in Texas annually.

DR. KOSHI DHINGRA
Founder and Director, talkSTEM
Dhingra's nonprofit organization talkSTEM works with a range of organizations for content creation and examination to inspire kids to adopt a "STEM way of thinking." On top of directing talkSTEM, she also serves as an advisory board member for SMU's Caruth Institute for Engineering Education Fellows Program. Dhingra was previously a director for UT Dallas' Science and Engineering Education Center.

HILARY JACKSON
Vice President, Technology at Capital One Financial Services
Jackson is the Head of Technology for Top of House Products within Capital One's Financial Services division. Jackson's team is responsible for software strategy, technical development, and cross-functional delivery of its software portfolio. She's an active community leader, including serving as a board member for Communities in Schools in the Dallas region and as the executive sponsor for Capital One's summer education camp, Math Corps.  

DR. STEPHANIE KNIGHT
Leon Simmons Endowed Dean, Professor, Teaching, and Learning,
SMU Annette Caldwell Simmons School of Education and Human Development
Dr. Knight leads the Simmons School of Education and Human Development for SMU. She has previously directed university and national research centers, with her research primarily involving the relationship between instructional strategies, classroom processes, learning environments, and student outcomes.

JENNIFER SAMPSON
President and CEO, United Way of Metropolitan Dallas
Since 2011, Sampson has been at the helm of the United Way of Metropolitan Dallas team. One of United Way of Metropolitan Dallas' key pillars is to make sure kids are ready for success through an aptitude for STEM. She's also on the boards of Commit! Partnership, City Year Dallas, The Hockaday School, and the Business and Community Advisory Council of the Dallas Federal Reserve Bank. 

BYRON SANDERS
President and CEO, Big Thought
Sanders says Big Thought is "working with youth in order to help equip and empower them to imagine and create their best lives for a 21st-century world." Big Thought also partners with other Dallas institutions including Dallas ISD, the Dallas Regional Chamber, and United Way of Metropolitan Dallas to promote Dallas' youth development.

SORABH SAXENA
President, Global Operations & Services, AT&T Business
In his role, Saxena serves the business aspect of AT&T by leading the company's evolution into a software-based technology and media company. Prior to Saxena's current position, he was AT&T's CIO of Network and Shared Services. Saxena has been with AT&T for over 24 years.

DR. JASON TREADWAY
Director, STEM Institute at DCCCD 
Under Treadway's direction, the DCCCD STEM Institute is motivating the district's students to pursue STEM careers. Treadway previously worked as the director of education at the Frontiers of Flight Museum in Dallas and prior to that, he was the lead educator at the Perot Museum of Science and Nature.
---
DREXELL OWUSU: All of you are deeply emerged in, or care deeply about, STEM, STEAM, and STREAM. What you are working on currently? What are you seeing in the region?
SORABH SAXENA: AT&T moved its headquarters to Dallas back around 2008, and, about the same time, we started what we call the Aspire Program. The Aspire Program has funded $500 million towards education nationwide since 2008. AT&T also has formed a secondary organization called AT&T Foundation that's funded $170 million toward STEM education over the last 30 years. Locally, in Dallas-Fort Worth, we've put $2.4 million towards STEM education in the last four years.
But those are numbers—let's get to the real color behind it for context.
Aspire is an umbrella program, and the main mission is to bring a diverse set of resources, funding, and mentorship back to public/private cooperation for the betterment of youth education—especially underprivileged [youth]. Another one of the critical programs that we've participated in is called Per Scholas. 
BYRON SANDERS: My brother-in-law is a graduate. It changed his life.
SAXENA: So, there you go.
SAXENA: It's basically institution-type training of unemployed adults for careers in IT. The notion is that you basically go to IT training, which is clearly STEM, for full-time STEM roles. On average, we're seeing income go from $9,000 a year to $36,000 a year. Another program I would touch on is what Byron [Sanders] is here for—Big Thought. Big Thought is Dallas-based and boosts confidence in life skills for traditionally underrepresented and lower-income Dallas ISD middle and high school students.
What we do is not just money: We fan out to participate and mentor because AT&T has such a large workforce based in Dallas, which is STEM-educated. We make it very personal, be that in the Dallas West Community School District, through SMU or UTD, and other programs that are local—even hyperlocal—with tentacles that reach into the communities themselves.
The notion you're getting at—the public/private business education coming together, especially the nonprofit as the third leg of the stool—makes a massive difference in being a community social-responsibility focus for us.
SAMPSON: I'll piggyback on that. We're familiar with Per Scholas, as well. At United Way, we've done a lot of work to look at how we address the skills gap to ensure that people have the middle skills they need to enter the workforce. A year ago, that gap was about 43,000 jobs not being filled in this community because people weren't qualified or didn't have the skills that they needed. We did an ecosystem study and identified IT as one industry that needed more support—health care was another. It was through that exercise that we learned about Per Scholas and another organization called Empower.
Empower does similar work and provides a credential through a pretty quick program where people can get a certification that allows them to earn a higher wage and get a job with a career ladder. It's been a big part of our portfolio over the last three investment cycles. Last year, 80 percent of the individuals that went into these training programs—both Per Scholas and Empower—graduated. And 70 percent of those students that graduated secured a good, steady job in the IT field.
DR. JASON TREADWAY: Are you working with local community colleges?
SAMPSON: We are. There's a program called Pathways to Work in partnership with JPMorgan Chase. They provide the funding that allows us to partner with the Community College District, with Workforce Solutions, and with the Dallas Regional Chamber around these middle-skills job issues.
---
GET ON THE LIST. Dallas Innovates: Every Day.
---
HILARY JACKSON: At Capital One, we want to hire incredible and diverse talent equipped to problem solve and innovate for the digital economy and deliver amazing results for our customers. That's why we're passionate about getting the workforce future-ready. As part of our Capital One Future Edge initiative, we're preparing more Americans with the skills, tools, and resources they need to succeed in the 21st century. And, we're strategically partnering with educators, nonprofits and businesses across the region to elevate DFW as a hub for innovation and technology so that, together, we can build a vibrant future for North Texas—and there's never been a more pertinent time.
We're also discovered the value of students hearing from professionals in the workforce to get a better understanding of different career paths and opportunities. Our NAF [National Academy Foundation] student interns over the summer hear from a panel of different associates, and one intern shared how this experience helped her determine what she wanted to major in. We also partner with UTD to facilitate the annual Innovate(Her) Conference, where middle school girls are learning everything from coding to public speaking and facilitate a Capital One Coders program with local ISDs and Girls Inc.
One new program we created this year came about from the number of students we host on our campus throughout the year. We wanted to elevate our campus tours as an opportunity to provide STEAM education to students, so we partnered with Koshi's team at TalkSTEM to create a WalkSTEM tour with seven stops. Students are using STEAM skills like calculating the area of our treehouse on campus and how the speed of balls is impacted by the size of the balls and texture of the ground on our putt-putt course.
Lastly, the "A" in STEAM is just as important to us. Arts have the power to drive creativity, which is why we partner with the Dallas Symphony Orchestra on their Young Strings program, that develops the talents of exceptional and underrepresented string players in Dallas by providing students with the skills, lessons, opportunities and resources essential for success both in college and careers in music. 
SANDERS: Chiming in, I'm fortunate to have tentacles that cross this table in a number of different ways from working with the Dallas district and with AT&T, talkSTEM, Jason with the Community College District, United Way, Capital One, as well as some cool stuff that we might be able to do at SMU coming up as well. All of you have been a supporter of that work in a lot of different ways.
Sometimes people are surprised if they've known about Big Thought: We're a 30-year-old organization that started off exclusively as arts education. The specific work we're doing now is going into the campuses, and we're bringing arts and creativity. For some folks, the way we talk about STEM may seem like it's not a natural evolution of where we are. In actuality, it's the perfect evolution. Big Thought's work has started to truly embrace what STEM is and what STEM means out in the community.
A couple of core things that we're doing right now: The MXP—the Mobile Experience Unit—is a huge Winnebago that's been converted into a mobile STEM van. Kids come on board, and many of them are getting their very first experiences with 3D printing, imaging, and modeling. They're getting their first experience with robotics. It's designed to ignite the imagination, and we're going out to places where kids don't typically have these experiences. We're going to apartment complexes, and we're going out in the community bringing STEM.
The crew that's working the van are students from Dallas Independent School District's Science and Engineering Magnet. They won a robotics award based on the outreach that they did on this vehicle. And we're doing a new design, we're going out and stepping into a new space.
Another thing that we're doing, just to illustrate the different ways that our work shows up in STEM, is Mark Cuban recently wanted to get more involved with exposing kids to artificial intelligence. So, we've partnered with Mark Cuban Foundation, Walmart, Microsoft, and Headstrong in order to launch an AI coding camp.
Kids right now are at the Mavs Gaming Center doing a bootcamp. Dallas Independent School District kids are learning what artificial intelligence looks like and what it means. That's the connectivity. From an arts and education organization to where we are today, some 30 years later, the reason why all this aligns is because if you're talking about the future of jobs and the future of work—because of where AI is going, where machine learning is going—it's changing what it means to be a human being in the workforce.
The things that we used to say people do, now robotics is doing, right? So, what are the skill sets that we really need? We need people who have the creative capacity, the critical thinking, the problem-solving skills, and the emotional intelligence to be able to step out and use these tools to the end that it solves a problem and meets a need.
OWUSU: I think everybody broadly understands what STEM is, but let's talk in more detail about how to add arts, writing, and reading to that conversation—STEAM and STREAM—and how we build well-rounded students from it.
DR. KOSHI DHINGRA: There's no consensus about what we mean by any of these acronyms, which is both an opportunity and sometimes an exercise of frustration in conversation, depending on who we're talking to.
I think it's with the best of intentions that the National Science Foundation, at the turn of the century, came up with the acronym STEM. The idea was to break down the silence, which makes a lot of sense. Having been in education—pre-STEM acronym and post—I think it's a great opportunity. I also think that the lack of consensus means there needs to be a lot of communication about what we mean, [especially] if you're partnering with someone—and even if you're talking to your kids about it.
I think STEM was created with the best of intentions to break down the silo, but ironically, it's become its own silo. So talkSTEM is committed to broadening participation in STEM, and that may or may not coincide with what you think STEM is. That's why a lot of the conversations that I have with people around this table and elsewhere have been really productive. There doesn't have to be one version. It doesn't have to be robotics. It doesn't have to be coding.
One of the things that talkSTEM is committed to is broadening participation with a focus on girls. Our numbers stink as far as girls and women go. And I think that comes from these narrow definitions—narrow self-definitions—as well as societal definitions.
Immediately, what I hear when I say STEM is: 'Oh, you do robotics. Oh, you do coding.' And I'm like, "no" and "no." Then it's like, well, then you don't do STEM.
We live in a world where people want sound bites. And I don't have one for you. I don't have a 30-second sound bite that's going to tell you whether you are a STEM person or not. But, [if I did,] here's mine: 'Everyone is a STEM person, and every space is a STEM space.' Now let's talk about what that's going to look like at Capital One or at SMU or at Dallas County Community College District, which are all businesses that I've worked with, and Big Thought.
If we expand that, open it up, and unpack it—if we want to have North Texas really be a hub, an innovation hub, which is what Dallas Innovates is trying to do through all of these conversations—I think that we need to spend some time with the basics and not assume that we know what STEM is. That's my take on it.
---
GET ON THE LIST. Dallas Innovates: Every Day.
---
DR. STEPHANIE KNIGHT: The conversation discussing what STEM is, and what STEAM and STREAM are, is healthy. You visualize how you want it to look, and in my reference, it's the classroom. So [think of] how you want it to look in a classroom. We have a project I'll talk about later, but one of the main things we've been doing for a year is talking about what STEM is—and my math people want a capital "M" inserted in STEM. 
So those silos are still there, but it's also very confusing because I have encountered in STREAM three "R"s: Is it reading? Is it reasoning? Or it is religion? So when we have that kind of disjoint, then we really need to discuss what we're talking about with that integration.
SAXENA: I might come at it from a slightly different angle: It's important to show fluidity as opposed to preciseness because there's an interrelationship between arts and surely STEM, but also sports. Team sports can teach you a lot about how to work in a corporation, or later on in your life, just like an individual sport can teach you. Both are important. As a developer, you're considered a nerd, and you sit alone. But then you have to work always in a bigger team to move mountains. So back to the core point, we should, of course, have some definition so that people can visualize what we're talking about and have contextual awareness. And we should allow the fluidity between these and the practice of multiple disciplines with an emphasis on the core subjects.
Whatever you want to call "core" could be also fluid to a degree, and that allows for abstract thinking. That allows for dealing with the real world, which doesn't fall into straight, narrow pockets. And I think as an esteemed panel and influencers in society, we could move on from the point of view of discussing, and get into action by turning it into real practice.
JACKSON: I completely agree. I think the most important thing is to actually get in front of students and people in the community and show them what they can do with AI and with machine learning. I find when you talk to students about artificial intelligence, they're like, 'Oh, that's probably not for me.' But when you do what we did in April at Basic TrAIning: Bot Camp—set a Guinness Book of World Records title for the largest AI programming lesson, it creates a lasting impact. The program was a partnership with a group called Major League Hacking to create a "first-of-its-kind" AI curriculum. About 800 students from DISD, Plano ISD, and from Uplift Academies got to create their own celebrity chatbot and make their friends think that they were talking to a celebrity like Beyoncé.
SAXENA: Beyoncé. 
JACKSON: There's always a Beyoncé reference. Make their friends think that they were talking to Beyoncé, right? The kids who were not super excited to be there in the first place, maybe because they were thinking, 'I don't think this coding thing is for me,' all of a sudden realized, 'This is way cool,' and, 'Where do I learn more about how to do this?'
 
We also partner with Communities in Schools in the Dallas region to host a two-week summer camp called Math Corps where students come, and they're taught math skills and life lessons by our associates. We introduced an arts component last year with a company called Braintone Art. Middle school students use headsets to make art with their brain waves. We also show them that the more they focus, the more vibrant the art is.
 
Kids who had never experienced anything like this before said, 'Wow, this is amazing,' and, 'I could see myself wanting to learn more about this and explore a career here.'
OSWALDO ALVARENGA: There has to be community involvement.
What happens in Dallas—and we have many partners here—we're there all the time and there are many things that the community doesn't see. And there has to be community involvement.
We started a STEM expo, and we had it in the spring as opposed to having one on Saturday where just a few parents went. We said, 'No, let's bring the whole community,' and everyone here at the table participated in that. Thank you for attending, and we look forward to all of you attending the next one on Jan. 18 at the Kay Bailey Hutchison Convention Center.
It's open to all of the Dallas community. We have over 5,000 parents, kids, and grandparents. They come as early as PreK and before—there are a lot of strollers. And we have our P-Tech—Pathways in Technology—high schools recruiting, we have AI, and we have all the robotics teams. But it's not just, "I go in and just see one thing." You see the arts. You see many different things. By having a STEM expo in front of the community, we get to show as a community what the possibilities are in STEM.
OWUSU: With the individualized categories involved in STEM, STEAM, and STREAM, how do we make it into a holistic learning model?
TREADWAY: No matter what you call it, it boils down to creating life skills. I think what employers really need the most is entry-level workers who can problem-solve, can critically think, and can communicate. So whether you call it STEM or STEAM or STREAM, I think it all funnels down. I think it's about developing these core life skills that they're going to take with them, and they're going to always have them and continue to develop them.
SAMPSON: I also think it's important to remember, especially for students in the classroom, that social-emotional health element because the rigor for these courses is substantial. They've got to step up, and oftentimes what they're dealing with at home can come into the classroom and prohibit or hinder their ability to learn.
The same is true with adults who are going through certification programs. For example, if you think about the challenges they may have with transportation—how they get to Per Scholas so that they can graduate and get a certificate so they can get a better job with a higher wage—those behavioral, social, and emotional soft skills are important, also.
KNIGHT: I'll add to that. The SEL [Social Emotional Learning Dallas] obviously and Momentous Institute does that so well in the area. I'll also add that language and the STEM environment is one of the three Ps: play space, problem based, or project based. It's a language-rich discourse community, and that language is an important part of STEM. What I'm concerned about, however, is that as we add things to STEM, we're going to forget that we also need that conceptual rigor and learning. I've seen examples of arts and crafts in maker vans. They make a T-shirt, and they call it STEM and science/STEM learning.
I think we've got to be careful that we look at these kinds of integrations to make sure there really is conceptual learning going on in the STEM area, as well as the artistic dealing with the social and emotional.
---
GET ON THE LIST. Dallas Innovates: Every Day.
---
ALVARENGA: I'll add to that. Social-emotional learning is so important. So you ask, who's promoting that in an elementary school, right? You don't have an SEL teacher. There's not a social-emotional learning teacher. At Dallas ISD, we moved wellness under the STEM umbrella. So it's actually science and wellness, and our SEL goes through our science teachers.
All teachers are involved in this, but to make sure that the message comes across, our science teachers—pre-K through sixth and all the way through high school—have a component of wellness that they're responsible for inside the curriculum. We do not want to miss any students at any grade level.
That's how we tie it to STEM, and it makes sense. A lot of people are like, 'Wellness is in STEM?' And in Dallas ISD it definitely is. We're really proud of that. We did a pilot last year, with full implementation this year.
SANDERS: Building on that point, Dallas ISD has been a great partnership for Big Thought. We're in the middle of a research study funded by the Wallace Foundation, and it's Dallas Afterschool, Big Thought, and Dallas ISD , because one of the things that we also have to be recognizing is that, to the point that Oswaldo brought up, you're not going to really move the needle on building SEL skills if there's a … "and this is our SEL period during the day." Do you know what I mean? Like, the rest of the day, I'll bump that, but now breathe, right? That's not going to work.  
We have to actually embed it, and that's what this research has been about. How do we help? How do we build a systemic model by which you actually embed social-emotional learning during the daytime and into the after-school model contiguously? Because in the after-school model, you're still dealing with kids, and that's a critical time of the day. It's one of the most important times of the day to transition into allowing the things that happen in the classroom to really come alive with project-based learning and experiences like that. You have to bring consistency.
What our group has been speaking to that. We really have to go out into the public square and advocate for the fact that if you're doing that stuff—if you're spending time helping build the creative muscle or the social-emotional wellbeing—you're not being fluffy. You can bring creative muscle to discipline and structure. In fact, you augment the other parts of your brain when you do these different things.
A lot of the same executive function that you need in order to be able to piece these disparate thoughts together come through these experiences that build muscle seemingly unrelated to STEM. That includes your social and emotional development.
KNIGHT: We need to emphasize and communicate that, so it isn't seen as fluff when we do something in addition to or integrated with STEM.
SANDERS: Exactly.
ALVARENGA: Play space learning, challenge-based learning, project-based learning, whatever—that requires not only intellectual or rigorous thinking, but it's also the skills to communicate, to speak, to be creative—everything. So, if you don't have that rigorous thinking component, then you might start going down the fluff area.
SAXENA: Back to the original question, how do you get to the holistic learning model? I think it's been a great dialogue, as I've observed because at the core is STEM. You can add an "A" or "R" or whatever you want, but that's at the core of your point, Dr. Knight: Don't forget the rigor of that subject.
SANDERS: That's right.
SAXENA: But, you can supplement it with sports, arts, and creativity, and then add a foundational layer of SEL: then you have a package. And if you just draw a visual of it and promote it out there, you can. Then, there's no need to ascribe a percent like 80 percent should be here and 5 percent there.' It's just that different by individual.
---
GET ON THE LIST. Dallas Innovates: Every Day.
---
DHINGRA: I'd love to speak to that because I think we're all visual learners—we all are as human beings. What we've been doing for the last year is making videos because we have technology at our disposal that is extremely inexpensive and accessible. We're building out a free, accessible platform—thanks to our wonderful partner, Dallas ISD—and accessible to all teachers and students who have been using it, hopefully more and more. We have partnerships, we've done videos, and also an app with Capital One. You know, all of these technologies allow us to broaden participation. We can't forget the people who don't see themselves as STEM—that's the majority.
I think back to my very first science methods class a long time ago. We were all in the secondary science education program. It was the pre-STEM era, and my professor said, 'So, you need to, at some point, compartmentalize everything that worked for you, because the very fact that you're here means that you are unlike most of the students. You're going to be teaching.' There's a human tendency to say, 'Hey, I love this, so I'm going to have everybody do this, and of course, they're going to love it, too.'
Diversity is hard because we all have our points of view. I think that's why having lots of these videos helps support that. We now have about 130 or so videos on our platform, walkSTEM Academy, which is a YouTube channel, and they're in primarily art spaces.
We need to look at the unexpected, right? Because, as I said, we're kind of in a silo.
STEM equals robotics. STEM equals coding. I'm not saying, "stop doing that." That's great, but we do need to think beyond that. We have grad students from UT Southwestern, we have young people who love this stuff because here are people who can also speak to it. We create the script, and there's a whole production company behind the scenes.
We professionally film everything so it's high quality, and teachers and students and families, hopefully, can watch it. I'd love to have Spanish captions, too, because we've done the hard work already of creating this content. What we opened up—the ultimate goal in all education—is now you do it, right? These are all models, and Big Thought is a partner in this. We hope to get a lot of students through your groups coming and creating their own walkSTEM videos.
We joined open-minded collaboratives like Capital One, and we collaborated with AT&T Performing Arts Center, too, for our Pi Day Math Festival—others who already are doing a lot of great things with students from DISD and other places. It was Capital One's idea to create an app for a walkSTEM tour on their campus—that's what I love. What we do is only possible through partnerships and in no other way.
I do not work alone.
This panel has been edited for brevity and clarity.
READ NEXT
STEM, STEAM, STREAM: 'The World Doesn't Work Without Technology Anymore, Nothing Does.'
STEM is cool, our experts agree. And it's important. The challenge is translating that to students.
Part Two of our series explores the state of STEM, STEAM, and STREAM education in Dallas-Fort Worth and the actions we need to take.
STEM, STEAM, STREAM: "In Dallas, the Ingredients are Here."
Dallas-Fort Worth has the pieces—educators, nonprofits, corporations, technology, and the will—to be known as a hub for innovation and technology, our panel agrees. But, to attract and prepare the next generation of world-class talent, we need action.
"Hopefully, we're all beginning to push this boulder up the hill, together," DRC's Drexell Owusu says. Read more in the final installment of our series.