In April of 2012, execs from State Farm got in touch with their longtime North Texas real estate brokers, Randy Cooper and Craig Wilson of Cassidy Turley, to talk about a top-secret expansion the company was considering. It was a deal that could potentially be as large as 500,000 square feet, maybe one day expanding up to 750,000 square feet. The insurer was thinking it would look for an existing facility with land for expansion, or perhaps it would build from the start, a typical campus of tilt-wall buildings with surface parking.
By the summer of 2012, Cooper and Wilson had taken different State Farm execs on tours of numerous sites. After one such tour, the brokers gathered with their clients in a hotel lobby to recap the possibilities. It just so happened that a number of different division heads were there, and they used the opportunity to have an internal meeting. Each leader talked about anticipated employee counts for certain divisions within the organization. Cooper and Wilson took notes and did some quick math. The numbers added up to about 7,500 jobs. 
The brokers looked at each other, silently reaching the same conclusion: State Farm was going to need a whole lot more than 750,000 square feet.
There had also been some discussions that maybe a tilt-wall campus wasn't the way to go. Instead, what if the company created a place that would help it recruit and retain a vibrant workforce as an "employer of choice." What if it created an exciting environment where people would want to spend their entire careers?
After that, everything changed. Because of the larger size requirement, developing a new campus was the only real possibility. But State Farm didn't want to delay its growth. So that meant also finding large blocks of existing space where it could bring on new employees. On top of everything else, the company needed a place to house its large catastrophic operations center.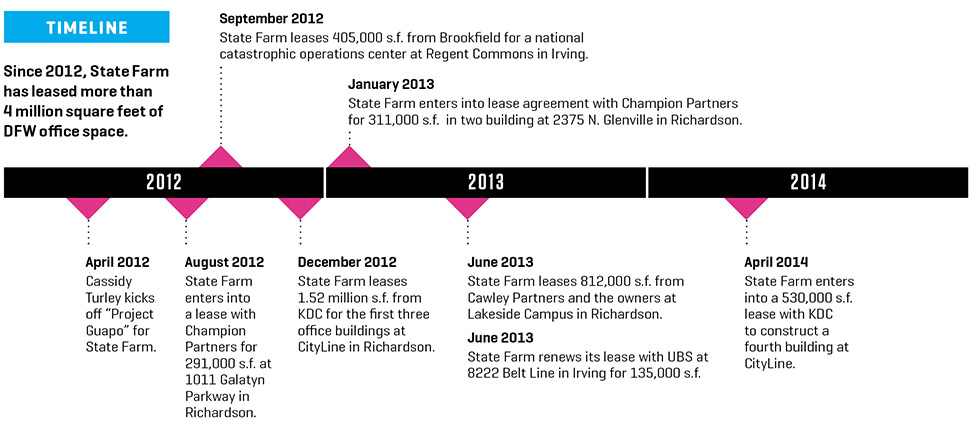 "The market was really confused," Cooper says. "We were looking for temp space and long-term space, no one knew who the client was, and we were all over the city."
A KDC-controlled site near the intersection of State Highway 190 and U.S. 75 quickly emerged as a front-runner for State Farm's campus. The tract offered access to a deep labor pool, both within Richardson and other cities in all directions, with its on-site DART station. And the design possibilities were endless. In one development meeting, the team was talking about the efficiencies of value office buildings with 40,000-square-foot floorplates. Steve Van Amburgh, CEO of KDC, looked at the group and said: "You're going to need 40 of those!" 
Van Amburgh went on to explain that State Farm could have all of the efficiencies of tilt-wall buildings by building taller  buildings of varying heights—that it could create the exciting "city" environment the company wanted. "It was a great moment," Cooper says.
Critical to making it work was the availability of large vacant blocks where State Farm could take immediate occupancy. Market conditions worked in State Farm's favor, and the company was able to secure about 2 million square feet in various facilities. Local ownership and cooperative existing tenants (see "Jumping Through Hoops" at right) helped everything come together.
The landlords—Jeff Swope and Steve Modory at Champion Partners and Bill Cawley with Cawley Partners—saw a revenue opportunity, but they had their civic hats on, too, Wilson says: "They were just as excited about the economic impact and what it meant for Dallas." 
State Farm will be an outstanding corporate citizen, Cooper says. "If you look at their track record, they're all about employee retention and community involvement," he says. "They have a strong history of being a key component of any community they're in."
The assignment meant about two years of nearly nonstop work—nights, long weekends, and missed summer vacations. "It was stressful, it was fun—it was all worth it," Wilson says. "It was one of those things you hope you get to experience again, but know you probably never will."
Facts and Figures: State Farm at CityLine 
689 Million Pounds of Concrete: One, Two, Three, and Four CityLine will use a projected 170,000 cubic yards of concrete upon completion. That would weigh about 689 million pounds. 
Immediate impact: From the start, State Farm's new campus will house more than 8,000+ employees—a ready consumer base for retail and restaurant tenants.
Glass and Steel at Two CityLine: An 80'x50′ glass-enclosed corner element will culminate in a series of illuminated fins that extend another 50 feet above the highest concrete roof, using more than 60 tons of steel.
Open Air Plaza: The focal point of the initial phase will be CityLine Plaza, a centrally located urban plaza designed by the Office of James Burnett, the landscape architect of Dallas' Klyde Warren Park. The natural looking landscaped plaza will offer open space for outdoor concerts and festivals, shaded gathering spots for meetings or meals and walkways for pedestrian experiences.
On a Pedastal: Each building sits atop a five-level parking structure over ground-floor retail space.
KEY PLAYERS
Developer: KDC
Tenant: State Farm
Design Team

Architect: Corgan
Interior Design: Corgan
Civil: Kimley-Horn
Landscape Architect: Office of James Burnett
Structural: L.A. Fuess
MEP/FP/Security: Telios
Roofing: Amtech
Parking: HWA
Code: Aon
Door Hardware: Allegion
Vertical Transportation: HH Angus
Accent Lighting: LuM
Acoustical: Jaffeholden
Signage/Wayfinding: RSM
Envelope: Vertical Solutions
Wind Engineer: CPP (Cermak, Peterka, Petersen)
Audio Visual: GAP Solutions Group
Construction Team

Contractor: Austin Commercial
MEP: Brandt
Concrete Formwork: Capform
Concrete Formwork: Potter
Concrete: Southern Star
Concrete: TXI
Precast Concrete: Gate Precast
Glazing: Harmon
Drywall: Drywall Interiors
Access Flooring: Prestige Interiors
Millwork: Woodhaus
Elevators: Thyssen Krupp
This story originally appeared in the Dallas-Fort Worth Real Estate Review.
Read all stories from the CityLine Anatomy of a Deal package:
Building a City Within a City
State Farm at CityLine: Kind of a Big Deal
A Place to Walk About
Raytheon at CityLine: Creating a High-tech Command Center
A Multifamily Home Run
A Development That's Built to Last
---
Read the digital edition of Dallas Innovates' sister publication, the Real Estate Review, on Issuu.
Sign up for the digital alert here.

Get on the list.
Dallas Innovates, every day.
Sign up to keep your eye on what's new and next in Dallas-Fort Worth, every day.