It's hard to appreciate of the size and scope of CityLine without a little perspective. Consider that in 1940, a century after Richardson was first settled, the small town was home to just 740 people.
By 1961, it had about 16,800 residents. When CityLine opens in late 2015, the development will have a daytime population of more than 16,000. In other words, it will replicate growth that its hometown took 120 years to achieve. 
So, what does it take to build a city within a city? A huge team of players at the top of their game—and plenty of cooperation. At full build-out, CityLine will contain 6 million square feet of office space, 300,000 square feet of retail space, and thousands of apartments.
Already, State Farm has signed on for 2 million square feet of office space, and Raytheon will take another 500,000 square feet. A 150-room Aloft hotel is in the works, as are a Cinemark movie theater, a 17,000-square-foot fitness and wellness facility, numerous shops and restaurants, more than 500 apartments, and a shopping center anchored by a specialty grocer.
City Manager Dan Johnson credits former civic leaders with recognizing the importance of mass transit. Richardson has four rail stops on the Dallas Area Rapid Transit's red line, including one that's part of the CityLine development. The city also sought to keep the land as one large tract to attract a large-scale, high-impact project, Johnson says. "Truly, if you really study the story of this, it is an anatomy of decades," he says. "It is the result of many prior leaders and administrators doing the right thing on their watch in order for it to be ready to be developed by the current team."
Another key factor was the construction of the President George Bush Turnpike, which provides important access to the property. In 2010, approvals were secured for form-based zoning, which allow a developer to meet timeframes with minimal red tape. The city also put into place a tax increment financing district, as it knew the site would require a significant investment in infrastructure. It was a strategic move to foster interest in the land, Johnson says.
KDC, which had developed other large projects in Richardson, began looking at the property in 2012. "We were seeing more interest from corporate users in transit-oriented, live-work-play developments," says Toby Grove, president of KDC. The company began master-planning the site and pursuing build-to-suit opportunities. It was then that discussions with State Farm began.
KDC put the 186-acre tract under contract, and closed on its acquisition in December 2013. By March 2014, it was breaking ground on State Farm's new campus.
"We'll have roughly 16,000 people on this site on a daily basis in a relatively short time frame," Grove says. "That supports the residential and the retail and provides a great environment for employees."
The Right Feel
To help create CityLine's flow and sense of place, KDC turned to a team of experts, including Omniplan, which established criteria for things such as streetscapes, storefront design, and lighting. It set requirements on how wide sidewalks could be and how parking should be configured.
"I think the whole project is interesting because it underlines how the workplace is changing," says Tip Housewright, principal at Omniplan. "Young employees want to work in a vibrant workplace. Here's a major corporation [State Farm] that is partnering with KDC to reinvent the workplace."
Omniplan collaborated with a number of other firms, including Corgan, Good Fulton & Farrell, the Office of James Burnett, Kimley Horn, and Retail Street Advisors.
Once CityLine is developed, Transwestern will oversee property and facilities management for the whole shebang. The commercial real estate firm beat out several other contenders to secure the plumb assignment—the largest in Transwestern's Central region.
"This is a phenomenal development with so many different facets," says Jack Eimer, regional president of Transwestern. "It's going to really anchor Richardson and transform the market."
Lay of the Land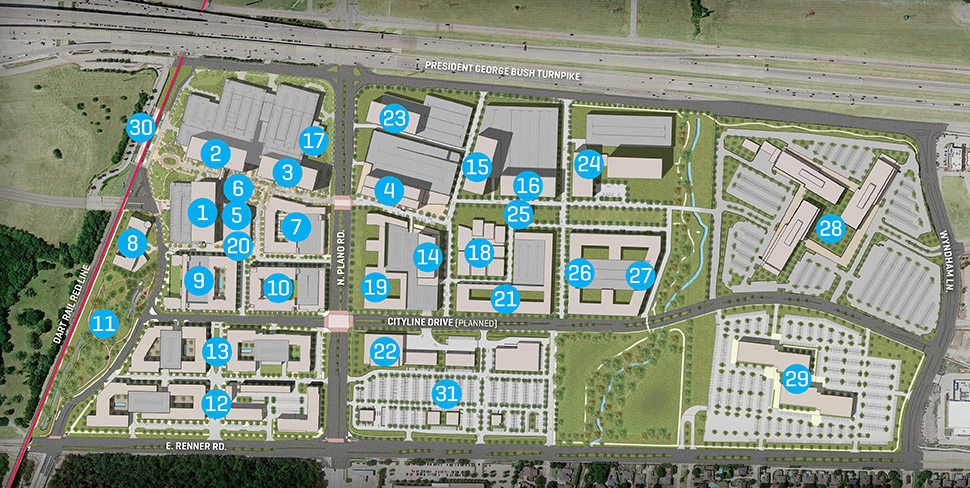 1. CityLine One – State Farm Office –
388,000 S.F.; Retail 6,000 s.f.
2. CityLine Two – State Farm Office –
710,000 s.f.; Retail 21,000 s.f.
3. CityLine Three – State Farm Office –
458,000 s.f.; retail 28,000 s.f.
4. CityLine Four – State Farm Office –
530,000 s.f.; retail 32,000 s.f.
5. Aloft Hotel – 148 Rooms
6. CityLine Plaza 
7. Multifamily – 220 units 
8. Multifamily – 150 units
9. Multifamily – 300 units
10. Multifamily – 312 units
11. CityLine Park – 3.5 acres
12. Multifamily – 403 units 
13. Multifamily – 434 units 
14. Office – 350,000 s.f.; Retail 20,000 s.f.
15. Office – 650,000 s.f.
16. Office – 450,000 s.f.

17. Medical office building – 42,000 s.f.
18. Cinemark – Retail 8,000 s.f.
19. Multifamily – 400 units; Retail 18,000 s.f.
20. Entertainment complex
21. Multifamily – 450 units 
22. Specialty grocer – 40,000 s.f.
23. Office – 300,000 s.f.
24. Office – 250,000 s.f. 
25. Hotel – 200 ROOMS 
26. Multifamily – 280 units 
27. Multifamily – 280 units 
28. Raytheon Campus – 500,000 s.f.
29. Office Campus – 400,000 s.f.
30. DART Bush Turnpike Station
31. Anchored retail center – 17.6 acres
CityLine Facts & Figures
1.1 Million man hours have been put into the construction in one year.
108,000 cubic yards of concrete have been poured. 
More than 12,000 tons of rebar have been installed.
An average of 950 workers have been on site on a daily basis.
More than 2.5 million square feet of office space are included in phase 1 and 2.

 

State Farm's office towers are situated on five-level parking structures, along with ground-floor retail space.
A DART plaza welcomes transit riders and encourages them to shop and dine. Parking for DART Bush Turnpike rail station is under

 

the Bush Turnpike overpass.
Once the initial phase is complete, the daytime population at CityLine will top 16,000.
The $1.5 billion CityLine sits on 186 acres.
KDC thought the name "CityLine" was especially appropriate because the project will be an instant "city within a city."
At full build-out, the project will include 5 million square feet of office space, 300,000 square feet of retail space, 3,925 apartments, and two hotels.
KDC plans to achieve LEED Silver certification from the U.S. Green Building Council.
About 1,700 employees will operate out of Raytheon's new CityLine campus
When Raytheon was evaluating real estate options, it discovered that the center point of employees' homes was just a couple of blocks east of CityLine in Richardson.
An on-site shopping center will be anchored by a 40,000 s.f. Whole Foods.
Subterranean loading will allow the functional elements of restaurants and retail at CityLine Plaza to be hidden and not detract from shopping and dining experiences.
Runners and cyclists will ultimately connect to a trail system that runs as far south as White Rock Lake.
Economic Impact over a 10-year period
The project will directly and indirectly employ 17,000 people in the DFW area
It will directly and indirectLy lead to $7.3 Billion dollars in salaries paid
The city of Richardson will receive $13.5 million in property tax revenue
It will also receive $7.2 million in sales tax revenue
This story originally appeared in the Dallas-Fort Worth Real Estate Review.
Read all stories from the CityLine Anatomy of a Deal package:
Building a City Within a City
State Farm at CityLine: Kind of a Big Deal
A Place to Walk About
Raytheon at CityLine: Creating a High-tech Command Center
A Multifamily Home Run
A Development That's Built to Last
---
Read the digital edition of Dallas Innovates' sister publication, the Real Estate Review, on Issuu.
Sign up for the digital alert here.

Get on the list.
Dallas Innovates, every day.
Sign up to keep your eye on what's new and next in Dallas-Fort Worth, every day.