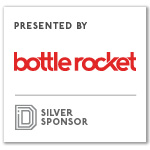 Bottle Rocket is best known for designing and developing mission-critical mobile experiences for some of the world's most discriminating brands. But did you know we've also been known to create some pretty popular mobile video games as well? (Ever heard of Annoying Orange: Kitchen Carnage?) Most recently, our focus on innovation has allowed us to work with the likes of Coca-Cola, Starwood Hotels, and NPR (National Public Radio), but for one very special cause, we went back to our roots to launch a game that is very special. We're proud to announce that Planet SRAM, a single-player shooting game unlike any other, is now available for download on the App Store for the world to experience. What makes this particular game so unique? Its creator. 
A Match Made in Outer Space
Eleven-year-old Hunter Allis had a wish. He wanted to create his very own video game. Luckily for us, he had already been thinking about it and planning it for quite some time.
"When I first heard the news that I was going to get to make my very own game, I was so excited," Hunter said. "And I was going to get to ride on a plane and go to Dallas to do it! I had been thinking about this for so long, I just couldn't believe it was actually going to come true. And when I finally got to Bottle Rocket, it was even more awesome than I could have hoped for."
Hunter and his family were invited to join the Bottle Rocket team in Dallas for an immersive week of whiteboard sketching, feature ideation, and game development that brought Hunter's ideas to life on the digital screen.
The week began with a quick new employee orientation (we had to make it official!) and a one-week employment "contract" signing. Over the course of about five days (and maybe a few nights), Bottle Rocket's team of expert engineers, strategists, and creatives sought to make Hunter's wish a reality. There were brainstorms, lots of ideation, and even a few breaks for pizza. In the end, our collaborative team was able to make Hunter's dream game. In true Bottle Rocket form, as a wrap to the week's work, we held a company-wide launch party to show off Hunter's realized vision. And now, the rest of the world can download the game and experience it all over again with us.
Welcome to Planet SRAM
On Planet SRAM (that's Mars spelled backward, by the way), the name of the game is survival. The single-player game is full of out-of-this-world characters and monsters like giant tree creatures that shoot snakes from their heads. Every idea came straight from Hunter's mind and his very detailed notebook full of concept art, game levels, and character mock ups.
Rocketeer Andy Dombroski, who helped make Planet SRAM a reality, said, "Planet SRAM is a game that really came from Hunter's mind. We got a chance to meet with him initially and go through the different types of things he wanted in a game, the different kinds of things he liked, and, taking those into account with a short kind of game jam time window that we were going to develop it in, we came up with a feature list that we thought we could execute well that he'd enjoy."
The game features touch-based controls to simultaneously navigate and shoot oncoming hordes of enemies. Planet SRAM offers an exciting and action-packed look into the super creative mind of a boy with passion and a whole lot of heart.
A Life-Changing Experience
Hunter, now 14, is a high school freshman with a new dream that is even bigger than the giant tree boss in Planet SRAM—he wants to go into game development for good.
Hunter's mom, Erin, caught us up on the budding programmer: "He is excited about his new school because it has a game design track, and he plans on participating in the after-school game design club and video game tournament club. His last cardiology check-up was good, and this year was his first time he was able to go to camp."
Bottle Rocket's Founder and CEO, Calvin Carter recognized the creator's spark in Hunter when he first arrived to begin work on Planet SRAM. When the project began, Calvin said, "Hunter wants to do what we wants to do. He wants to do what he loves. At Bottle Rocket, we believe that something that comes from a place of passion is bigger than you. It impacts others and grows beyond yourself. So, we could not wait to work with him and his ideas, or to help him build this expression of himself."
This journey allowed us to do even more of what we love and share our craft with someone that loves it just as much as we do.
CALVIN CARTER
Little did we know that Planet SRAM was just the beginning for Hunter. We're happy to see our gaming legacy carried on in his passion for game development. "This journey allowed us to do even more of what we love and share our craft with someone that loves it just as much as we do. We are honored and humbled to have had this opportunity to serve a wonderful and deserving family, as well as a truly impactful organization," Carter said.
Updated on Oct. 16, 2017, 3 p.m
---
Dallas Innovates, Every Day
One quick signup, and you'll be on the list.