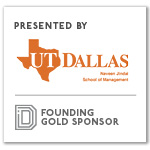 Information is the best offense when entering the competitive entrepreneurial field. And the very best information is research-based cutting-edge knowledge, putting innovators at the head of the pack when tackling issues such as venture capital, marketing, and distribution.
The Entrepreneurial Development Series, held by the Institute for Innovation and Entrepreneurship at The University of Texas at Dallas, is a six-part seminar series. The first session, led by UT Dallas faculty and leading researchers, will meet on Sept. 20. Also included are deep-dive discussions with expert practitioners covering topics critical to startup success: digital marketing, metrics for success, creating a minimum viable product, go-to-market strategies, legal issues, taking on partners, and way, way more.
"The point is this—we want people to have the information they need to be successful entrepreneurs."
Steve Guengerich
"These discussions cover topics considered among the most critical to startup success," says Steve Guengerich, executive director of the UT Dallas Institute for Innovation and Entrepreneurship. "Each class has one or more experts in innovation, and every session will include a free-wheeling, 'ask-me-anything' Q&A time. The point is this—we want people to have the information they need to be successful entrepreneurs."
Just as important, time is built into each session for networking, brainstorming, and meeting people with various startup experiences.
"This meet-and-mingle time with people from a variety of backgrounds — academic, large company, startups, founders, support and service providers — can be as valuable as the actual sessions," says Olia Bosovik, the institute's assistant director and program leader for the development series. "We want participants to squeeze out every drop of information they can from each monthly session."
Also attending seminars will be professors from the Naveen Jindal School of Management's master's program in Innovation and Entrepreneurship. The program this year was ranked No. 22 in the nation among similar graduate programs in the U.S. by The Princeton Review and Entrepreneur.
DETAILS
Seminars start Sept. 20 and will be held monthly through the fall and spring. Cost is $210 for all six seminars. Participants also may choose which classes to attend and pay $35 per session. Registration is required.
Discounts are available for more than one attendee from the same company and UT Dallas students may attend for free, upon approval. Students should contact Olia Bosovik, the Entrepreneurial Development Seminar's program leader.  
All sessions are held at the Blackstone LaunchPad office on the UT Dallas campus in Richardson, easily accessible from U.S. Highway 75 (Central Expressway) and the President George Bush Turnpike.
Blackstone LaunchPad is a campus-based global entrepreneurship program designed to support and mentor entrepreneurs and funded by a three-year $3 million grant from the Blackstone Charitable Foundation. The grant aims to advance innovation across Texas by expanding the foundation's campus presence. Other grants were given to UT Austin and Texas A&M.
---
Dallas Innovates, every day
One quick signup, and you'll be on the list.