The 35-mile stretch from Dallas-Fort Worth International Airport to McKinney along State Highway 121 and the Sam Rayburn Tollway is a hotbed for development, 20 years in the making. What began as far-off suburbs is now an urban oasis of restaurants, retail, and office amenities—transformed by a booming population, easy access to transportation, and high-density development.
A new breed of urbanism is taking hold in edge cities all along the corridor, helping to make the area a destination for the live-work-play triangulate that is vital in attracting and retaining talent. Read more about the new CBD in the Dallas-Fort Worth region that is becoming a destination for urban-suburban development, or check out the various plans making the region thrive.
---
What's New, What's Next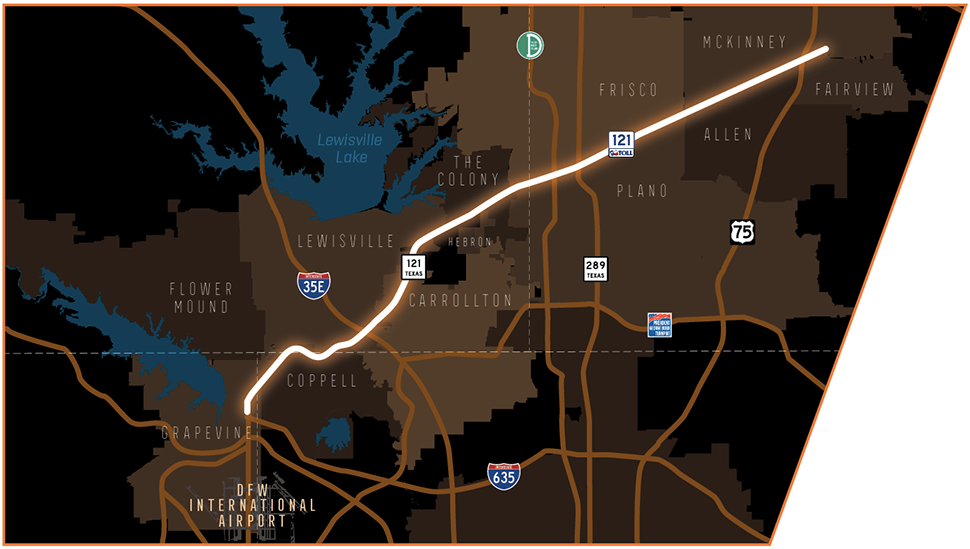 GRAPEVINE
Paycom Texas Operation Center
The center will open on city property in Grapevine facing the 121 corridor. Several office buildings eventually will comprise the campus, with the likely build out to include up to 1,000 employees.
Gaylord Texan Resort & Convention Center
Another 300 rooms are now complete, as well additional meeting space, making the hotel one of the largest in Dallas-Fort Worth at over 1,800 total rooms.
Peppa Pig
Merlin Entertainment continues its family themed projects with the announcement of the first Peppa Pig entertainment venue at Grapevine Mills Mall.
FLOWER MOUND

Realty Capital's Class A Speculative Office
In April, the town entered into an incentive agreement with Realty Capital to bring Flower Mound's first large-scale Class A spec office building to the Lakeside Business District. The roughly $35 million project is for a 4-story, 120,000-square-foot, state-of-the-art office building.
Duke Realty's PPG Industries Distribution Facility
Duke Realty broke ground on a $25 million, 635,000-square-foot industrial building, which will be the new home to PPG Industries distribution operations. PPG will occupy almost 450,000 square feet, leaving just under 200,000 square feet available to lease.
Restaurant Row — the River Walk at Central Park mixed-use development
Centurion American, master developer of the mixed-use River Walk and Central Park project, broke ground on its "restaurant row," which is three buildings that all have patios overlooking the water. The developer recently announced six restaurants that will occupy them.
Lakeside Village
Realty Capital received zoning approval for a 30-acre, $1 billion mixed-use project on the north shore of Grapevine Lake, just south of the Lakeside DFW mixed-use project. Lakeside Village will bring new residences, office, hotel, retail, and restaurant uses, as well as an amphitheater, community greens, and trails.
LEWISVILLE
Mixed-use
Development company Bright Realty announced a $1.5 billion project for a massive mixed-use development called Realm at Castle Hills.
Industrial parks
East Group completed two buildings totaling 500,000 square feet that were fully leased. Majestic Airport Center completed about 750,000 square feet of industrial space and retained Kellogg's regional distribution hub within one of the 1-million-square-foot facilities.
Riverview Crossing
Along 121 Business, ML Realty completed a 121,000-square-foot facility that is leased to Toyota Motors Sales LLC USA, a marketing and sales arm of the Toyota Motor Corp. At Lewisville's Lake Vista Office Park at Sam Rayburn and I-35E, TIAA expanded into a second office building and Nationstar Mortgage also located in the office park.
THE COLONY



Galaxy Theatres
Ground has been broken on the more-than 85,000-square-foot, 16-screen venue with a projected open date of Spring 2019 at the $1.5 billion Grandscape development. It will be Galaxy's first location in Dallas-Fort Worth
SCHEELS
The Colony SCHEELS says it will be the world's largest all-sports store with 300,000 square feet of name brands under one roof. It will have more than 85 specialty shops that will provide a retail adventure for the sports enthusiast, the outdoor adventurer, and for those who seek an array of fashion and footwear. The store is expected to open in 2020.
PLANO
Timmons Group
A Richmond, Virginia-based civil engineering and technology firm has opened a North Texas office. The group has subleased office space at Legacy Town Center III at 5801 Tennyson Pkwy. in Plano.
Granite Park
Plans are underway for a $3.5-million capital improvement project for upgrades that will start with better access between the existing office towers, the Hilton hotel and retail space. New pedestrian crosswalks and streetscape improvements are also part of the plan.
---
READ NEXT The Road to Everywhere: A New Breed of Urbanism Transforming the 121 Corridor
---
FRISCO
Hyatt Regency Stonebriar
The 18-story, 303-room Hyatt Regency Stonebriar hotel has broken ground in Frisco at Stonebriar Centre. It will feature a parking garage, conference center, and a city library. The hotel developer is Sam Moon Group; the contractor is Brasfield & Gorrie; the architect is HKS Inc.; and Looney & Associates will manage the interior designs.
Frisco Station
Kansas City-based VanTrust Real Estate LLC announced that it will be developing its second office building in Frisco, The Offices Two, at Frisco Station. Construction on the six-story office tower began in October and is slated to be completed next year.
ALLEN
One Bethany Plaza
One Bethany at Watters Creek, the 17-acre, multiphase, corporate office park adjacent to all the amenities of Watters Creek, saw two major office buildings open in 2018 and immediately saw strong leasing activity, including NETSCOUT Systems.
WatchGuard Inc.
The provider of mobile video solutions for law enforcement opened its new world headquarters in June. The 140,000-square-foot, 2-story facility houses roughly 500 employees and a 43,000-square-foot manufacturing facility where its products are assembled.
CyrusOne
The global data center REIT opened the first phase of their newest data center campus, a 340,000 square-foot center that's the first step in a campus that will offer more than 100 megawatts of power. It's expected to be a $1 billion dollar investment at full completion.
McKINNEY
Independent Bank
Independent Bank Group Inc., the holding company for Independent Bank, is building  a new corporate headquarters—a 165,000-square-foot, 6-story building—at the McKinney Corporate Center Craig Ranch. It will be McKInney's tallest building.
---
Read the digital edition of Dallas Innovates' sister publication, the Real Estate Review, on Issuu.
Sign up for the digital alert here.

Get on the list.
Dallas Innovates, every day.
Sign up to keep your eye on what's new and next in Dallas-Fort Worth, every day.