Not so long ago, the most important consideration in a headquarter relocation or expansion project was real estate. Today, it is all about labor. Where can I find it, what are the costs, and what is the quality? At the Dallas Regional Chamber, we see companies drawn to Dallas-Fort Worth take advantage of the diverse and growing talent pool in which they can hire high-tech engineers, computer programmers, and other technology related workers.
In fact, Dallas-Fort Worth is a top 10 metro for high-tech workers in the United States. As of the third quarter 2015, we had more than 229,000 high-tech jobs in our region, placing us 7th among all U.S. metros. These workers are employed across a diverse range of industries, from aeronautics to telecom to IT services. An app developer here is just as likely to be employed at a headquarters or regional office of a major finance or insurance company as a hot new startup or traditional technology firm.
This is the first in a series of articles that will provide the numbers behind our innovation economy.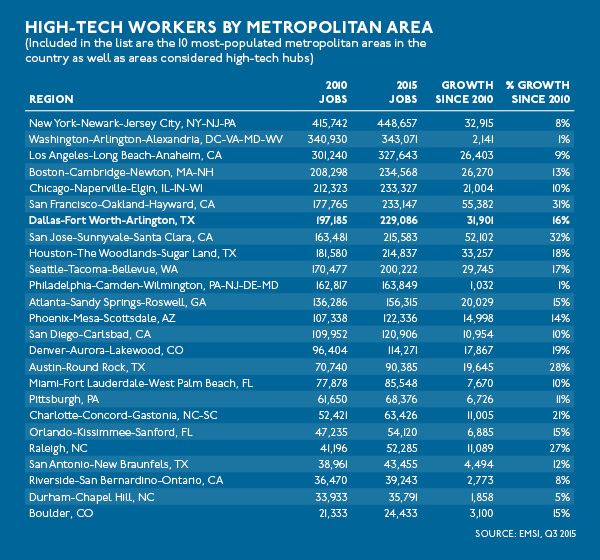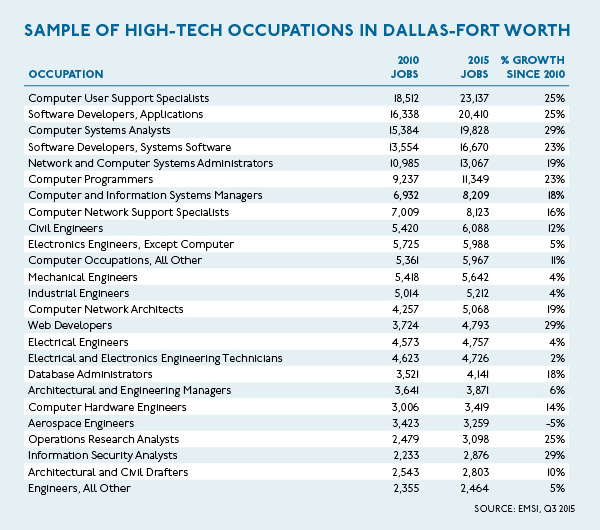 ---
For a daily dose of what's new and next in Dallas-Fort Worth innovation, subscribe to our Dallas Innovates e-newsletter.