Every week, we do a little research of our own. We're looking for scientists, professors, engineers, entrepreneurs—anybody, really—engaging in research and development across North Texas.
There's plenty of good work being done. If you want to put R&D under your microscope, sign up for our e-newsletter.
Exercise activates neurons that control metabolism, study shows
Just a spoonful of exercise before you become a couch potato might help you better tolerate those sedentary stretches, research at UT Southwestern Medical Center shows.
A new study shows that neurons in mice that influence metabolism are active for up to two days after a single workout, leading scientists to believe their work could lead to potential treatments to improve the metabolism of diabetes patients.
UT Southwestern said in a release that the work provides new insights into the brain's potential role in fitness, and may provide a target for therapies that could improve metabolism.
"It doesn't take much exercise to alter the activity of these neurons."
Kevin Williams
"It doesn't take much exercise to alter the activity of these neurons," UT Southwestern Neuroscientist Kevin Williams, Ph.D., said. "Based on our results, we would predict that getting out and exercising even once in a semi-intense manner can reap benefits that can last for days, in particular with respect to glucose metabolism."
UTSW said the study, which was published in the December edition of Molecular Metabolism, measured the effects of both short- and long-term exercise on two types of neurons that comprise the melanocortin brain circuit—something that is shared by both humans and mice.
It said that one of the neuron types, POMC, is associated with reduced appetite, lower blood glucose levels, and higher energy burning when activated. The other type, NPY/AgRP, boosts appetite and diminishes metabolism when activated.
According to the study, a single bout of exercise can boost the activity of POMC neurons and inhibit the NPY/AgRP neuron for up to two days, and those changes will last longer with additional training.
Do palm fronds hold design answer for giant offshore turbine blades?
A mechanical engineering professor at the University of Texas at Dallas is helping design massive blades for a powerful offshore wind turbine that uses the unique properties palm tree fronds use to survive in hurricane-force winds—they bend and fold, but don't break.
That will come in handy during a hurricane in the Gulf of Mexico or the Atlantic Ocean. Todd Griffith said it's all about efficiency, and he's given the problem plenty of thought.
"I'm thinking how efficient it is when powerful winds blow. The fronds are flexible; they fold up in hurricane-force winds for protection. When they unfold, they're fine. I wonder if I can use that in a wind turbine?" he said.
UTD said that before joining its faculty in 2017 at the Erik Jonsson School of Engineering and Computer Science, Griffith was a principal member of the technical staff and offshore wind technical lead at Sandia National Laboratories' Wind Energy technical department.
Griffith is a key member of a multi-institutional group led by the University of Virginia to design and construct a 50-megawatt offshore wind turbine that's about six times more powerful than the largest one on record. That one is off the coast of Scotland, UTD said. In addition to his duties at UTD, Griffith is still working on the effort.
The blades for the turbine will be more than 200 meters long—that's more than two football fields in length. Normal blades are a quarter that size.
"We're designing the world's biggest wind turbine," he said. "Where else would you do that but Texas? Everything is bigger in Texas."
In October, the team tested two smaller blade prototypes at the National Renewable Energy Laboratory's wind technology center in Golden, Colorado.
---
Dallas medtech firm to begin clinical study of prosthetic shoulder implant
Dallas-based FX Shoulder USA Inc. this month will begin the FDA-approved Investigation Device Exemption clinical study of its Easytech Reversed Stemless, an innovative shoulder arthroplasty implant.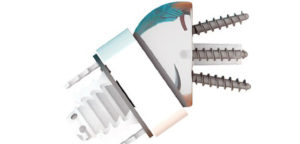 The implant will be under study at nine sites and with 12 surgeons across the nation, the company said.
"The Easytech Reversed may be exactly what the U.S. market is in need of, and a reversed stemless prosthesis could potentially be the future of shoulder arthroplasty," Baptiste Martin, CEO of FX Shoulder USA, said in a statement.
The study comes on the heels of success in France for FX Shoulder USA's parent company, FX Solutions, where more than 800 Easytech Reversed Stemless prostheses have been successfully implanted. FX Shoulder USA is the direct provider of FX Solutions prosthetics in the U.S.
The company, which was founded in January, is scheduled to enroll patients at two investigational sites this month, and will continue enrollment with more sites beginning in January. 
READ NEXT
R&D: UTD Researcher Defies Nature in Cloaking Sound, UT Southwestern Probes 'Starving' Lung Cancer
R&D: UNTHSC Seeks to Give Stroke Victims More Time; UTSW Examines Heart Issues & Race