North Texas is a big place, with plenty to do, see, hear, and watch. So, we scour the internet every week to find events and activities for you. As always, events may change at any time, so check the event website or registration page for the latest details. 
---
THURSDAY, JULY 26
DALLAS ISD TEACHER JOB FAIR
Emmett J. Conrad High School, 7502 Fair Oaks Ave, in Dallas
4 – 6 p.m. 
Calling all teachers in the DFW area—Dallas ISD is holding a teacher job fair to connect those who want to impact the children of Dallas's lives in a great way. Teaching certificate or proof of teaching eligibility is required for the event. 
Free
To register and find more information, go here.
—
IP DISCUSSION WITH POLSINELLI & ROBERTS FOSTER LLC
Polsinelli, 2950 N. Harwood St, in Dallas
5:30 – 8 p.m. 
Join bionorthTX for a discussion on Intellectual Property with host Polsinelli, along with speakers from Harness Dickey and Roberts Foster. There will be a happy hour with cocktails and light bites prior to the discussion, followed by speaker presentations and lastly the chance to network with known attorneys and guests. 
Tickets are $20 for non-members.
To register and find more information, go here.
—
FOUNDERS LIVE 
Capital Factory + The DEC, 3102 Oak Lawn Ave, in Dallas
6 – 9 p.m. 
Founders Live will pick up to five companies that will have the 99-second opportunity to pitch their company to crowd at this happy hour event. There will be an overall winner, but every company that presents will receive $5,000 credit towards their web hosting on Amazon. Enjoy food, drinks, and network with the upcoming entrepreneurs in Dallas.
Free
To register and find more information, go here.
---
SATURDAY, JULY 28
EL TALLERCITO'S WRITER'S CONFERENCE 
La Rondalla, 1107 West Jefferson Blvd, in Dallas
8 a.m. – 5 p.m. 
The goal of this conference is to bring local and established writers together to build literary citizenship in DFW. The event will include a series of workshops and community building activities, as well as time to hear from some readings from writers in the area. 
Free
To register and find more information, go here.
---
TUESDAY, JULY 31
WOMEN'S BUSINESS COUNCIL – SOUTHWEST'S EXECUTIVE INSIGHTS
J.C. Penney Home Office, 6501 Legacy Drive, in Plano
4 – 6 p.m. 
Hear from keynote speaker Jeff Davis, the executive VP and CFO at J.C. Penney and participate in a fireside chat with SVP and General Merchandise Manager of Jewelry at J.C. Penney Pam Mortensen. They will be set to discuss important lessons learned, working through challenges, and becoming a successful leader. Along with hearing from Davis and Mortensen, attendees will get the opportunity to network with other guests.
Tickets are $40 for members and $50 for nonmembers. 
To register and find more information, go here.
---
WEDNESDAY, AUGUST 1
CODELAUNCH STARTUP EXPO
Dr Pepper Arena, 2601 Avenue of the Stars, in Frisco
4 – 8 p.m. 
Code Authority will host its annual CodeLaunch Startup Expo and Seed Accelerator competition. The event features app pitches from CodeLaunch finalists and an expo following presentations allowing attendees to network with investors and others in the entrepreneurial community.
Tickets are $99.
Find more information here.
—
SVB CRYPTO-CURRENCY PANEL LUNCHEON
Capital Factory Asteroids Room, 3102 Oak Lawn Ave, in Dallas
10:45 – 2 p.m. 
Cody Marx Bailey, founder of the North Texas Blockchain Alliance, will lead the innovative discussion on an introduction to Blockchain, how the crypto-currency market is today, and how businesses can do better in understanding the crypto-currency landscape. 
The panelists will be:
Nate Wyne – Foreign Exchange Advisor of Silicon Valley Bank
Richard Margolin – CTO and co-Founder of RoboKind
Joseph Clemko – Senior Attorney of Beckman Law P.C. 
James Johnsonn – Co-Founder of Oaken Innovations
Free
To register and find more information, go here.
—
DIGITAL FIGHT CLUB 2018
Granada Theater, 3524 Greenville Ave., in Dallas
6 – 9 p.m. 
For its 3rd year, Digital Fight Club 2018 will be a night full of wit and 5 "fights" that will be led by Accenture Managing Director, Andrew Hopkins, along with a panel of 5 referees including Grant Moise, Publisher of the Dallas Morning News, and Jennifer Saenz, CMO of Frito-Lay.
The 5 fights are:
Retail: Physical vs. Digital

Daniel Black (Founder of Glass Media) vs. Elie Finegold (EIR of MetaProp and former VP of Innovation CBRE)

Voice: Marketing & Control

Chris Ferrel (Director of Digital Strategy of Richards Group) vs. Michelle Hagen (CEO of Tandem Theory)

Design: Speed, Technology & Process 

Brian Sullivan (Director of Design Strategy of Sabre) vs. James Helms (VP of Design of Intuit)

Blockchain: Security & Trust vs. Promise

Jaime Chambron (VP of Customer Engagement of NTT Data) vs. Mark Hopkins (CEO of Roger Wilco)

Smart Cameras/Smart Images

Thierry Hubert (CEO of Darwin Ecosystem) vs. Skip Howard (CEO of Spacee)
Tickets start at $30. 
To register and find more information, go here.

Credits: All photos, logos, and brand images are the property of their respective owners. Company, product, and service names used on this website are for identification purposes only. Trademarks included are the property of their respective owners.
Feature art: 
Please visit the event websites for the latest updates on days, times, and location.
---
READ NEXT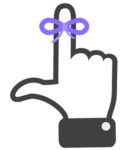 Save The Date: S.H.E. Summit Bacardi, Big Design Conference, & TREC Shark Tank
YOU WON'T WANT TO MISS THESE UPCOMING EVENTS
Fill your calendar with the most innovative events in Dallas. Whether you're interested in attending a workshop, conference or networking happy hour, Dallas Innovates is here to provide you a guide for the who, what, and where of innovation in Dallas. Find upcoming events here.
---
WHAT'S ON YOUR CALENDAR?
Know of a great event? Tell us about it here. 

Get on the list.
Dallas Innovates, every day. 
Sign up to keep your eye on what's new and next in Dallas-Fort Worth, every day.