North Texas is a big place, with plenty to do, see, hear, and watch. So, we scour the internet every week to find events and activities for you. As always, events may change at any time, so check the event website or registration page for the latest details. 
---
THURSDAY, FEB. 8
RA/QA NETWORKING EVENT WITH BCH REGS, INC. 
Courtyard Flower Mound, 4330 Courtyard Way, in Flower Mound
5:30 – 8 p.m.
BionorthTX RA/QA Committee will host an event featuring Betty Holland, president of BCH Regs, Inc. Holland, who has worked for 35 years in drug development and consulting, will talk about the IND Portion of the new drug development process in the US, and give an overview of the FDA. Following her presentation, there will be light bites and networking opportunities. 
Tickets are $10.
To register and find more information, go here.
—
DALLAS STARTUP WEEK SOCIAL GOOD HAPPY HOUR
Four Corners Brewing Co., 1311 S. Ervay St., in The Cedars
5:30 – 8 p.m.
Nonprofit incubator and pre-accelerator Impact House and coworking company GoodWork will host a complimentary happy hour for the Dallas entrepreneurial community. Benjamin Vann and Amy King, Dallas Startup Week's social impact track captains, will highlight changemakers in Dallas and will jumpstart the conversation on what social topics the community would like to cover during the 2018 event series. 
Free
To register and find more information, go here.
—
DALLAS CULTURAL PLAN: COMMUNITY CONVERSATION
Thurgood Marshall Recreation Center, 5150 Mark Trail Way, in Dallas
6:30 – 8:30 p.m.
The Dallas Cultural Plan will host the fourth Community Conversation — the final in a series of events initiated to bring members of the Dallas community together to voice their passion for their home, their hopes for the future, and to give input on how they experience art and culture in their daily lives. There will be bites from local restaurants and a raffle, and opportunities to get involved in the future of the Dallas community.
Free
For more information go here.
---
FRIDAY, FEB. 9
LINKEDIN LOCAL 
The Dallas Entrepreneur Center, 311 N. Market St., in Dallas
6 – 8 p.m.
In an effort to make meaningful connections with likeminded business professionals, The DEC is hosting its second LinkedIn Local Dallas event. According to the event page, this type of event was initiated to connect people from all walks of life beyond company names and job titles.
Tickets are $15.
To register and find more information, go here.
—
AN EVENING WITH MIKE RAWLINGS, MAYOR OF DALLAS
The Kessler Theater, 1230 W. Davis St., in Oak Cliff 
6:30 – 8:30 p.m.
The Hatton W. Sumners Foundation, on behalf of The Texas Tribune, presents a conversation with Dallas Mayor Mike Rawlings. The conversation will be moderated by Evan Smith, co-founder and CEO of The Texas Tribune. Advanced RSVPs have reached capacity for the event, but those still interested in attending may be granted entry on a first come, first serve basis, according to the event page.
Free
To register and find more information, go here.
---
SATURDAY, FEB. 10
COMMUNITY CLEANUP DAY 
White Rock Lake, in Dallas
1 – 4 p.m.
LimeBike is hosting a community cleanup and meet-up day at White Rock Lake. Put on your comfy clothes and help the bike share startup beautify the White Rock Lake trail. Participants also will learn about bike safety and rider education and receive lunch from a local food truck.
Free
For more information go here.
---
TUESDAY, FEB. 13
THE BRAIN: AN OWNER'S GUIDE — 2018 BRAINHEALTH LECTURE SERIES
Center for BrainHealth, 2200 W. Mockingbird Lane, in Dallas
7 p.m.
The Center for BrainHealth continues its monthlong lecture series with Dr. Russell Foster, director of the Sleep and Circadian Neuroscience Institute at the University of Oxford. Foster's talk, "Sleep and Circadian Rhythms: The Brain Benefits of Getting Enough Sleep," will address how our lives are dominated by time. He will lead attendees through the science and importance of sleep and circadian rhythms, and the consequences of neglecting them, according to the event page. The lectures continue on Tuesday nights through Feb. 27.
Tickets start at $50.
To register and find more information, go here.
—
COCKTAILS AND CONVERSATIONS
CallisonRTKL Inc., 1717 Pacific Ave., in Dallas
5:30 – 7 p.m.
Dallas Regional Chamber's Director of Innovation Natalie Fletcher will be the first speaker in a lecture series by Urban Land Institute North Texas' Women's Leadership Initiative. The event is open to all female members of ULI North Texas, or friends and colleagues of current members. As February is Tech Month, Fletcher focus the conversation on what's new in the local tech economy. Sips and bites will be provided.
Free
To register and find more information, go here.
---
THURSDAY, FEB. 15
FOODIES FOR PHILANTHROPY 
WeWork Uptown, 1920 McKinney Ave., in Dallas
6:30 – 9:30 p.m.
As the second part in WeWork's "Give Back. Give Big" series, WeWork Uptown and D Magazine will bring together the community to taste local food from Dallas restaurants such as Uchi, East Hampton Sandwich Co., Whiskey Cake, and more. All proceeds raised at the event will benefit the North Texas Food Bank.
Suggested donation of at least $10.
To find more information, register, or donate, go here.

Credits: All photos, logos, and brand images are the property of their respective owners. Company, product, and service names used on this website are for identification purposes only. Trademarks included are the property of their respective owners.
Feature art: 
Please visit the event websites for the latest updates on days, times, and location.
---
READ NEXT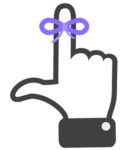 Save The Date: Dallas Women's Success Initiative & Tech Trends in Retail
YOU WON'T WANT TO MISS THESE UPCOMING EVENTS
Fill your calendar with the most innovative events in Dallas. Whether you're interested in attending a workshop, conference or networking happy hour, Dallas Innovates is here to provide you a guide for the who, what, and where of innovation in Dallas. Find upcoming events here.