Amazon wants to read your palm—not to tell your future, but to revolutionize the way you shop. 
The company's Amazon One palm recognition service lets consumers make purchases by simply hovering their palm over a scanner. The checkout devices were first piloted in 2020, and got their first big rollout three months ago when the tech expanded to 65 Whole Foods Market locations in California. Now the service has expanded to Dallas-Fort Worth, and it's already in use at two Whole Foods Markets here—in Irving and Highland Village.
Amazon says that in the coming weeks, all 16 Whole Foods Market locations in the Dallas-Fort Worth area will offer the Amazon One palm payment option.
Amazon acquired Whole Foods in 2017 for $13.7 billion—which makes the grocery chain an ideal place to expand the use of its touchless, frictionless payment tech.
How it works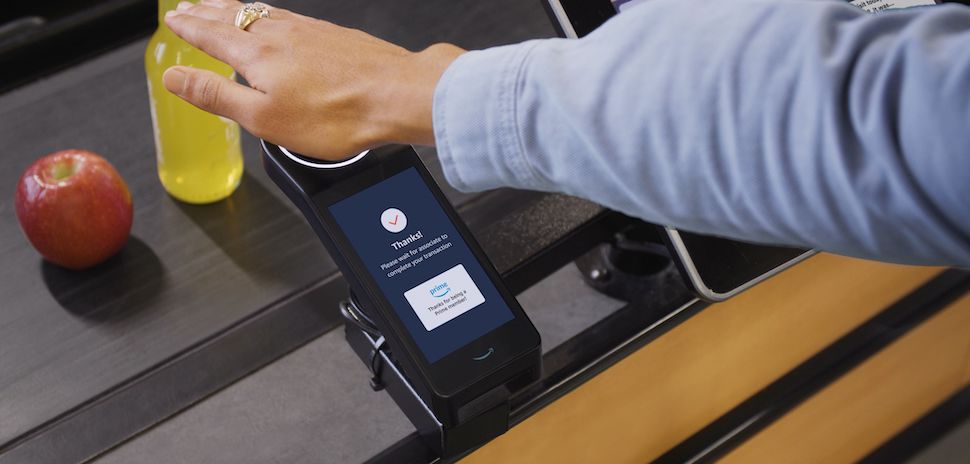 To use palm recognition payment, first you have to go to a store that has an Amazon One device or kiosk. You sign up for the free service by scanning your palm with the device, then sharing your mobile number and a credit card and/or a merchant membership number.
Just like a fingerprint, no two palms are alike. Linear, swirling features on the surface—and even vein patterns and other features under the skin—help identify your palm as only yours. Many of these features are indiscernible to the human eye or a standard camera, Amazon says, but visible to the Amazon One scanner. 
In just seconds, the device's proprietary imaging and computer algorithms will capture your palm's unique identifiers. Then the device will "encrypt" an image of your palm. Amazon says the whole process of signing up takes "less than a minute."
But some may spend more than a minute worrying about privacy concerns.
Your palm's privacy
If you use this service, you'll be sharing your biometric data with a very large corporation. That makes many people uneasy, so Amazon is taking pains to reassure consumers.
"We treat your palm signature just like other highly sensitive personal data and keep it safe using best-in-class technical and physical security controls," the company says on a website.
In a statement, the company offered more details: "The Amazon One device is protected by multiple security controls, and palm images are never stored on the Amazon One device. Rather, the images are encrypted and sent to a highly secure area we custom-built for Amazon One in the cloud where we create your palm signature."
Amazon also points out that you decide when to use Amazon One: "Using your palm requires an intentional action by you to use our service."
If you decide to cancel your Amazon One ID, Amazon says it will permanently delete your palm signature from its systems after completion of any remaining transactions. Your palm signature will also be automatically deleted if you don't use any Amazon One devices for two years.
Reading palms in other locations in DFW too
Whole Foods isn't the only place using the Amazon One devices. Customers can pay with their palms at Hudson Nonstop Stores in three U.S. airports—and two of them are right here in North Texas, at Love Field and DFW Airport. (The other airport is in Nashville.)
Amazon One is also currently available at select Amazon Go, Amazon Fresh, and Amazon Style Stores in the U.S. Whole Foods locations in Seattle, Austin, and New York are also offering the service. It's also available at concession stores at stadiums and venues including Texas A&M's Kyle Field,  Climate Pledge Arena in Seattle, the Seattle Seahawks' Lumen Field, and the Seattle Mariners' T-Mobile Park.  

Get on the list.
Dallas Innovates, every day.
Sign up to keep your eye on what's new and next in Dallas-Fort Worth, every day.