The unique Crystal Lagoon in Prosper is headed for completion, thanks to a new real estate partnership.
Windsong Ranch, the 2,030-acre master-planned community in Prosper has been bought in a joint acquisition by Texas real estate investors Craig Martin and David Blom and Minnesota-based Värde Partners. The group bought the development from an affiliate of Prosper-based Terra Verde Group.
According to a release, Martin and Blom, the original developers of Windsong Ranch, have teamed up with Värde to form Tellus Group, a new real estate development company to continue moving the project forward. Tellus Group said it wants to build on the development's momentum, including the completing the new Crystal Lagoon amenity attraction. Windsong Ranch will be the first development in North Texas with a Crystal Lagoon. 
Scheduled in spring 2019, it is a 5-acre, man-made, crystal clear, turquoise blue freshwater lagoon that creates a beach-like lifestyle replete with white sand beaches and watersports. 
"Given our experience with the project going back several years, we are excited to partner with Värde to acquire it and see it through to completion."
Craig Martin
The amenity centerpiece of the development, the lagoon will be created by the renowned amenity company, Crystal Lagoons.
The water innovation company's patented, state-of-the-art and environmentally friendly technology gives real estate developers the ability to transform their land into a beach lifestyles anywhere in the world. 
According to Crystal Lagoons, each lagoon uses 100 times less chemicals than traditional swimming pools and uses 2 percent of the energy used by traditional pool filtration systems. 
The Dallas Business Journal reported Monday that a similar Crystal Lagoon amenity at Rowlett's $1 billion Bayside project has been nixed. That project made national news when it was announced in 2016, the DBJ reported. A Crystal Lagoon amenity is nearing completion in Houston area's Balmoral residential community and is scheduled to open this year.
At Windsong Ranch, however, the developers said their partnership will see that development through to completion.
"Given our experience with the project going back several years, we are excited to partner with Värde to acquire it and see it through to completion," Martin, president of Tellus Group, said in a release. "With the formation of Tellus Group, we are also now positioned to find similar high-quality projects to invest in."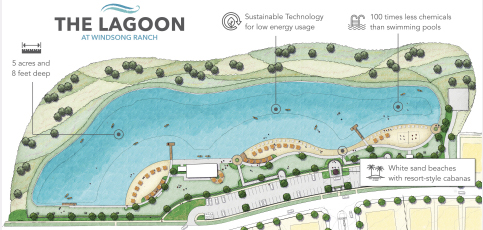 WINDSONG RANCH IS NEAR DALLAS NORTH TOLLWAY
Windsong Ranch is at 1001 Windsong Parkway South, roughly 2.5 miles west of the Dallas North Tollway on the north side of U.S. Highway 380.
Other Windsong Ranch amenities include two pools, a cafe, a disk golf course, mountain biking trails, tennis and basketball courts, multiple fishing lakes, a community garden, 600 acres of open green space interconnected by 30 miles of walking trails, an event lawn, dock, and amphitheater.
"We have been investing in residential real estate developments for more than 10 years and look forward to sourcing more opportunities with Tellus Group in the future," Värde Partners Managing Director Brendan Bosman said.
Värde Partners is a nearly $14 billion global alternative investment firm. It uses a value-based approach to investing across a broad array of geographies, segments, and asset types, including specialty finance, real estate, corporate credit, mortgages, energy, real assets, and infrastructure.