Dallas startup Ataia Medical took home the top prize in this year's MedVentures pitch competition, which rounded out the event's first-ever virtual conference on Wednesday. Startups from around the country pitched to a blue-chip audience of judges and investors from the combined Health Wildcatters, MedVentures, and Healthcare Dealmakers network.
The combined forces served to kick off the Healthcare Dealmakers Conference, which continued today as a virtual program.
MedVentures' half-day virtual conference, organized by Dallas-based accelerator Health Wildcatters, was sponsored by Polsinelli's Healthcare Dealmakers Conference. 
The connection to Health Wildcatters largely comes from the accelerator's CEO, Co-founder, and Partner Hubert Zajicek.
This year's conference ties in Zajicek's history with MedVentures, which became the Southwest's largest medical technology and life science investment conference.
Zajicek, who has advised more than 1,000 startups, launched the conference during his tenure at NTEC (North Texas Enterprise Center for Medical Technology), an organization that ceased operations in 2017. In MedVentures' heyday, presenting companies raised a combined $274M in funding.
The conference began with a panel discussion on the COVID-19 pandemic and its effect on healthcare startups, followed by the pitch competition. 11 startups presented in front of more than 130 (virtual) attendees and 12 judges.
Keynote by Danny Tobey, author of AI novel The God Game
Dallas author Danny Tobey gave the keynote. Tobey, who created an elaborate (and somewhat scary) AI world in his just-published novel, The God Game, is also a medical doctor, software entrepreneur, and litigation partner at DLA Piper—and a friend of Zajicek. Tobey spoke on the real-world ramifications and potential of AI before the pitch winners were announced.
Zajicek, who announced the winners with Polsinelli shareholder Bobby Guy, said, "We'd love to do this in person. As some of you might know, we traditionally have involved the whole audience in the evaluation."
But, he notes the real value for startups is the tremendous network from the combined event. "I've said this many times with regard to startups: The prize is to be in front of this audience … As an entrepreneur, it only goes uphill from there."
Prizes were handed out in value of $10,600, $6,000, $2,400, and $1,800 in a mix of cash and in-kind winnings. 
A device that gives the freedom to speak
Top prize went to Ataia Medical, pitched by COO Amy Foertsch. Ataia is a medical device startup with a patented tool that lets patients wearing hospital respiratory masks communicate. The device, geared toward patients that need ventilation, seems timely amid the COVID-19 crisis. Ventilation masks—while lifesaving—can impede verbal communication. That can prevent or delay care for a patient, the company explains.
Through Ataia's communication system called SPEAX, patients can speak with their caregivers and family.
Ataia, which was founded in Atlanta, now calls Dallas home base. In 2017, the startup was part of Health Wildcatters fifth accelerator class. Zajicek, at the time, noted the cohort was particularly unique that year, with the majority of startups in the device space.
MedVentures winning startups
Below are the winning startups and their descriptions, per MedVentures:
First Place: Ataia, Dallas
Ataia empowers patients with the freedom to speak.
Second Place: Starling Medical, Houston
Starling Medical is developing a smartphone-enabled urinary catheter for patients with neurogenic bladder dysfunction.
Third Place: CathBuddy, New York
CathBuddy helps catheter users avoid UTIs with its patented reusable no-touch catheter system.
Fourth Place: Bexson Biomedical, Santa Barbara, CA
Bexson Biomedical is developing a non-opioid therapy for pain management and mental health disorders.
The additional seven finalists were:
New Jersey-based CryoScope Medical, which is behind an esophageal cryoablation without sedation.
KNKTD, a remote monitoring, virtual care, and engagement platform technology company based in Oregon.
Suquino Inc, which provides "healthcare anywhere, anytime" from its home base in Sunnyvale, California.
Medivizor, a New York-based personalized health information provider.
Geo Med Alert, a "fast and reliable reporting system" for potential outbreaks, which is located in Tampa.
Halo Health, a digital platform based in Dallas that accelerates clinical trials.
St. Louis' Mylestones, which enhances senior life and legacy through technology.
MedVentures' judges
Judges of the 2020 pitch competition were: Harshal Broker, MD, Texas Health Care; Harvey Castro, MD, Emergency Medicine; Michael Cope, Cope Ventures; Darshan Gandhi, MD, Texas Oncology; Mike Harbut, RMS US LLP; Tessa Hoskin; Yan Lemeshev, MD, ProPath; Matt Lipton, Gray Reed; Andrew Menter, Physmodo; Sunny Nadolsky, Medibookr; Liz O'Malley, Vizient; and Kerry Rupp, True Wealth Ventures.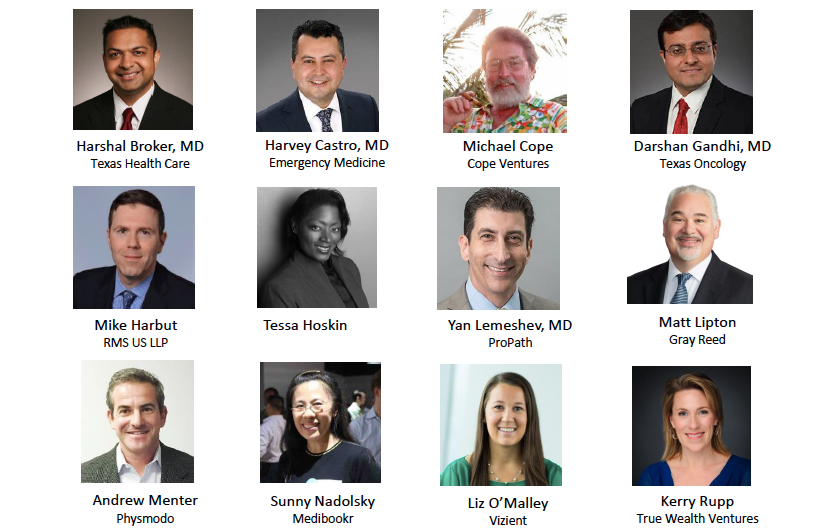 Get on the list.
Dallas Innovates, every day.
Sign up to keep your eye on what's new and next in Dallas-Fort Worth, every day.