Just five blocks from the popular Bishop Arts District is Jefferson Boulevard — a street that gives a snapshot of Dallas' history with historic buildings like the eight-story Jefferson Tower. It went up when Calvin Coolidge was president — in 1928 — but over time, its tenants and the surrounding community moved on.
 By the time it hit the market in 2013, it was just 20% leased, and the only retail that remained was a barbershop, Family Dollar, and a jewelry store. While some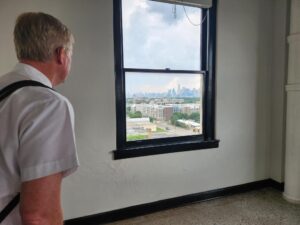 might have seen this as a perfect opportunity to demolish the past, Jim Lake Companies saw the future and put it under contract immediately.
"We say that we're redevelopers," said Lake, echoing a sentiment his wife Amanda expressed, while talking about their efforts in Cedar Hill.
"We want to positively impact any neighborhood or community we go into — and we don't have to do it all at once." He compared their work on Jefferson Tower to their approach in Bishop Arts, where they went block by block, thinking through how to use the space while retaining the unique culture.
Reconstruction on the Jefferson Tower property, which extends from Bishop to Madison Streets, is wrapping up this month, and he expects it be fully leased by the end of the year. Jefferson Tower will remain a mixed-use space, with twenty 700-square-foot loft units available to rent for $1200 to $1400 per month and corporate offices, as well as retail and restaurant space. But it took a few years to get to this point.
"When we came up here, the streets were in terrible shape, and it was uninviting. Lake says they worked with the city council and secured bond money for three blocks that include Texas Theatre, the Jefferson Tower block, and the next one down. 
The streets were finished about a year and a half ago, and Jefferson Tower retail tenant, Antonio Lucero, says improvements like that are helping his bottom line. Lucero owns YuYu Cultural Shop and has bee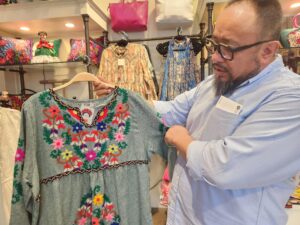 n in the neighborhood for about four years – much of that time in a location just two blocks away. He moved into Jefferson Tower because he wanted a more diverse audience and safer environment.
"I began to notice more people walking around and the neighborhood sort of coming back to life," said Lucero. "The biggest problem in the other place was foot traffic …  As a small business owner, there are sometimes factors that you don't consider or may not have the money to change."
Lake has divided part of the retail space on the ground floor, called the mercado, into eight sections with flexible lease options and a lower price point than what people usually pay for retail space; founders can get their first "storefront" for $1,000 to $1,500 per month. This allows people like Lucero to test the market without committing to a long lease or giving away a lot of capital.
"At the moment we carry products from 13 different countries … and we tripled our revenue from day one." With the right audience and the right inventory, YuYu does about $15- to $20-thousand dollars per month in sales. Lake says Lucero is about to expand to his third space and that's the kind of success his corporate tenants are seeing as well.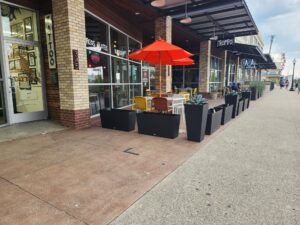 "A young group of homebuilders had leased a small 500 square-foot space —and they just signed a lease on the fifth floor for about 25-hundred square feet."
Fan favorite Trompo Tacos — named by Bon Appetit Magazine one of America's best new restaurants in 2016 — is in the Jefferson Tower property as well, moving back to Oak Cliff one year ago. Moves like these tell Lake he's on the right track.
"I started my business back in the 80s – just doing deals. My father and I were partners buying warehouses in the Design District and old buildings in Bishop Arts. Over time I learned how to repurpose them and found it had more meaning. The process takes longer, but then you see what you started with and where you end up – creating space that helps people achieve their dreams by starting a small business, for example."
Jim Lake Companies' portfolio includes more than 1.5 million square feet of mixed-used space; the projects have some combination of retail, restaurants, lofts, office showrooms, warehouses, and event space. For more information on leasing options in the Jefferson Tower property, contact Jim Lake Companies.

Voices contributor Nicole Ward is a data journalist at the Dallas Regional Chamber.

Get on the list.
Dallas Innovates, every day.
Sign up to keep your eye on what's new and next in Dallas-Fort Worth, every day.