APP UPDATE TO BE RELEASED DURING STARTUP WEEK
---
Jables is helping Dallas-Fort Worth answer the age-old question — "What should we do today?" — by making curated, area-specific events more easily accessible.
"Finding good restaurants is pretty easy. But finding cool things to do is a little harder," Jables founder and CEO Jason Bunnell said.
Launched in 2014, the Yelp-like app for entertainment is focusing solely on the DFW market. Its website and mobile app both allow users to quickly sort and filter from a comprehensive list of local happenings and generate an individualized list of events tailored to their preferences.
"There is so much to do in Dallas that even people like me who grew up here only know a small fraction," said Bunnell, who attended Highland Park High School. "I want to expose not only the highly visible big ticket events, but also the smaller events."
Jables users soon will be able to follow their favorite entertainers and receive updates and push notifications should they be performing nearby, a feature inspired by personal experience.
"I went to Europe one summer shortly after selling my first company and missed seeing Pearl Jam because I didn't know they were playing close to where I was staying," Bunnell said. "How many times has that happened?  You find out about something, and it's already sold out or the event has come and gone."
Jables is available at iTunes store and on Google Play. Its features can also be accessed online at jables.com.
JABLES IS A DIFFERENT TYPE OF ENTERTAINMENT APP
While there are many entertainment curation apps on the market, Jables is unique because its has about a dozen categories from which to search. The startup also provides event listings hosted at venues and breweries that would typically only gain the attention of patrons, making local culture more available throughout DFW.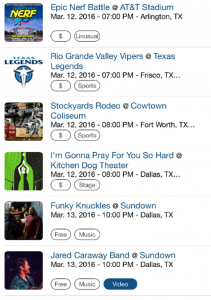 "It helps people by exposing them to a larger volume of events where they can find exactly what they are looking for," Bunnell said.
Taking its market differentiation one step further, Jables' users can access videos of local venues as well as teasers for upcoming events to help determine the best happenings to attend. That's a unique aspect of Jables that Bunnell believes separates it from similar local entertainment curators such as Downtown Dallas, Inc.
"The analogy I like to give is that if you were trying to decide on a movie," Bunnell said. "You are probably more likely to watch a preview than you are to read a review of that movie. We are focusing on video so people can make better decisions on entertainment choices."
Videos are produced by Jables, as well as by entertainers and venues. Those produced by Jables are sponsored by local businesses, providing a unique opportunity for businesses to reach new audiences.
BIG VISION MEETS BIG OPPORTUNITY FOR JABLES
In today's technology-driven world, traditional forms of promotion -– print, radio, and billboards -– have become endangered species. Bunnell and his team see this as a major opportunity for Jables, as well as the local businesses, venues, and entertainers it features.
"It is the way we help venues, promoters, and entertainers that I am really excited about," Bunnell said.
Coinciding with Dallas Startup Week, Jables will launch a second version of the app and a new website on April 12 at Dallas New Tech. The revamp will include a new user interface and design improvements, as well as tools to help venues break through the noise of event promotions.
"We are really excited about the new design, which we think offers a better user experience and better visibility to the venues hosting events," Jables co-founder and CTO James Fielder said.
"We are really excited about the new design, which we think offers a better user experience and better visibility to the venues hosting events." _ Jables co-founder and CTO James Fielder
Going forward, the company plans to promote regional performers more effectively by creating a WordPress plugin that curates performance schedule data from local venues.
Ultimately, Bunnell wants Jables to replace the vacuum being left by traditional forms of promotion, which he considers costly and ineffective. The startup's initial goal is to sign up more users than the Dallas Observers' stated circulation of roughly 60,000, which is less than 1 percent of the DFW population. Once Jables proves its market viability by reaching that goal, Bunnell and his team plan to expand into new largely populated metropolitan areas.
"There are a lot of reasons why Texas and DFW in particular are great places to start a business, but I am most excited about the startup ecosystem that is growing quickly," Bunnell said. "I think people are starting to see how startups drive jobs, economic development, and value."
---
For a daily dose of what's new and next in Dallas-Fort Worth innovation, subscribe to our Dallas Innovates e-newsletter.