Irving-headquartered McKesson has begun distribution for the monumental COVID-19 vaccines from Moderna and the ancillary supply kits needed to administer them.
In August, the provider of wholesale medical supplies, pharmaceutical distribution, and healthcare tech expanded its partnership with the Centers for Disease Control and Prevention (CDC) to support Operation Warp Speed as a distributor of COVID-19 vaccines and related supplies to Americans.
Operation Warp Speed is the U.S. government's public-private partnership among components of the Department of Health and Human Services and the Department of Defense, private firms, and other federal agencies dedicated to accelerating the development, manufacturing, and distribution of COVID vaccines, therapeutics, and diagnostics.
The government makes all decisions when it comes to where, when, and how many doses McKesson distributes. The first order from the CDC was filled on Sunday, Dec. 20, with shipping partners delivering initial vaccine orders at administration sites nationwide on Monday, Dec. 21, per a news release.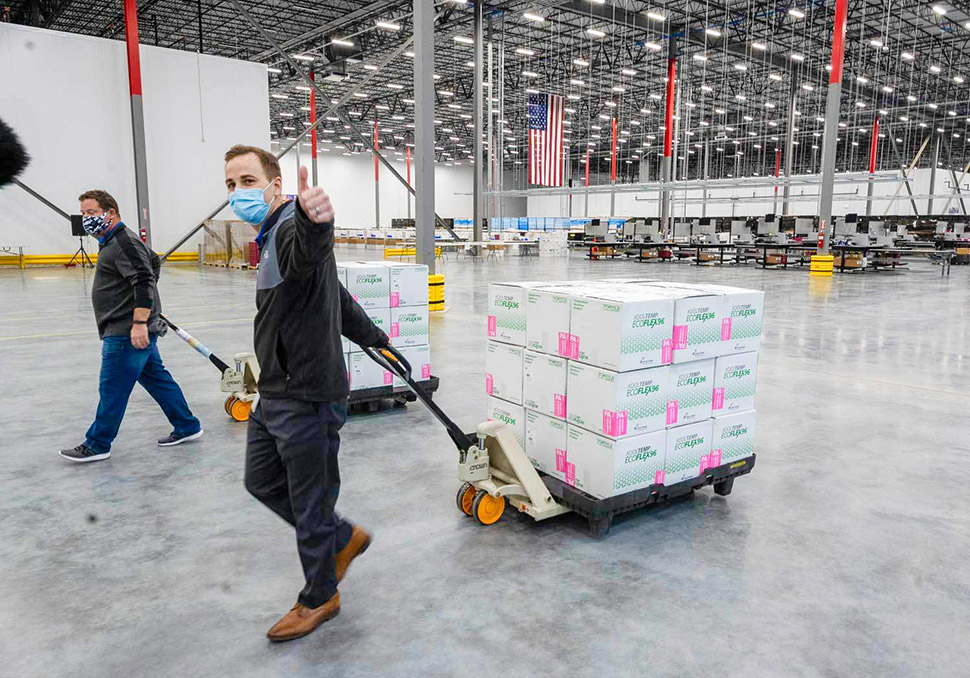 McKesson CEO Brian Tyler said the company is honored to be one of the partners of the U.S. government and other private-sector companies, such as Moderna.
For ancillary supply kit production and distribution, McKesson partnered with the Strategic National Stockpile (part of the Office of the Assistant Secretary for Preparedness and Response). The company has also partnered with FedEx and UPS to deliver the vaccines and ancillary supply kits to administration sites.
"In March, our world seemed to change overnight," Tyler said in a statement. "But with a renewed sense of commitment and intensified focus, we've come together across industries and forged public and private partnerships to help restore and protect the health and well-being of people around the world."
McKesson's distribution efforts, in coordination with the U.S. government, involves two facets: distributing all supply kits for COVID-19 vaccines and the distribution of frozen or refrigerated COVID-19 vaccines. McKesson is not distributing the Pfizer ultra-frozen vaccine, according to a news release.
The ancillary supply kit consists of alcohol prep pads, face shields, surgical masks, needles and syringes, a vaccine administration sheet, and a vaccine record and reminder card. It's typically sent at the same time as the Moderna COVID-19 vaccine.
McKesson has been preparing for months—like establishing dedicated distribution centers and assembling supply kits—to be able to support the U.S. during the healthcare challenge brought on by the COVID-19 pandemic.
Last month, we got an inside look at how McKesson was using technology to address systems and infrastructure in completely new ways to tackle the unplanned activity accompanied by PPE demand and dynamic supply chain activity. Nancy Flores, McKesson's EVP/CIO/CTO, and her tech teams re-prioritized about a couple hundred resources to rapidly scale the company's systems to prepare for vaccine distribution.
The significant effort became their number one job.
"The whole supply chain network runs on technology. Vaccines come in packs of thousands and we distribute vaccines very differently today. We had to reconfigure entire warehouse management systems. Not every vaccine is going to be stored at the same temperature, so there are many considerations around how we track and trace them," she told us. "We're scaling platforms that typically take six to 10 months in days and weeks right now."
---
READ NEXT When a COVID-19 Vaccine Is Ready for a Rollout, McKesson's Tech Exec Says They're Prepared to Distribute It
---
Like Flores pointed out, maintaining the cold chain was a top priority. Upon arriving at a McKesson vaccine distribution center, the vaccines are verified by McKesson that they were maintained at the proper temperature while in transit. The vaccines are then placed inside a large-scale, pharmaceutical-grade freezer designed to maintain proper temperatures, the company said in a release.
The freezers have sophisticated controls, monitoring systems, and alarms meant to ensure the vaccines remain in the right temperature ranges. After receiving an order from the CDC, the vaccine doses inside the freezer are packed into insulated coolers with specialized cold packs and a temperature monitor.
That way, the administration site can verify the vaccine doses stayed within the proper temperature range during transit.
McKesson is well-equipped for the stringent requirements, as the company has an extensive history handling the distribution of vaccines and managing the pharmaceutical and medical supply chain in the U.S. For 13 years, the corporation has been a centralized distributor for the CDC's Vaccines for Children program.
"With our exceptional group of employees managing the effort," Tyler said, "we stand ready as a company to meet this historical moment."
Look inside McKesson's groundbreaking COVID-19 vaccine distribution

Get on the list.
Dallas Innovates, every day.
Sign up to keep your eye on what's new and next in Dallas-Fort Worth, every day.