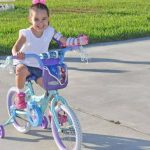 From printing artistic shoes to model cars, it seems almost anything can be printed using a 3D printer these days or created with a little ingenuity and brainpower. In fact, dozens of makerspaces offer programing for people to hone just those types of creative skills.
The resources aren't just for hobbies or businesses, though. In an editorial, The Dallas Morning News recently recounted how Texans used available tools and their ingenuity to help disabled children. 
In one, several employees at a North Richland Hills Home Depot used off-the-shelf materials to create a custom-made walker for a child who has Norris Disease.
In the other example, volunteers and employees spent weeks in Clear Lake library's Jocelyn H. Lee Innovation Lab designing and programming a custom-made prosthetic for a 5-year-old Victoria girl who was born without a fully-formed hand. The volunteers had to research and design a special prosthetic that would be able to open and close when she bends her arm.
Sometimes original ideas and caring hearts can better at least a small part of the world.
As The Dallas Morning News stated: "Regular people, looking for solutions. Impromptu volunteers, ready to help. Bright people using collaboration and innovation to help somebody else's children, kids they had never met."
READ MORE
UTA Attends White House Makerspace Roundtable
Not Sure Which DFW Makerspace Is Right For You? Here's Your Guide
If You Can Dream It, You Can Make It at the Dallas Makerspace
---
For a daily dose of what's new and next in Dallas-Fort Worth innovation, subscribe to our Dallas Innovates e-newsletter.