In the near future, you may be standing in a bakery or grocery store and watching a cake being decorated to your specifications. But nobody will be touching the cake; it will be decorated autonomously by a machine Travis Zinger created called SweetBot.
That's the Little Elm man's dream, anyway. And if this dream becomes a reality, Zinger will have multiple reasons to say thanks to the Dallas Makerspace. The nonprofit workshop and laboratory in Carrollton played key roles in SweetBot's inspiration, development, and ongoing commercialization.
Inspiration
Zinger, a mechanical engineer, took his teenage son to the Dallas Makerspace in 2014 in an attempt to "get him excited about building stuff and having ideas come to reality." Members such as Zinger pay a monthly fee—$50 typically, with discounts for family members, students, and the unemployed—to access the Makerspace's wide variety of tools and equipment, ranging from sewing machines and kilns to laser cutters and a digital recording studio.
"We do a little bit of everything," says Stan Simmons, who joined because he needed a place to work on a motorcycle he was restoring. "The bike's long gone, but I'm still here."
Some of the Makerspace's equipment is donated, while other pieces are purchased. All of it is available 24 hours a day, seven days a week, on a first-come, first-served basis. And if someone is working with the equipment you wanted to use?
"Too bad, so sad," says Alex Rhodes, one of five members of the board of directors. "You wait in line."
Zinger's son was particularly fascinated by the 3-D fabrication room, which includes four machines manufactured by Midlothian-based PolyPrinter. Those who bring their own filament to the Makerspace can use the printers for no cost other than their monthly membership fee. Others are charged based on the weight of the objects they print (10 cents per gram).
"The first thing he said was, 'This is really cool. Can it print food?'" Zinger recalls. "Disappointingly, I was like, 'No, it doesn't print food.' Then shortly after that, I was like, 'I think I could get it to produce frosting on a cake,' and that's where the idea was born."
Development
To turn that cake-frosting idea into reality, Zinger needed to convert simple sketches into 3-D renderings. The Dallas Makerspace has an AutoCAD software package called Inventor that made that possible. Once that task was completed, he returned to the aforementioned 3-D fabrication room to create mockups of SweetBot's parts.
The Dallas Makerspace's 17,000-square-foot facility is directly across the street from Tanner Electronics. Zinger would buy supplies at the store, after visiting the Makerspace's electronics room—which includes a circuit printer and a stockpile of free miscellaneous parts—and picking the brains of whoever happened to be there.
"You may not have the skill set to do something, but that's what the Makerspace is all about, is giving you the skill set or helping you through something," he says. "I mean, I was mechanical by nature, so I had very little interest in electrical or programming. Through the Makerspace, they were able to help me fill in those gaps in my knowledge."
Zinger's experience was similar to that of Arif Iftakher, who used the Makerspace's electronics room to build a prototype for a remote-controlled thermostat he's marketing as Rumy. "In Dallas, there's nowhere else to find the kind of people you find at Dallas Makerspace," Iftakher says. "Not only are they knowledgeable, they're also helpful. If you ask them something, they will go out of their way to help."
Commercialization
The Dallas Makerspace has no paid staff. The facility is managed by Rhodes and the other four directors, who are elected annually by the nearly 1,100 members. So when the phone rings, it will probably be answered by whoever's closest, with little riding on the outcome of the call. Zinger said most calls come from pizza delivery drivers who can't get past the locked front door—members get in by waving a fob—or from members' spouses who are wondering when they're coming home.
"We're kind of an adult daycare," Simmons says.
But one call that Zinger took last year proved to be serendipitous. The person on the phone was seeking entrepreneurs who might want to be featured on a reality TV series called Make Me a Millionaire Inventor.
"They were like, 'Do you know anybody like this?' and I was like, 'I do!'" Zinger says, as if he still can't believe it. "And then they asked me to pitch them over the phone, right then. I did, and they loved it, and off it went."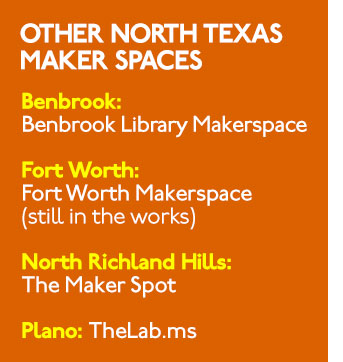 The episode featuring Zinger aired in August. Spoiler alert: he secured funding through the show, and the production of SweetBot "alpha units" is underway. But the benefits of his Dallas Makerspace membership didn't end there. When his investors presented Zinger with papers to sign—including a term sheet outlining that they would get X percent of his company for Y amount of dollars—he used the forums on the Makerspace website to find members with legal backgrounds who could help him review the documents.
The Dallas Makerspace was established in 2010, when members of the Dallas Personal Robotics Group needed a new place to meet. It has since become a model for similar facilities across the continent, Rhodes says, with people visiting from as far away as Canada to take notes on not only the organization's equipment and classes but also the camaraderie enjoyed by entrepreneurs such as Zinger.
"It's all about the community," Rhodes says. "You get what you give."
---
For a daily dose of what's new and next in Dallas-Fort Worth innovation, subscribe to our Dallas Innovates e-newsletter.