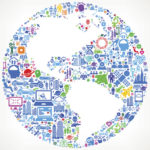 The EarthX 2019 conference, expo, and film festival — a three-pronged global festival of the future conceived in Dallas — happened last weekend at Fair Park. The environmental extravaganza is proudly dubbed the "largest of its kind in the world," drawing what could be the biggest gathering of people who want to make a difference, and can, in the future of our planet.
And because EarthX aims to make a difference 365 days a year, it has the potential to impact Dallas, and beyond, in a major way. Perhaps Capital Factory's Bryan Chambers said it best: "EarthX can be to Dallas, what SXSW is to Austin." That scope shows in the myriad of elements that make up EarthX's annual event around Earth Day, hosted this year from April 19-28. Next year's event, EarthX 2020, will mark the festival's 10th year.
It's a big deal, literally
The EarthxConference is a five-day series that deals with every major issue facing our environment today (and includes EarthxInteractive, an exploration through nature in virtual and augmented reality). EarthxFilm is a 10-day festival that uses the power media to raise awareness of environmental and social issues and EarthxEDU is an initiative that provides teachers and students with the resources needed to improve sustainability.
The anchor of it all is the EarthxExpo that brings together businesses, academics, government, speakers, interactive programming, and more to learn amidst live music, art, and food. The 2019 theme of EarthxExpo, Water for All, honed in on new ways to uncover clean water for all and protect the world's oceans, rivers, and lakes.
A-list attendees included U.S. senators and representatives, UN ambassadors, the current Secretary of Energy and previous governor of Texas Rick Perry, Fabien Cousteau, Sea Shepherd's Paul Watson, and many other luminaries.
But EarthX is for everyone, and on the fairgrounds, there was something for all walks of life — goat yoga, food trucks galore, tiny homes, self-driving Teslas, solar-powered remote-control car racing, full-sized solar-powered cars, and plenty of free water at hydration stations. Inside the Centennial and Automobile buildings, there were booths representing everything from the interactive films to local nonprofits to an entire section, complete with its own stage, dedicated to hemp products.
Some quick tidbits:
EarthXLaw Conference was a master class on the ins and outs of Texas water rules.
EarthXMilitary Conference included delegations from Ukraine and Armenia.
Talks open to everyone covered everything from the future of recycling to a planned airship race across the globe coming next year, to ex-special forces who are now saving the ocean as their new mission.
And a pitch day

where three organizations—Groundwork Dallas, Inland Ocean, and Texas Lionfish Control Unit—walked away with $5,000 to keep making a difference. 
A global event—in Dallas
Underscoring the global nature of the event, the Independent State of Samoa's UN Ambassador Aliioaiga Feturi Elisaia on Saturday, April 28, signed an MOU with GridMarket and the Island Resilience Partnership to accelerate its move toward renewable energy and more robust infrastructure.
At the signing, Elisaia paraphrased Caesar saying, "I came, I saw, and I fell in love with EarthX and Dallas."
Dallas-based Social Revolt agency was pivotal in hosting the event. Earlier this year EarthX partnered with GridMarket, a web platform designed to help the Republic of Palau achieve 45% renewable energy generation by 2025, according to a release. By focusing on solar photovoltaics, wind power, and battery storage, the partnership has a goal of transitioning Palau's energy economy away from dependence on diesel.

Get on the list.
Dallas Innovates, every day.
Sign up to keep your eye on what's new and next in Dallas-Fort Worth, every day.