The Comerica Center in Frisco—the practice rink for the Dallas Stars—is no stranger to heated battles on its icy floors.
Last weekend was no different, from a sheer competition standpoint. Contestants huddled, plotted, geared up, and hunkered down. But instead of stick and puck, the competition tools at HackDFW consisted of algorithms, coding scripts, and data. 
More than 600 students and talented techs from around the world set out to hack solutions to real-world challenges.
The goal? To be seen by some of the world's biggest names in business—Amazon, McKesson, and USAA (to name a few)—and, of course, to win some MacBook Air laptops, AirPods, Oculus headsets, and other gear as well.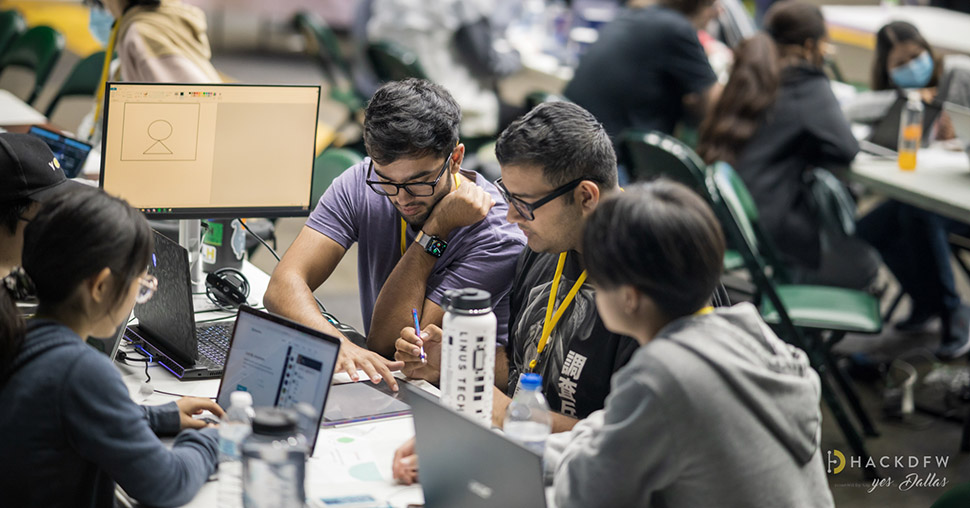 Thirty-six hours of hacking, learning, midnight-oil burning later:
• 88 projects were submitted;
• 36 hours of nonstop hacking, learning, late nights, debugging, and tons of fun were had; and
• more than $20,000 in prizes were awarded.
Corporate challenges
Coding teams had a choice of challenges from sponsoring companies, giving students an opportunity to put their skills on display.
One student, James Singhal, who was part of the ESG10 team (not to be confused with the ESPG10 runner-up, listed below) described the Goldman Sachs challenge as "very specific," but said his team planned to put their own spin on it.
"We're going to differentiate ourselves by allowing consumers to set their own (investment) preferences," he said.
Fellow ESG10 teammate Isaac Song said the key to differentiation was by using what Goldman Sachs provided, and other points of information they were able to obtain themselves—including key input from investors/clients, particularly their care for organizational environmental, social, and governance (ESG) practices. That means obtaining public filings and other company-related documents that will—with the proper coding—help score/rate individual companies and portfolios based on investor preferences.
Song added that HackDFW was the first in-person hackathon that his team has attended since the Covid-19 pandemic struck. He and his teammates agreed that in-person hackathons were far superior to virtual hack events, because face-to-face interactions encouraged them to collaborate more and kept them more engaged in the project, with fewer distractions.
Fellow ESG10 team member Matthew Fan even anticipated incorporating an algorithm into the mix, to use a company/portfolio or organization's past performance as a predictor for future behavior.
Managing the site's graphic user interface functions was another teammate, who learned how to use the Flutter widget builder specifically for the HackDFW competition. The Flutter widget builder has the potential of creating several different functions for users, he said.
Talent turnout
The 3-day hackathon kicked off on Friday, Oct. 1. By 9:30 p.m., the vast majority of the teams were putting their heads together. Roughly 370 people had already checked in in person; another 200 were engaged virtually.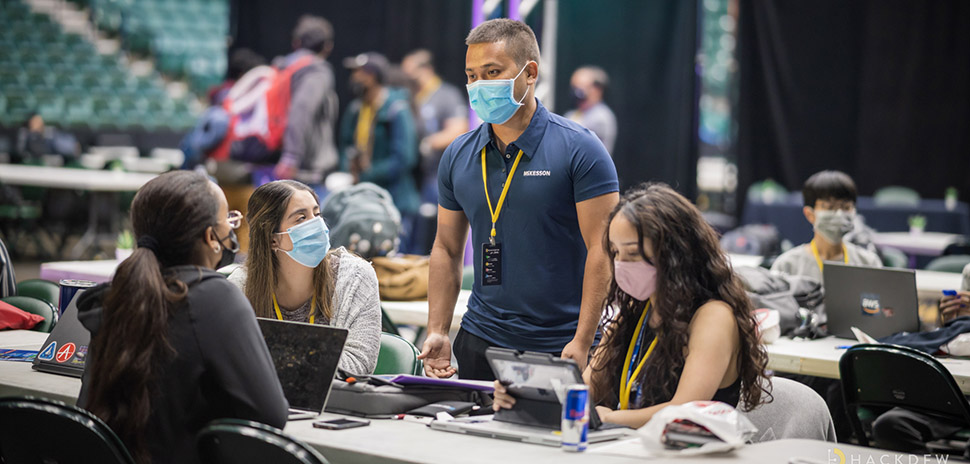 Across the room from the team was Paul Parker—director of talent acquisition delivery at McKesson—who had already noticed a wide range of talent—from high-school level to experienced engineers— had shown up. Not to mention a strong geographic reach.
"We had some who came from North Carolina," Parker said, adding that the HackDFW site offered a McKesson QR code that allowed attendees to upload their resumes. In doing so, and by competing, hackers also have a chance to work at McKesson—which has openings for data scientists—and to take part in internships with McKesson's technology group.
In an emailed response to a query from Dallas Innovates, Micky Fokken, director of Children's Hospital's Care Delivery Innovation Lab, said his team was impressed by the quality of team submissions. So much so, that the team created two additional prize categories on the fly.
"The energy at the event was amazing, and I could tell that the teams were passionate about our hackathon challenge, to gamify patient education and care plans," Fokken wrote.
Given the turnout of talent at the event, many corporate sponsors arranged to meet with challenge winners to discuss employment opportunities.
Grand Prize Winners
First Prize: Health Quest
Created by:
UTD students Megan Tran, Reshmi Ranjith, Saloni Shivdasani, Medha Jonnada, Medha Jonnada, Bryant Hou
What it does:
Health Quest provides a simple, easy-to-use, and fun format for children and adults to learn more about their health and stay on track with their health goals. Using story modes called Quests and a rewards system utilizing Echo AR, it's able to provide incentives and a fast feedback loop to reward health education and smart decisions. The companion administrative tool also allows doctors and other health professionals to custom tailor Quests to fit any treatment, health goal, and timeline. Overall, Health Quest extends the health professional's guidance to outside of the appointment and empowers individuals to learn and improve their health independently.
Second place: Care Hero
Created by:
Apoorva Pise, Apoorva Kamat, Raksheet Bhat, Jahnavi Srividya Subramaniam, and Jayen Boopathy
What it is:
CareHero is an Augmented Reality based mobile application that brings to life a child's favorite characters and makes them their personal health buddy. CareHero ensures that children have their hero beside them at every step of treatment and recovery. From exercising together to making sure the child takes medicine and eats healthy food on time, their CareHero makes the journey to better health fun, empathetic and sociable. The child's prescription is now gamified!
Third place: Convo

Created by:
Texas A&M students Yonathan Zetune, Anooj Shah, and Dylan Theriot
What it is:
Convo is a simple approach to solving an education problem by using low-cost, modern-day solutions to allow two main demographics of people to easily and effectively read books and accomplish additional educative tasks. Convo leverages the power of image processing using AWS's Rekognition technology in order to quickly pick out the words fed into the camera, which is mounted on a pair of glasses. This solution allows for the flexibility to work on other tasks while being read to.
Sponsor Challenge Winners
EquiTeach, for its solution to the Amazon challenge "How might we decrease the digital divide in virtual/remote education while promoting diversity, equity, inclusion, and justice in the post-Covid world?"
Project ARI, for the McKesson challenge "We saw massive disruptions in the distribution of medical and healthcare products over COVID-19. How can we better utilize technology to optimize the supply chain for a brighter future?"
YoDash, for the Goldman Sachs challenge "Build an application that helps the user evaluate the ESG friendliness of their portfolio and suggests options for investment that are in line with their aspirations." Runner-ups included EquiTeach, Green Screen, equiTree, and ESPG10.
Health Habits, for the State Farm challenge "How might we use telematics to provide surprisingly great rates or discounts?" Second went to Risk AI-verse. Third went to EquiTeach.
My Dog Ate My Profile, for the Match challenge "How might we create a new experience to help bring people or communities together?"
Health Quest, for the Children's Health challenge "How might we use technology to make the patient education experience more engaging?" Second place went to Care Hero; third went to Avatar the Healthbender.
The 'new career fair'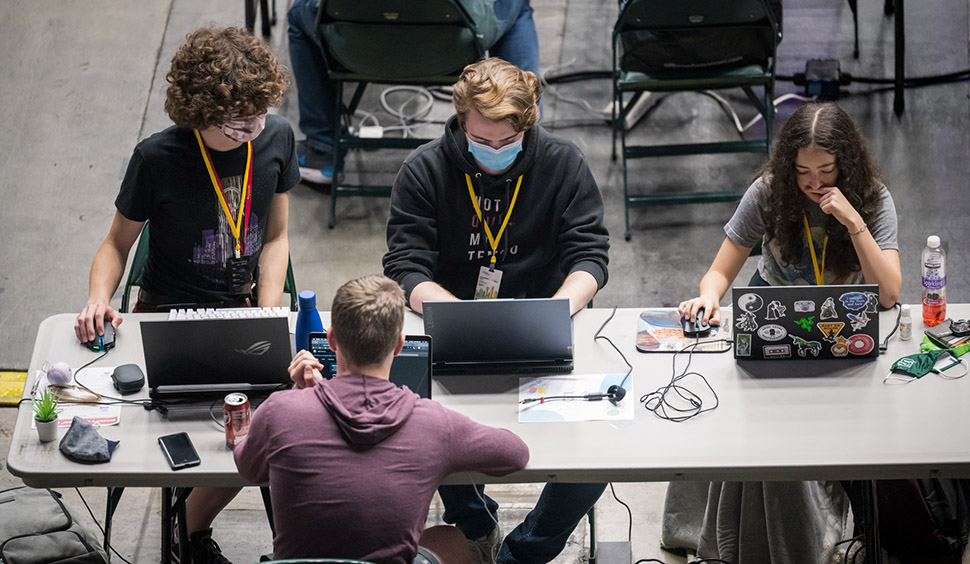 HackDFW's presenting sponsor was Amazon. Other sponsors included Workforce Solutions of Greater Dallas; Goldman Sachs; McKesson; State Farm; Match; USAA; Lockheed Martin, Google, Children's Health; the Frisco Economic Development Corporation; Accenture; the Dallas Mavericks; the McKinney Economic Development Corporation; Infovision; and Fish & Richardson.
HackDFW is powered by Say Yes to Dallas, the Dallas Regional Chamber's talent attraction initiative.
"The Dallas Region is loaded with tech talent, and this event is designed to show that talent off," Duane Dankesreiter, senior vice president of innovation and research for the Dallas Regional Chamber, previously told the Dallas Morning News.
"It's really the new career fair."

Get on the list.
Dallas Innovates, every day.
Sign up to keep your eye on what's new and next in Dallas-Fort Worth, every day.