Dallas-based RefineRE, a proptech company made up of longtime industry leaders, has announced an acquisition that will add to its corporate real estate industry-leading benchmarking data and services.

In acquiring BenchCore LLC, RefineRE said its robust platform for corporate real estate occupiers will be boosted. Founded in 2017, RefineRE's mission is to empower corporate real estate execs with user-friendly tools that solve complex challenges. It puts everything you might need—leases, properties, markets—in one place.
"RefineRE is the single source of truth for all of your properties, going beyond critical dates and lease data, and giving you actual insights that drive decisions," the company says on its website.
BenchCore is a leader in corporate real estate benchmarking. The Boston-based company aggregates global real estate data to help companies manage their portfolios, achieve savings, and implement best practices. According to the company, more than 40 major corporations and public sector organizations use its tools.
RefineRE brings corporate real estate expertise and technology to BenchCore—and the move combines both entities into a single platform.
RefineRE's already established Portfolio Intelligence platform, which it says has changed how companies make vital real estate decisions, allows occupiers and their brokers to leverage big data into big deals.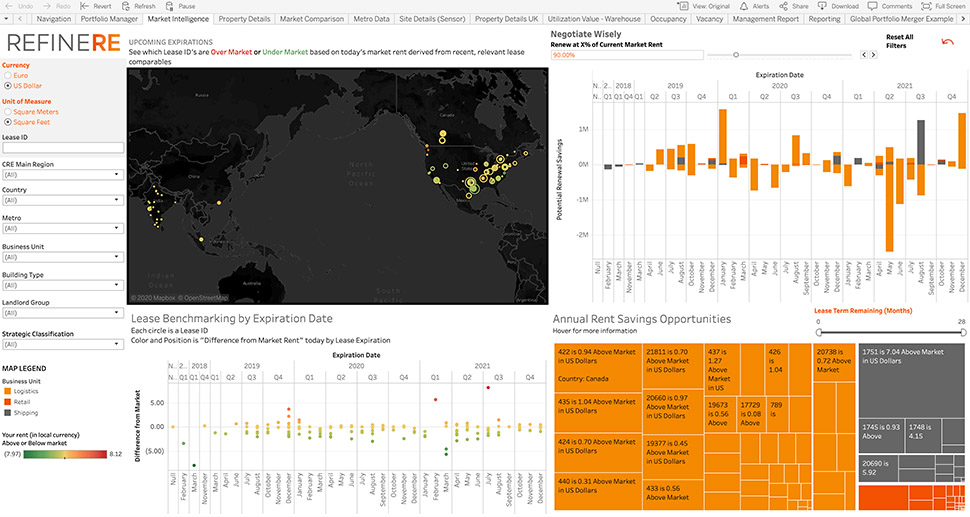 "Every company is in the real estate business even if it isn't their core product or service," Ryan Turner, founder and CEO, previously told Dallas Innovates. "It's the largest industry in the world and a company's No. 2 expense."
Turner—named one of our Future 50 innovators and disruptors you need to know in this year's annual magazine—turned his passion for finding solutions for global occupiers into a mission, forming the tech company to best serve tenants' needs. He has more than 15 years of tenant rep experience at JLL and CBRE, and was an early adopter of BI/analytics in the commercial real estate space.  
Now, he aims to amplify his Fortune 500 clients' siloed internal data with a unique blend of economic insights based on AI and machine learning.
"My job is to remove obstacles, to make it easier for our customers to buy our solutions, and to help our team build the right products by staying out of their way," he says. "At RefineRE, we free up companies' own data and empower them to use it themselves instead of being beholden to legacy systems and industry norms that continue to be proliferated because that's just that way we do it."
To date, RefineRE says it has identified more than $100M in cost savings and avoidance for clients.
With the acquisition of BenchCore, RefineRE expects rapid growth is ahead.
"I want to commend BenchCore's founders, Ron, Peter, and Raymond on their incredible success. BenchCore has become the Gold Standard for corporate real estate benchmarking thanks to their vision and execution," Turner says. "The knowledge, product, and customer base that they have built are best in class, and we're extremely proud to welcome them to the RefineRE family. This is a huge win for customers of both companies."
With the acquisition, BenchCore will remain its own company, the founders (Ron Zapille Sr., Peter Holland, and Raymond Nomizu) will remain active, and Peter Holland will remain as CEO.
Holland said the integration into RefineRE demonstrates BenchCore's long-term objective of positioning for a future of expanded offerings and an increased database of benchmarkable information for its participants. He calls RefineRE a growing and well-respected data and proptech business—a perfect match for BenchCore.
"The scale, resources and technology now available to our clients will no doubt drive better outcomes for corporate real estate practitioners across the globe," he said in a statement announcing the news. "BenchCore is ready to proceed to the next level of success and the addition of capital, talent, and superior technology will advance its software and analytical tools to current and future subscribers in the corporate real estate profession."

Get on the list.
Dallas Innovates, every day.
Sign up to keep your eye on what's new and next in Dallas-Fort Worth, every day.