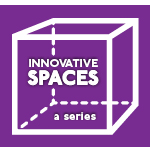 At Farmer Brothers' new headquarters facility in Northlake, it's all about producing coffee, selling coffee, shipping coffee, and for employees, a place to kick back and enjoy a great cup of coffee while they work.
Farmer Brothers is the most recent company to move its headquarters to North Texas from Torrance, California, where it operated from for more than 100 years. A former neighbor in Torrance, Toyota Motor North America, is moving its operations to a highly-publicized new headquarters campus in Plano.
FARMER BROTHERS HAD A WIDE SEARCH FOR A NEW HOME
The coffee company's search for a new home literally stretched from Houston to Oklahoma, but there was something about the Northlake site across Interstate 35W from Texas Motor Speedway that met all the criteria.
INNOVATIVE SPACES: 
Dallas Innovates goes behind the scenes to take a look at businesses in North Texas that are driving creativity through innovative spaces in this ongoing series.
"It really checked every box," President and CEO Michael Keown told me.
The coffee company moved into the 538,000-square-foot Denton County facility about a month ago, after operating out of temporary quarters in the Alliance area of North Fort Worth during the past year.
Farmer Brothers was founded in 1912, and Keown and his team wanted to build a facility that enhanced their ability to import roughly 24 million pounds of coffee beans a year mostly from Central and South America, roast them, and turn them into the various blends that the company sells to restaurants, casinos, hotels, and other institutional customers. Besides coffee, Farmer Brothers sells teas and other items to the foodservice industry.
A lot of things about the Farmer Brothers building are big — the 125,000-square-foot roasting plant and the 258,000-square-foot distribution center — but there's also a coffee house feel in the employee areas through the use of a lot of wood, open seating, and the Public Domain employee coffee shop. Recycled products were used in many of the light fixtures and the entire facility is based on sustainability.
"It really checked every box."
Michael Keown on how well the Northlake site fit the company's needs
The company encourages its employees to visit the Public Domain for a cup of coffee while they work. The space features hot- and cold-brew coffees that can be made via multiple types of machines and coffee makers.
Although parts of it are still being finished, the administrative portion of the building is in the process of earning LEED Silver designation.
Sit back, get a cup of coffee, and take a photo tour of the new Farmer Brothers headquarters.
---
Delivering what's new and next in Dallas-Fort Worth innovation, every day. Get the Dallas Innovates e-newsletter.