The late urbanist and activist Jane Jacobs believed four core qualities were necessary to create a sustainable urban community: population density, mixed uses, mixed-age buildings, and short blocks that promote walkability. Today, Deep Ellum is thriving. Until recently, Deep Ellum served primarily as a nightlife district, as Kourtny Garrett, president of Downtown Dallas Inc., points out. As is often the case with districts serving mainly evening crowds, Deep Ellum has experienced rises and falls. But, like any urban environment, the historic neighborhood needs the qualities Jacobs lauded to stay on its current trajectory.
Enter The Epic.
Called "the epitome of mixed use," The Epic is a three-building mixed-use development now under construction at the intersection of Elm Street and Good-Latimer Expressway on the western end of Deep Ellum.
BY THE NUMBERS




571,705 Linear Feet of PT Cable
31,755 Cubic Yards of Concrete
4,175 Tons of Reinforcing
589,774 Total Man Hours to Date
140 Average Men Per Day
290,490 Gross Sq Ft (Office)
109,765 Sq Ft of Curtain Wall
1,406 Total Curtainwall Units
The area has sat mostly vacant in recent memory. But by 2020, that's going to change with The Epic's 310 units of multifamily residential housing, 251,351 square feet of commercial space, 42,000 square feet of retail (18,357 square feet of it on the ground floor), and a 164-key boutique hotel.
And the development will preserve a significant and often forgotten piece of Dallas' history: On the easternmost corner of the lot housing The Epic sits a five-story brick structure once known as the Knights of Pythias Temple and, later, the Union Bankers building.
Built in 1916, the Temple was designed by Texas' first practicing African American architect, William Sidney Pittman, son-in-law to Booker T. Washington. The hall was the first structure in Dallas funded entirely by African Americans.
The building served as the state headquarters for the Knights and home to black doctors, dentists, and lawyers. It also served as a cultural center for the African American community.
In its new life, once the new development is complete, the building's banquet hall, which takes up the top floor and can be seen behind soaring, arched windows, will again be used for its original purpose—this time under the direction of Kimpton Hotels & Restaurants, the group that's bringing The Pittman Hotel to The Epic.
Garrett says the development of The Epic comes on the tail end of an urban resurgence that's been spurred both by millennials' desire to live in an urban core and by what she called the "lock-and-go" empty nesters: an active, older demographic of residents who are selling their estates and opting for apartments so they can travel without the burden of leaving behind a house.
"Within this development, when you have the combination of office, residential, hotel, and retail, and you layer on top of that the element of historic preservation, it really is the ultimate definition of what a mixed-use project can bring," Garrett says.
Meet Deep Ellum
Established in 1873 as a Freedman's Town near the Houston and Texas Central railways, Deep Ellum was settled by European immigrants and African Americans. Later, industrial manufacturing—including one of Henry Ford's Model T plants—entered the neighborhood, creating more employment opportunities for the area. The Adam Hats building served as a Model T manufacturing plant, as did the entertainment venue now called The Bomb Factory. Both remain standing in Deep Ellum.
KEY PLAYERS

Owner: Westdale Real Estate and Asset Management
Civil Engineer: Kimley-Horn
Structural Engineer: Thornton Tomasetti
Curtain Wall Contractor: Harmon
Meth Lath: IWR
MEP Engineer: Schmidt & Stacy
Landscape Architect: Talley Associates
General Contractor: Balfour Beatty
Owner's Representative: KDC Real Estate Development & Investment
Residential Developer: StreetLights Residential
Hotel Developer: Vinetower Development
Architect for Commercial Tower & Hotel: Perkins + Will
Architect for Residential Tower: Looney Ricks Kiss
Interior Designer for The Hamilton: Ink + Oro
Alongside the rise of manufacturing grew a burgeoning music scene, which persists in the area today.
The Temple of the Knights of Pythias building at 2551 Elm St. was sold to Union Bankers in 1959, says David Preziosi, executive director of Preservation Dallas. In the mid-1990s, it was sold to its current owner, Westdale Real Estate Investment and Management, the developer behind The Epic, but not before being named a City of Dallas landmark.
In April 1989, the building became the subject of a Historic Overlay District ordinance that dictated, "A person shall not alter the property, or any portion of the exterior of a structure on the property, or place, construct, maintain, expand, demolish, or remove any structure on the property."
The ordinance, which remains in effect, requires that construction meet a number of specific restrictions intended to preserve the historical facade of the building, including limitations to nearby construction and fence height, as well as a requirement that the developer must "employ brick that is similar to the existing in color, module size, and texture."
Because the building had been painted white, the developers of The Pittman Hotel were required in the ordinance to restore the building to its original, unpainted appearance.
A consultant was hired during restoration to help ensure the building matched its original appearance, says Ron Stelmarski, design director at Perkins+Will, the architecture firm behind the hotel and the office tower at The Epic.
Preziosi says the building won't be used for its original purpose, but will instead be adapted to meet the needs of hotel customers and Deep Ellum's patrons: "Buildings change and evolve over time."
When The Epic comes online, its residential tower—The Hamilton—will bring the region's population up to an estimated 2,500 people. The area's growing population is thanks, in part, to The Case Building, another residential tower developed by StreetLights Residential that opened in early 2018. The Case Building added 337 units to the area, and The Epic is slated to add another 310.
The construction
Sharing a block with the Knights of Pythias building was a warehouse owned by Grainger, an industrial supply company. Joe Beard, president and CEO of Westdale, says the warehouse presented an ongoing problem for the developers and architects who were master-planning the site.
"For years there was one piece missing out of the middle of this development, and it was the old Grainger warehouse," Beard says. "It took an acre-plus chunk out of this land. We had always anticipated that we could get Grainger to sell that piece to us. And ultimately they did, but it took 17 or 18 years before they got around to it."
The problem slowed progress for architects at Looney Ricks Kiss (LRK) as well. Craig Henry, a principal with the firm, says they had to redesign StreetLight Residential's The Hamilton to accommodate the addition of the Grainger warehouse's lot.
In fact, Henry says the firm designed the building twice for this part of The Epic, which was aiming to create a specific appearance to match Deep Ellum. When developers at StreetLights saw the first draft, they felt the appearance was too modern, he says. Though LRK designed another facade for the building to better meet the vision of StreetLights, they had to again redesign the building after Westdale bought the Grainger property.
Henry says the process leading up to the construction of The Hamilton began in February 2015, and the work will likely continue for another year or more.
The Epic's commercial tower, a 10-story structure perched atop six above-ground levels of parking, is slated to open this year. Stelmarski, of Perkins+Will, says the building is designed to bridge the gap between Deep Ellum's industrial, pedestrian-friendly feel and the downtown Central Business District, marked by high-rise buildings.
He describes the commercial tower for The Epic as a tower of blocks inspired by the various buildings found across Deep Ellum.
"What we didn't want to do is overwhelm the neighborhood," Stelmarski says. "So, we took all the different sizes of existing buildings, and we shifted our building tower as a set of blocks. It looks like there's an accumulation of two-story, three-story, and five-story blocks on top of each other. So it looks like you've taken pieces of the Deep Ellum fabric and just stacked them on top of each other."
The offset style of the building not only makes the structure stand out as the most visible landmark east of downtown, but also helps save on energy costs, Stelmarski says.
"Each level has a terrace. By overhanging these pieces of building, you shade a portion of building below," he says. "And we found that with these offsets we've saved about 5 percent of the overall building energy costs by creating self-shading architecture."
Placemaking is about more than creating a healthy building with LEED, WELL, and Fitwel certifications—all of which the developer expects to achieve with The Epic's commercial tower. It's also about creating a place where people simply enjoy being.
"Architecture is more than just the building," Stelmarski says. "Architecture is the experience, and it's how culturally relevant the building is to its context. The true litmus test of success is: 'Do people like the building?'"
The idea of placemaking extends to the residential tower as well. StreetLights Residential's president of development, Tom Bakewell, says the look, feel, and history of Deep Ellum were all taken into consideration during site planning.
He believes The Hamilton pays homage to the neighborhood's history with an industrial feeling that gives the impression The Hamilton could once have been a tall warehouse.
"It's all new construction, but when you look at it, it has the feel of something that was there originally and had been added to over time," he says.
When it comes to developing in a historic neighborhood, Bakewell has a simple philosophy: "We're not the first ones here, and we're not going to be the last ones here. Let's respect what's already here today and make sure that we become an asset to the neighborhood versus trying to act like there's nobody else around us."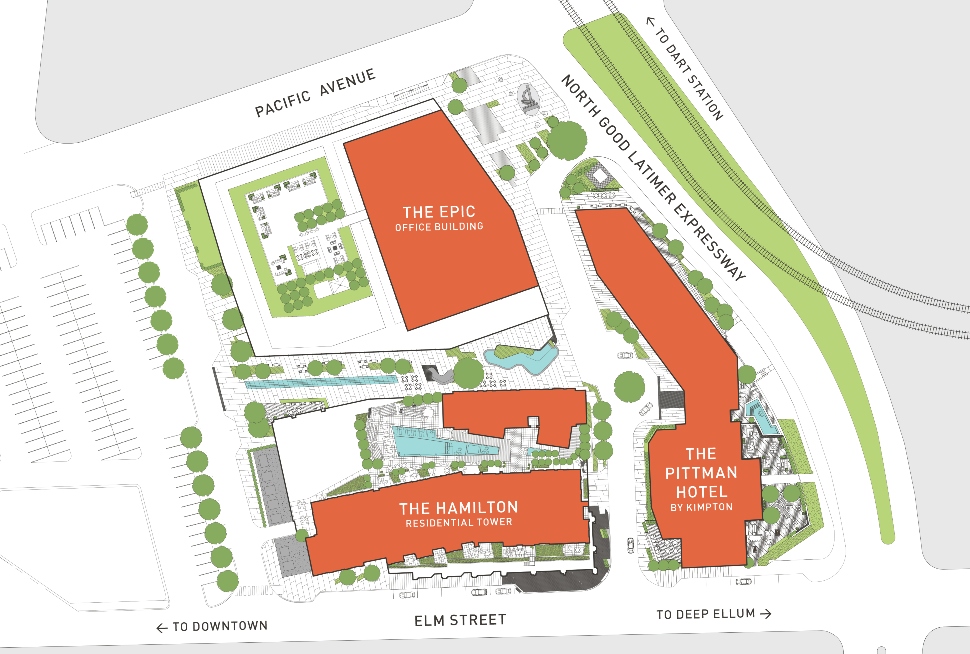 Looking forward
Entertainment districts tend to be cyclical in nature, says Kourtny Garrett, of Downtown Dallas Inc., and Deep Ellum has experienced oscillations over the decades.
"You see this in any city … You really find that almost in any case where you have the proliferation of just one use," Garrett says. "This particular 'rise' of Deep Ellum"—meaning its recent shift toward multiple uses—"is one that's going to be much more sustainable."
The Epic aims to piggyback on the success of other developments in Deep Ellum to shake up the cycle.
Stelmarski says urbanism in Dallas is a particular challenge because of the city's history of development.
But thriving, sustainable urban spaces offer a number of things Deep Ellum lacked until relatively recently—including adequate space for pedestrians, green surfaces, a thriving community of residents, and access to transportation, retail shopping, and food/grocery options.
Stelmarski's overall vision for The Epic is to bring a broadly useful space to the district.
"We wanted to create meaningful spaces," Stelmarski says. "Design is only part of the equation. You want people to feel good about where they are, but the more layers of meaning you can add to it, it just allows people to look through different lenses and have a better grounding."
Those lenses, he says, are not of gentrification but of sustainability. A vibrant, pedestrian-driven urban community rooted in diverse multifamily housing requires a density of about 20,000 people per square mile.
"When we dropped this much square footage into a neighborhood of this scale, we thought it was really important that we tie and weave it back into the fabric the best we can," Stelmarski explains.
In order to fit into the neighborhood known for its nontraditional clientele—musicians, artists, muralists, and others—the developers and architects who master planned The Epic had to consider a number of factors, among them: how to construct a high-rise commercial building in an area dominated by low-rise commercial and industrial facilities.
And while the commercial tower will total 16 stories, The Hamilton will be even taller at 26 stories. It, too, aims to match the neighborhood's fabric. Its red-brick facade will mimic the old brick warehouse grids that can be seen throughout Deep Ellum, though the cast stone detailing is cleaner and more modern.
"I'm hoping our base is a dark red brick, and then the tower [appears] as a little more orange and red, so it kind of plays off that Union Bankers Building," says LRK's Henry.
Henry backs Bakewell's approach, saying he feels as if a traditional high-rise doesn't belong in Deep Ellum and would disrupt the flow and feel of the area. So they set to work finding a compromise.
"We set the tower back on terraces," he says. "We didn't want the tower out on the street. We're opening up the view to downtown, but we're pulling it off of Elm Street. We did not want that hard edge."
Similarly, the hotel was designed with context and historical reference in mind. Guests visiting The Pittman Hotel will enter through the restored Knights of Pythias hall before taking a short walk through a connecting hallway into the hotel itself.
Because of its significance as a historical site in Deep Ellum, great strides were taken to preserve the history of the building.
"You've got this texture and adjacent relevance of what will be a Class A Kimpton hotel that also has some soul. It's just not shiny and new," says Bill Guthrey, senior vice president of land development at KDC Real Estate Development and Investments, Westdale's strategic development partner on The Epic. "Yes, the office building is new, and components of the neighborhood are new, but you're still getting some of the flavor of what Deep Ellum is."
Connection over commutes
Though Dallas as a city has struggled with walkability, Deep Ellum has long been a walkable neighborhood, often requiring no more than a brisk stroll to get to dining or nightlife options. That's now truer than ever, thanks to a recent redevelopment of Elm Street that widened sidewalks and narrowed roadways.
The Epic, too, is a walkable development, boasting a pedestrian thoroughfare that connects the Deep Ellum Green Line DART station to the three streets that make up Deep Ellum.
Stelmarski says Perkins+Will abides by rules of design that best serve pedestrians in placemaking urban developments. Those rules include short, foot-traffic-friendly blocks—often between 250 and 400 feet in length—that do not overwhelm pedestrians.
"We want to make sure that as we're organizing, we're using the distances and the width of Deep Ellum, and that we're also using the measurement of distance between blocks that would enhance the best experience," he says.
Commuters coming off the DART train will enter Deep Ellum through The Epic's breezeway. Stelmarski says site planning took public transit into consideration and, rather than creating a private space for workers and residents at The Epic, funnels pedestrians from the train station into Deep Ellum via Elm Street.
"When you get off the DART line, you should look right and see the Traveling Man," Stelmarski says. "You're getting this quick connection and gateway experience into Deep Ellum. Ultimately it's about the pedestrian and how they interact with the outdoor spaces."
The Epic serves not only as a connection between the DART station and Deep Ellum, but also between Deep Ellum and the downtown Central Business District. That's where public transit comes in.
While a DART rail station and various bus stops currently provide commuter access to the area, Garrett says Downtown Dallas Inc. is exploring other on-demand options that could improve the travel experience to, from, and through Deep Ellum.
"Whether it's Efrogs or another company that does something like that, we're looking at smaller vehicles that can operate with an on-demand model… We know our high-traffic areas are high-demand areas," she says.
Such options could cut down on drunk driving and provide easier access from Deep Ellum into the Central Business District, the Farmers Market, and Uptown.
The ins and outs of placemaking
The Hamilton will offer residents a number of ways to engage with Deep Ellum from the comfort of their own homes, including Ink+Oro's interior design, which features local art, graffiti pieces, and touches that pay homage to Deep Ellum's music scene.
In addition to unique art splashed through the building's common areas, the parking garage will also bear a mural designed to honor the history of the site.
Ink+Oro managing partner Geoffrey Woodrum designed the mural, which he says displays the faces of area historical figures connected to Deep Ellum including William Sidney Pittman, Henry Ford, and notable jazz singer Bessie Smith. He says he believes preserving the history of the neighborhood can happen alongside progress.
"It's inevitable that this building is going to get built," he says. "So how do I do it in a way that's right for the people who live there? I'm giving them a nod to what Deep Ellum is, but also making a really cool building that attracts the people who are going to want to live here."
Going further, Woodrum says he wants residents in The Hamilton to have an experience that mirrors walking through Deep Ellum.
"It's always drawing you to the next moment, similar to how Deep Ellum is." Woodrum says. "We have little moments where you pass by the mailroom, and it's just an entire graffiti and ceiling that's kind of like walking past an alley."
The art in The Hamilton continues the trend of staying grounded in the neighborhood and its city. From graffiti murals to unique elevators emblazoned with the style of Deep Ellum, all the art found in the building is local.
"Why would I bring in some artists from New York or L.A. or wherever, when we're here in Dallas—in the arts center?" Woodrum asks.
Residents will also have access to a feature that's uncommon in high-rise apartment buildings. A "makerspace" or "makers kitchen" that lets residents do things they like, but might not be able to do in their own homes, from cooking to crafting to experimenting with a 3-D printer.
"You can do cooking classes there, you can rent it out and have an event there, you can use it for a party. There are flexible coworking tables that can be moved," Woodrum says. "You can go in there and work on something, build something, tinker around—stuff you don't want to do in your apartment."
Although The Epic has a long way to go before it's fully open and functional, Preziosi of Preservation Dallas says he's happy to see smart, sustainable progress in the area.
"The key is you don't have to demolish historic buildings to do new development. You can incorporate historic buildings into the development like The Epic has done. I think they've been creative in the way they've done it to make sure they preserve the history of the Knights of Pythias building."

Get on the list.
Dallas Innovates, every day. 
Sign up to keep your eye on what's new and next in Dallas-Fort Worth, every day.