The government has been hard at work in its efforts to save small businesses in the U.S. from the backlash of the COVID-19 pandemic.
The Paycheck Protection Program (PPP) was rolled out months ago to help businesses with 500 employees or fewer keep their workforce employed. On July 6, the program was extended and resumed accepting applications until Aug. 8.
However, many across the country are still confused about the fallout of the program's original run.
A number of small-business owners say they received a loan too small or no loan at all, while larger enterprises were awarded millions. Granted, several, like Shake Shack, did eventually return the money. But, as Vox reports, "a lack of transparency with the program has fueled misconceptions about what the PPP was supposed to accomplish in the first place."
Enter the Main Street Lending Program (MSLP). The Federal Reserve Board program expanded in June to allow more small and medium-sized businesses to be able to receive support.
At its core, Main Street mirrors PPP, according to John Steinmetz, president and CEO at Vista Bank. Both fall under the CARES Act and are designed for small businesses in need of recovery assistance from the global pandemic. Both were put in place to help amidst uncertainty.
Then why is it that all of the focus has been on PPP loans?
"Two weeks ago, no one really knew about Main Street. I think that's because so much emphasis was placed on PPP," Steinmetz told Dallas Innovates. "Both have a place in our economy during these unprecedented times. But PPP is more of an employment program, while MSLP was established to provide capital to companies that need it."
108-year-old Vista Bank has been on the front lines providing loans and guidance today's small business owners seek.
As the bank's leader, Steinmetz isn't advocating one program over the other. In fact, Vista Bank is a participant of both programs and previously funded 75 percent of its PPP loans to new clients.
But Steinmetz has taken it upon himself, along with his team at the Dallas-based community bank, to spread the word about the Main Street Lending Program so small businesses have the opportunity to secure funds before anymore detrimental economic impact can occur.
As business owners begin to pick up the pieces, Steinmetz is out to make it known there's another program that can help.
Inside the Main Street Lending Program
"During these economic conditions, credit historically has tightened. We're seeing some of that. The credit market, meaning the availability of debt or additional continued funding of capital, tends to dry up," Steinmetz says. "The Main Street program was established to encourage banks to make loans to businesses that were profitable pre-COVID in hopes that they will continue to be profitable and taxpaying entities post-COVID."
The (fairly) new MSLP was designed to help small- to medium-sized businesses—particularly those that may not have gotten a PPP loan and are still being affected by COVID-19—maintain operations. The loans range from $250,000 to $300 million and Eligible Borrowers may qualify for a loan that is 4- or 6-times their adjusted EBITDA (Earnings Before Interest, Taxes, Depreciation, and Amortization).
Eligible Borrowers may receive only one loan, but it is ineligible to be forgiven.
Steinmetz compares PPP to more of a small business grant. If folks were kept employed, the loan is forgiven.
With the MSLP, the loan is required to be paid back in full and is underwritten as traditional credit. The Federal Reserve Bank of Boston "set up a special purpose vehicle to purchase participations in loans originated by eligible lenders" to implement the program. Lenders retain a percentage of the loans.
"A bank like Vista has the opportunity—because we only keep a 5 percent stake—to really, for the first time in my career, punch above our weight and go after businesses that require significant credit," Steinmetz says. "On a $300 million loan, you keep $15 million. We can do that."
Per the Federal Reserve, "loans issued under the MSLP would have a five-year maturity, deferral of principal payments for two years, and deferral of interest payments for one year."
"This set up really helps define why the program was established. 2020 is a bizarre year. For those with great companies, when this COVID thing hit, many were left thinking 'What the hell?' So from 2020 to 2021, there are 12 months of no interest payments," Steinmetz says. "It's incredible. It's very favorable pricing relative to what a traditional loan would look like before COVID."
The Program has five facilities: the Main Street New Loan, the Main Street Priority Loan, the Main Street Expanded Loan, the Nonprofit Organization New Loan, and the Nonprofit Organization Expanded Loan. Term sheets with criteria are available for each.
Can you apply?
Broadly, to be eligible, businesses must have been in sound financial condition prior to the COVID-19 pandemic. Steinmetz says "success" is defined in a multitude of ways, depending on the size of the business.
Banks mainly want cash flow to repay the loan. One of the first things his team at Vista Bank looks for is someone that has historically had adequate cash flow coverage—someone who shows they can make money to pay back debt. In some cases, that might mean strong collateral, such as building a type of inventory.
"If you think about this program and the easiest way to do it, this is a program to help businesses that were successful and by no mistake of their own are now in a position where they're financially struggling," he says. "It's really a bridge to get us to post-COVID. That's the biggest delta between Main Street and PPP. Now, we're working diligently to ensure that these companies not only are keeping the folks employed, but they're also working to ensure that they have the adequate working capital to stay in business during these challenging times."
Businesses and nonprofits can apply for the MSLP loans by contacting an eligible lender. For those in North Texas, Steinmetz encourages visiting the Vista Bank website or one of its locations throughout the region. He suggests reaching out early—the loan takes time, as it mimics a more traditional commercial loan.
Only 19 Texas lenders are currently participating; Vista Bank was one of 13 in Texas to originate the loans. Steinmetz emphasizes that businesses do not have to be a bank client to apply.
"Because it's so much different than PPP, one of the reasons other banks might not be interested is because it takes a lot of time to not only get registered and set up with the Boston Fed, but also to work diligently and as quickly as possible with these businesses," Steinmetz says. "Just days are impactful. The average loan typically would take 30 days. In some cases, we're trying to turn these things around in less than two weeks to assist the communities that we serve."
Steinmetz says other banks in Dallas-Fort Worth are participating, but he challenges Vista's competitors to join in. It's an important program for businesses suffering in today's climate, but also an opportunity for those in the community to get to know their banker.
"There's a saying in banking: Are they only there in good weather, or are they there for you all the time? This is an opportunity for us to step up," he says. "The structure of the program allows us to be there for our clients in North Texas when they need banks most. That is really something we're thankful for."
Vista Bank's culture of 'entrepreneurs banking entrepreneurs'
To Steinmetz, being part of the Main Street Lending program is in Vista Bank's DNA.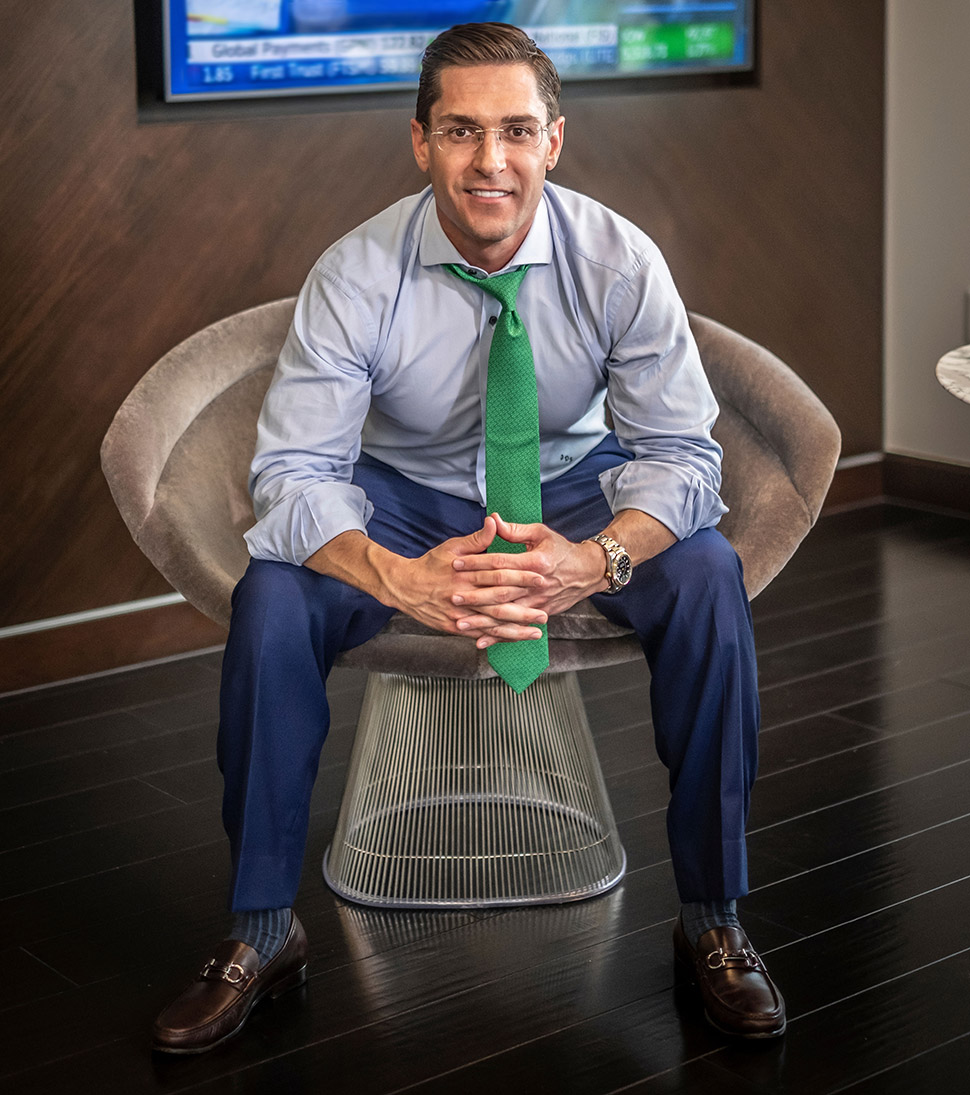 Founded 108 years ago in Ralls, Texas, Vista has since expanded from its rural roots to 15 locations across the state. Last year, Vista moved its headquarters to Dallas, citing the region as an "incredible hub" to expand its footprint.
The journey hasn't been easy—Vista has served customers through the Dust Bowl, Great Depression, two World Wars, and the Recession. That's primarily what's made the team so equipped to navigate the pandemic.
Throughout it all, Vista has stuck to its core foundation of "entrepreneurs banking entrepreneurs."
"Our values are based on a few ground principles of being hungry, humble, and smart, while anticipating and sacrificing consistently," Steinmetz says. "And that's what the most successful entrepreneurs are. We're just trying to align ourselves with them."

Get on the list.
Dallas Innovates, every day.
Sign up to keep your eye on what's new and next in Dallas-Fort Worth, every day.