Dallas Fort Worth International Airport (DFW), already the first carbon-neutral airport in North America, is setting its sights on what could be an even bigger challenge. Producing zero waste.
Employees from across the airport operations recently came together to tackle the problem in a two-day internal competition called the BOOST Challenge.
It was a first-of-its-kind event for the airport.
"Our team is committed to it, but we have a long way to go," said Chris McLaughlin, EVP, operations at DFW. "We need all hands on deck to get there."
The BOOST challenge was a physical representation of 'all hands on deck' and demonstrated the cultural shift that's underway. Paul Puopolo, executive vice president of Innovation at DFW, has been building the function for more than four years.
"We spent the first few years executing our strategy, establishing the process, growing the team, getting our pipeline going and then about two years ago, we started working on culture."
With the infrastructure in place, his team moved on to creating training modules; they decided now was the right time to pull it all together with an employee ideation event and the response was overwhelming.
Mario Herrera is a specialist with the DFW fire department and jumped at the chance to be a part of this.
"I work with a lot of different disciplines, and this was a great opportunity to find out how everyone else works, what issues they face and what their specialties are so that when I'm at the terminals, we already have that built-in relationship."
Margaret Effiom, a project manager for the composting program, agrees. She was excited to have the chance to share her expertise with her team as they researched opportunities and designed a solution.
"I'm part of the boots on the ground, in the terminal, where we're face-to-face with trash and contamination. I was able to show and expl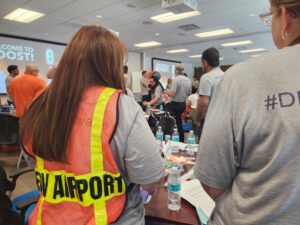 ain to my team the issues we run into with recycling in terms of time, location, and space."
More than 30,000 tons of waste — think plastic, glass, cardboard — is loaded onto trucks and hauled away from DFW Airport each year. The airport committed to reducing this by 15% by year's end, and ultimately it wants to get to zero waste — defined as 90% diversion from landfills, incinerators, or other environmental polluters.
"That's a really big goal, and we need help from across the organization," said Sarah Ziomek, enterprise sustainability program manager. "The airport is such a varied operation — people work in energy, transportation, procurement and this is a really good opportunity to see ideas from people who don't necessarily deal with waste in their everyday jobs."
The Innovation department assembled the teams — stitching together diverse groups of people who don't work with each other day-to-day. Throughout the 36 hours, Innovation team members mentored and coached teams through the various stages of problem identification, ideation, concept development, testing, and pitching. BOOST participants represented sixteen areas, including public safety, environmental affairs, and airfield operations.
They were told to approach the challenge with the innovator's mindset: question, explore, experiment.
On day two, each team had four minutes and 15 seconds to describe the problem(s) they found, and their solution. Judges — Meghna Tare, chief sustainability officer, UTA; Chris McLaughlin, operations EVP at DFW; and Jodie Brinkerhoff, vice president of Innovation at DFW — evaluated the pitches on the size of the problem, the functionality of the proposed solution, and viability to scale it.
"People sometimes don't know where to start in approaching big problems," said Tare. "But you start from the very basics and think about data collection. What you measure now, you need to measure again in the future to see if there's a trend line."
Eleven teams were narrowed down to three finalists and all participants also voted for an audience favorite. But the effort doesn't end there. The environmental team will re-evaluate all the ideas, which may cobble together elements of different solutions to address current or future opportunities.
The two-day challenge follows a program piloted last month, which allows travelers to easily pour out liquids that aren't allowed through security checkpoints. Taken together, they're small steps towards achieving a big goal that now has dozens more employee-ambassadors and a path for success.
Voices contributor Nicole Ward is a data journalist at the Dallas Regional Chamber.

Get on the list.
Dallas Innovates, every day.
Sign up to keep your eye on what's new and next in Dallas-Fort Worth, every day.