Cognitive technology innovator Darwin Ecosystem isn't yet a household name, but the company's groundbreaking partnership with IBM and others to help a quadriplegic woman with Rett's syndrome communicate is capturing attention.
Dallas-based Darwin Ecosystem was recently named one of South by Southwest's 21st annual Interactive Innovation Awards finalists for its work in artificial intelligence in the AI & Machine Learning category. It is the only Texas company to receive the honor. Winners will be announced March 13.
The company also presented its cognitive learning findings last year at the IBM InterConnect conference in Las Vegas and will present at IBM Think 2018 March 18-23.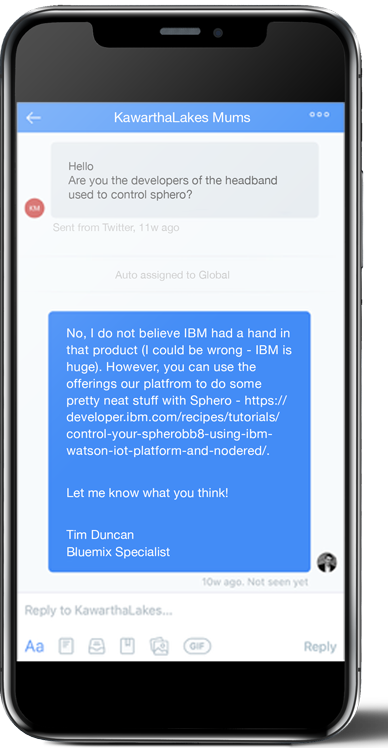 The research began after a friend of the woman's family sent out a tweet wondering if AI could help the 29-year-old woman who is unable to speak. Within weeks, a research trip was made to the woman's home north of Toronto where her mother is the only one who can detect some of her feelings.
DARWIN HOPES TO BRING MACHINE LEARNING SYSTEM TO MARKET LATER THIS YEAR
Darwin and its partners built an open-source machine learning system whose functionality measures brain patterns, processes data, and learns through the interactions between the woman and her mother. 
Brain waves are measured through an EEG device and processed using cognitive computing. As the mother captures her daughter's intents on a mobile application in real time — the one person who can best understand her daughter's emotions — the machine stores the brainwave signals and intent markers and conveys them into patterns — learning what the woman is thinking and feeling. A computer will be able to speak out her thoughts in words by recognizing the learned patterns.
"For the first time in her life, she can tell somebody else simply by feeling discomfort what is going on."
Thierry Hubert
"For the first time in her life, she can tell somebody else simply by feeling discomfort what is going on," said Thierry Hubert, CEO of Darwin Ecosystem.
The collaborators are IBM Watson, OpenBCI, Not Rocket Science, and 13-year-old wunderkind Tanmay Bakshi.
The partners expect to produce and commercialize a device that is worn on a person's head to detect EEG waves. Hubert said Darwin uses IBM cloud and cognitive technology and hopes to leverage IBM's leverage in the health care industry to introduce the device, possibly later this year.
COMPANY'S WORK ALSO INCLUDES BLOCKCHAIN, ANALYTICS
Hubert founded Darwin Ecosystem in 2008 in Boston as a research think tank, initially working on a grant from the Canadian government.
Today, it no longer calls itself a think tank. The company has a variety of clients that include law enforcement, health care, and financial services industries with projects that include blockchain and integration of technology and analytics.
In law enforcement, its personality technology is used in the selection process of candidates who want to become police officers. Darwin's clients include Sanofi-Genzyme, Delphi Financial Group, Fidelity Financial Center for Advanced Technology, and IBM.
RELOCATION TO DALLAS WAS 'NATURAL FIT'
Hubert moved the company to Dallas nine months ago, in part due to its relationship with several IBM divisions and because he liked its central location and accessible airport. It employs 15 people in Dallas, mainly engineers, data scientists, and programmers. The company's chief innovation officer is based in New Hampshire, and it has an employee in Montreal.
"This is a wonderful city: First of all, it is very easy to come in and out of. The people are wonderful," he said.
"I didn't realize how great and diverse Dallas was." 
Thierry Hubert
Hubert said he was impressed with the broad diversity of companies that would allow for meaningful, stimulating intellectual conversations not just about the how's but the why's of innovation.
"I didn't realize how great and diverse Dallas was," he said. "It's really rich in culture, which I thought was phenomenal. It was a natural fit. It was convenient, it was logical, and I found some decent French restaurants."
Images courtesy of Darwin Ecosystem.

Get on the list.
Sign up to keep your eye on what's new and next in Dallas-Fort Worth, every day.