This package was originally published in Dallas-Fort Worth Real Estate Review.
When all is said and done, Cypress Waters, Billingsley Co.'s 1,000-acre development surrounding North Lake, will include 4.5 million s.f. of office and retail space, 10,000 residential units, three schools, a 6-mile hike-and-bike trail, numerous parks and nature areas, and a lakeside gathering place called The Sound.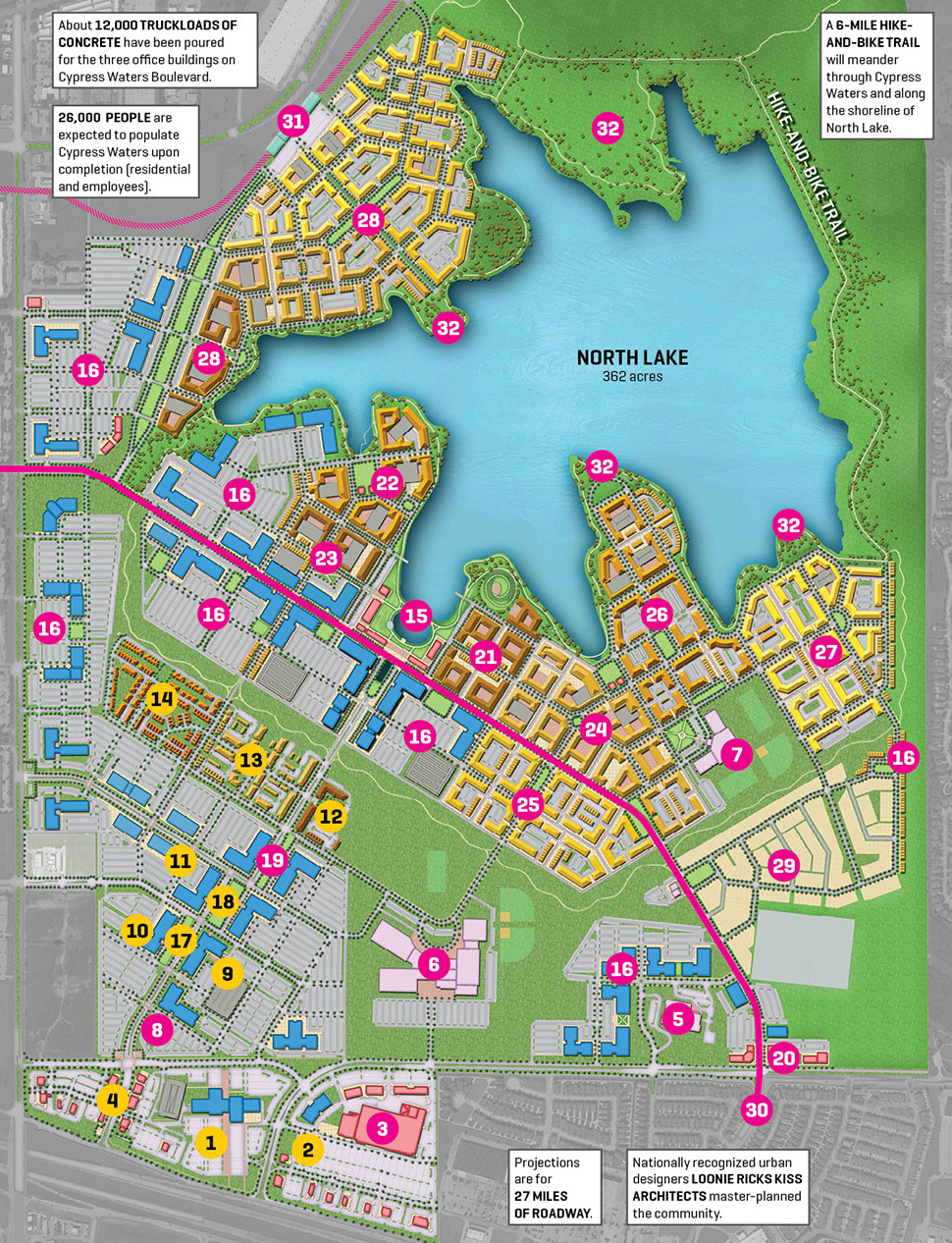 1. 7-Eleven Inc. headquarters
2. Cheddar's Restaurant Group headquarters
3. The Dump
4. The Shops of Cypress Waters (15,000 s.f.)
5. Richard J. Lee Elementary (CISD)
6. Future magnet high school (CISD)
7. Future middle school (CISD)
8. 8840 Cypress Waters Boulevard (165,000 s.f.)
9. Nationstar Mortgage headquarters (175,585 s.f.)
10. 8951 Cypress Waters Boulevard (180,440 s.f.)
11. 9001 Cypress Waters Boulevard
12. Sycamore Park (multifamily)
13. Scotch Creek (multifamily)
14. Parson's Green (multifamily)
15. The Sound
16. Future office campus zones
17. Salazar Park
18. Central Park
19. Northern office park
20. Future retail
21. Multifamily phase 2 (500 units)
22. Cypress Point (multifamily)
23. The Wharf (multifamily)
24. Carraway Parks (multifamily)
25. Birchgrove (multifamily)
26. Sagamore Hill (multifamily)
27. Byron (multifamily)
28. Future urban center (transit oriented)
29. Single-family housing
30. Olympus Boulevard (four lanes, divided)
31. Future Cotton Belt Line
32. Riparian environments / open spaces
This story originally appeared in the Dallas-Fort Worth Real Estate Review.
Read all stories from the Cypress Waters Anatomy of a Deal package:
Creating a Lakeside Legacy
7-Eleven's New Heaven
Nation Building
Workplace of the Future
A New Multifamily Paradigm
The 25-Year Vision
Educating for the Future
Embracing the Great Outdoors
A Time to Be Bold: Lucy Billingsley
---
Read the digital edition of Dallas Innovates' sister publication, the Real Estate Review, on Issuu.
Sign up for the digital alert here.

Get on the list.
Dallas Innovates, every day.
Sign up to keep your eye on what's new and next in Dallas-Fort Worth, every day.