Made in Dallas: Dallas Innovates spotlights interesting new products from Dallas-Fort Worth innovators, large and small. Know of something notable that's made (or conceived) in Dallas-Fort Worth? Let us know.
---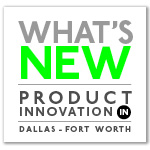 Coppell-based Varidesk, a company known for making the standing desk a "workplace phenomenon," announced that it was expanding its office furniture lineup with QuickFlex Walls.
The movable wall panel product is designed to be assembled or disassembled in minutes for flexible, open office spaces. QuickFlex Walls will debut this week at the IFMA World Workplace 2018 facility management industry conference in North Carolina.
Customers want an agile workspace that can be adapted to their needs, Jason McCann, CEO and co-founder of Varidesk, said in a statement. The company is developing all of its products with that in mind, and McCann said QuickFlex Walls are a smart way to adjust office space with the changing needs of a business.
"Work is constantly evolving, and flexibility is needed now more than ever before," he said. And demand would seem to be increasing: In a release, the company cites a forecast from commercial real estate firm JLL, flexible open office space could increase from the current 5 percent to 30 percent by 2030 due to tenant demand.
"Work is constantly evolving, and flexibility is needed now more than ever before."
Jason McCann
Varidesk's QuickFlex Walls modular panels allow facility managers to quickly create and break down defined spaces, private offices, freestanding partitions, focused work areas, or flexible conference rooms, as needed. Costs for the product start at $995 for a single panel, and reach up to $1,990 for a set including a door.
The Varidesk modular walls offer flexibility in open office designs and help optimize costs while adapting the physical space to employees' needs, William Martin, senior director of real estate and facilities, Health Management Systems, Inc., and Varidesk strategic partner said.
"When facility managers hear 'open workspace,' it can set off some alarms because it means different things for different people," Martin said.
Varidesk is best known for its line of sit-stand desks, but along with its QuickFlex Walls, the company has added storage solutions, lighting, and conference tables to its lineup of office furniture.

Get on the list.
Dallas Innovates, every day.
Sign up to keep your eye on what's new and next in Dallas-Fort Worth, every day.