When robots hit the road all by themselves, you know the future's coming fast. That's just what happened recently in Fort Worth, when a CLEVON 1 robot courier made its first North American delivery. The all-electric, autonomous vehicle looks like a mini tractor-trailer and was built by Clevon, an Estonia-based global autonomous delivery innovator.
The delivery was made three months after Clevon moved its U.S. headquarters to Fort Worth's AllianceTexas Mobility Innovation Zone. The company's splashy HQ opening included a visit and remarks from Estonia's president, Alar Karis.
On the recent delivery, Clevon's robot courier navigated real-time road obstacles—including crossing traffic—as it delivered gourmet meals from O'Neill's Inflight Catering to Alliance Aviation Services team members in the new fixed-based operation terminal at Perot Field Fort Worth Alliance Airport.
Fast-service area mapping, telesupervision, and autonomous driving
It was no short hop, either. The 3.6-mile route was adjacent to I-35W traveling along Eagle Parkway. The CLEVON 1 turned southbound on Heritage Parkway before arriving at its destination, 13901 Aviator Way, the company said.
CLEVON 1's use of fast-service area mapping, telesupervision and autonomous driving capabilities enables it to be deployed in new service areas "in a very efficient way," Clevon added.
Meelis Anton, Clevon's U.S. chief operating officer, called the event "a momentous day" for Clevon's partnership with Hillwood, the AllianceTexas developer and manager.  
"With demand for autonomous last-mile delivery solutions booming on a global scale, Clevon is forever changing the way in which goods are transported, logging over 12,000 miles autonomously delivering goods abroad, and now here in the U.S.," Anton said in a statement. "Hillwood's Mobility Innovation Zone platform is helping Clevon advance and commercialize our autonomous technology, and we look forward to continued deployments in the future."
Ross Perot, Jr.: 'Fort Worth is like Estonia'
In September, Hillwood Chairman Ross Perot, Jr., welcomed Estonia's president and Clevon's leadership team at the HQ opening—and he said Estonia and Clevon's new U.S. home have a lot in common.
"Fort Worth is like Estonia," Perot said. "It's a very modern, forward-leaning city. And this region of the United States is the fastest-growing region in the United States. We have almost an Estonia every seven years—a million people or so every seven years—moving into North Texas. And they're here because of our basic freedom, our affordability, our culture, and our can-do spirit. And so, to have Clevon here with us and develop this new mobility technology is a tremendous honor."
Perot congratulated the team and their country on Estonia's 31 years of freedom since leaving the Soviet Union. "You've shown the world what you could do with your innovation and your spirit," he said.
Welcoming the company to The MIZ at AllianceTexas, Perot noted that as it develops its delivery systems, "you can practice in our communities, you can practice on our park, you can practice interfacing with FedEx or with Amazon or UPS—all the delivery systems in one day."
Delivering on roads, not sidewalks
Driverless robot deliveries have happened before in Dallas-Fort Worth, but they've more often been rolling down sidewalks, not roads—like the fleet of Starship Technologies meal-delivery robots that began rolling across the SMU campus in January. (Starship is also based in Estonia, by the way—which gives you an idea of the big impact the small Baltic country is having on autonomous innovation.)
Unlike sidewalk robots, Clevon's driverless robot couriers are able to navigate public roads in urban areas, enabling deliveries to be "more energy-efficient, cost-effective and scalable." The company says its CLEVON 1 model has been tested on public roads in Europe for over two years, "and is proven to be safe and reliable." It offers environmental benefits, too, by releasing zero CO2 emissions.
The biggest bottom line? Clevon claims its robots reduce last-mile delivery labor costs by up to 90%.
Ian Kinne, director of logistics innovation at Hillwood, says that capability will become increasingly in demand as the future unfolds.
"Businesses will need to differentiate and innovate their last-mile delivery solutions to compete in a marketplace where on-demand delivery options dominate," Kinne said in the statement. "AllianceTexas and our Mobility Innovation Zone continue to be the go-to place for mobility visionaries to comprehensively scale and commercialize new technologies. By connecting to the established infrastructure and ecosystem at the MIZ, Clevon's forward-thinking technology will enable them to provide alternative last-mile solutions in the supply chain here in North Texas." 
Global autonomous last-mile delivery market may hit $51B in six years
The global autonomous last-mile delivery market was around $9 billion in 2020, but it's expected to grow to $51 billion by 2028, according to Fortune Business Insights.
Clevon CEO Sander Sebastian Agur estimates that number a bit higher, saying autonomous delivery industry could grow by $57 billion over the next six years thanks to the demand for same-day delivery and an increasing need to resolve worker shortages.
As that growth unfolds—and robot couriers become a more common sight on Dallas-Fort Worth roadways—Clevon says businesses will need to "differentiate and innovate their last-mile delivery solutions to compete in a marketplace where on-demand delivery options dominate."
The Estonian company aims to be a player in driving that marketplace with the support of an impressive list of partners, such as Nvidia, Toshiba, LG, TI, Willwood, Hydrastar, and Onsemi. 
Estonia's president: 'The future is very close'
At Clevon's HQ opening in September, Estonian President Alark Karis said, "The future is very close."
"Estonian companies are now leading the way in the new mobility sector," Karis added. "By combining technology with business and entrepreneurship, [Clevon has] managed to create something that will transform the whole mobility sector, and hopefully, will help to build a better world."
Clevon CEO Agur thanked his country's president at the September event, then made his own remarks.
Clevon CEO: 'Seeking to create an ecosystem here to create new jobs'
"Our new robot courier became the first in Europe to deliver autonomous parcels on the public streets," Agur said. He noted consumers' growing demand for on-demand and same-day deliveries, while restaurants and companies everywhere are faced with a shortage of delivery drivers.
"We are here to offer a solution to provide sustainable, green, zero events, energy-efficient autonomous vehicles to battle those challenges," Agur said.
Clevon's solution could mean a boost to the North Texas economy. "We are seeking to create an ecosystem here to create new jobs," Agur added.
"Of course, we as any other startup will face challenges like finding talent, finding investors, and coping to meet all the necessary regulatory environments to get our vehicles on the roads," Agur said.
But Agur says he's excited to take things head-on. "We decided to place our U.S. headquarters here in Texas because of the great business environment, and we've created partnerships that are essential to scale and commercialize autonomous vehicle technologies. And of course, it's already a central hub for many U.S. logistics providers."
Agur said Clevon plans to start mass-manufacturing the robot couriers at the beginning of 2024, "with the vision to be one of the first and leading technology companies whose unmanned vehicles will find use and deployment on the public roads worldwide."
Also in Clevon's robot lineup: cargo, lockers, and security robots
Agur's company has more than the CLEVON 1 in its robot lineup. Its models include the Universal Platform, CargoBox for retail businesses, Lockers for logistics companies, and Truckbed for transport. There's also a Mobile Camera model for security solutions.
GALLERY
Check out the photos from Clevon's U.S. headquarters opening in September.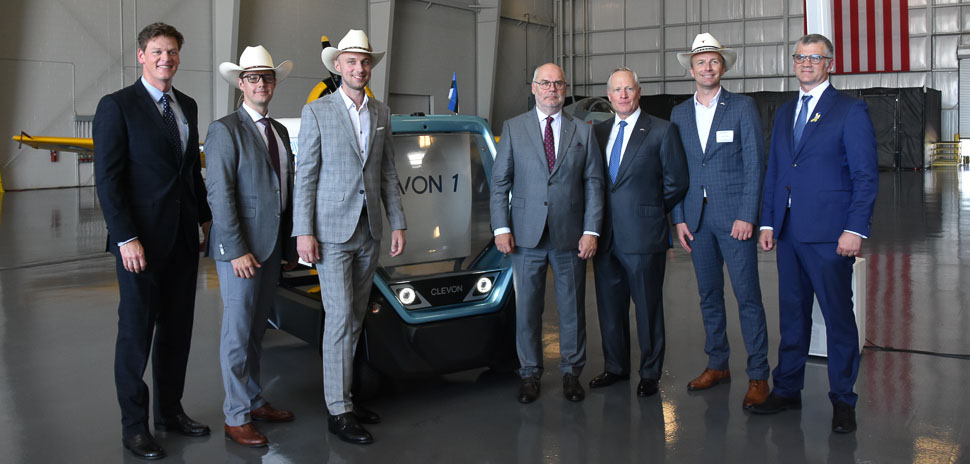 Gallery photos: Dallas Innovates. 
Quincy Preston and Kevin Cummings contributed to this report. 

Get on the list.
Dallas Innovates, every day.
Sign up to keep your eye on what's new and next in Dallas-Fort Worth, every day.