Frank Mycroft's dream of creating an on-demand fuel delivery app has transformed a startup into a $12.5 million company with operations in North Texas and Northern California.
Now Booster Fuels' purple trucks are making the rounds at multiple office parks from Alliance to Frisco, filling up gas tanks on demand.
And, Mycroft's done all this in less than a year.
"What we're really doing is changing behavior," Frank Mycroft said.
His goal is simple: Make his fuel delivery app so convenient and economical that people will use it instead of filling up at traditional gas stations.
"What we're really doing is changing behavior," Mycroft said. "We have to educate people that there's a different way to get fuel into your car now."
He and fellow co-founders Tyler Raugh and Diego Netto, a Plano native, got their first round of funding in April and got their second round in January, totaling $12.5 million.
How it works
First, an office park or business needs to sign up with Booster Fuels and offer it as an amenity to tenants and their employees.
"We work very closely with property managers, HR and benefit teams," Mycroft said.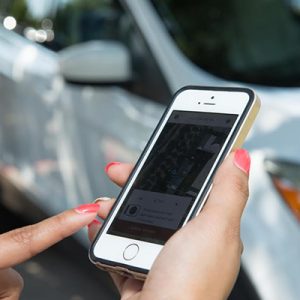 Then, customers sign up on the app, saying what kind of car they have, license plate number and what type of fuel they need. Booster Fuels offers regular and premium fuels.
When customers need to fill up, they just notify the app while in their vehicle and leave the fuel door open. While they're at work, Booster Fuels comes by and fills up the vehicle, cleans the windshield and fills the tires with air.
As Mycroft said, "All the little things we take care of."
A receipt is emailed to the customer detailing the purchase and the customer returns to the car after work with a full tank. Booster Fuels buys gasoline from wholesalers.
"The real key that makes this special, we don't have to charge you any more than what you pay at the gas station," Mycroft said. "We want to make this a no-brainer for people."
A big endorsement
Booster Fuels owes a lot of its success to, Ross Perot Jr., the developer of AllianceTexas, the sprawling master planned community.
The Dallas Business Journal detailed Perot's involvement in its January cover story, This startup is disrupting DFW gas delivery. The billionaire invested in Booster Fuels and allowed it to incubate at Alliance, delivering gasoline to office workers there, the Journal reported.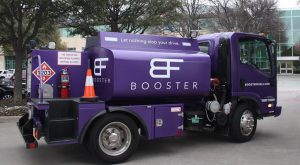 Now, it's not uncommon for Booster Fuels trucks to make multiple trips to the same parking lot in one day just to meet demand.
"I'm so grateful to the city of Fort Worth, the fire department, and one of our investors, Ross Perot Jr.," Mycroft said. "We started there and we serve half the people in some of the businesses there."
In the future, Booster Fuels could rescue stranded motorists who run out of gasoline or deliver fuel to areas affected by natural disasters, Mycroft said.
Next big thing?
Booster Fuels is part of a wave of on demand, app driven companies that are disrupting traditional business models—think Uber and the taxi industry.
In fact, Mycroft recruited John Parker who used to work for Uber, to help develop the Booster Fuels app and now run operations in Texas.
"Fuel is the next big thing," Mycroft said. "We've got a long way to go. The industry hasn't changed much in a long period of time."
"I'm very privileged to lead a team and tackle a very big problem here," Mycroft said.
Mycroft, who worked as an aerospace engineer at NASA and Boeing, said Booster Fuels is a capital intensive startup with fuel trucks, a team of highly trained drivers and a team of engineers.
"I'm very privileged to lead a team and tackle a very big problem here," he said. "This is not a simple thing to do."
While he's focused on that, there's huge potential for others to develop apps that cross other chores off the list, such as grocery delivery, hot food delivery and valet parking.
"I'm not sure what's next but I'd love to get groceries done," Mycroft said.
For a daily dose of what's new, now, and next in Dallas-Fort Worth innovation, subscribe to our Dallas Innovates e-newsletter.