AT&T Business announced that it is teaming up with Plano-based startup VitalTech to offer virtual house calls. Through the VitalCare telehealth platform, business customers such as hospitals can support their physicians and patients during the coronavirus pandemic.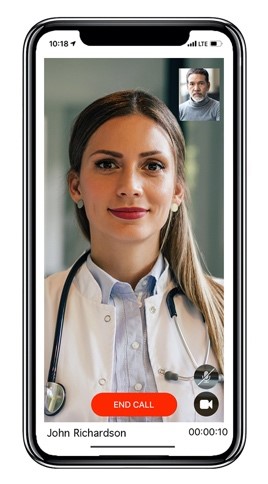 AT&T said the move will allow the partners to help deliver patient-centered care when and where they need it most. The company says it will offer 60 days of telehealth services for free.
"This technology will further equip physicians and hospital systems to virtually combat COVID-19," James Hamilton, CEO of VitalTech said in a statement. 
As COVID-19 rapidly spreads, telehealth can be used to virtually diagnose medical conditions, keeping senior and high-risk populations safer. President Trump and the Department of Health and Human Services both urged the use of telehealth as a preventive and proactive public health measure, and the Telehealth Government Funding Package for COVID-19 was just passed, enabling patients to more freely consult their doctors remotely.
The VitalCare platform connects patients to their physician via AT&T's highly secure network so caregivers and patients are best connected when they need it most. AT&T will bring highly secure connectivity and data analytics to the platform, and both companies will utilize their innovation capabilities to bring a reliable end-to-end virtual care solution to the healthcare industry.
Physicians and patients will be able to connect through VitalCare's HIPAA-compatible platform to video chat, call, or message one another. Physicians can then triage care and monitor patients' self-reported vitals, nutrition, and medication intake.
"Telehealth is going to play an integral role in containing the spread of COVID-19," said Mo Katibeh, EVP-chief marketing officer of AT&T Business. "AT&T is committed to keeping people connected during this global pandemic – especially the workers on the front line who are caring for patients."
Filling a need to protect healthcare providers and patients
The collaboration fits a dire need in the battle against coronavirus.
"The need for a rapid response to the COVID-19 global pandemic presents a pivotal moment for telehealth services to provide the necessary community-based care to help mitigate the risk of exposure to the novel coronavirus and provide care to COVID-19 and non-COVID-19 patients," Lynne A. Dunbrack, group vice president of IDC Health Insights, said in a statement.
Earlier this month, we told you about Vivify Health, another Plano-headquartered remote patient monitoring startup, that is making a new COVID-19 mobile screening available at no cost.
The Screening, Self-Isolation, and Monitoring Pathways on its Vivify+Go mobile solution can help providers scale their availability by lowering the number of concerned patients who might go to a healthcare facility, allowing doctors to focus more on those the greatest COVID-19 health risks.
It also allows those who may be disease-free to avoid potential exposure in crowded emergency departments or physicians' offices.
VitalTech, a fast-growing provider of digital health solutions and biomedical wearables landed $8M in funding in 2019 and acquired Breezie, a multi-tiered tablet-based platform that drives senior engagement and compliance in February.

Get on the list.
Dallas Innovates, every day.
Sign up to keep your eye on what's new and next in Dallas-Fort Worth, every day.