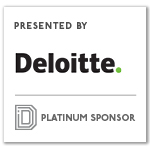 The world is changing at a rapid pace, and the technology industry is at the forefront of this change. If your company is making a difference in the world through technology, the Deloitte Technology Fast 500 is the award to win. But apply now: Applications are accepted through July 8.
The awards recognize the fastest-growing technology, media, telecommunications, life sciences, and energy tech companies in North America.
A benchmark of innovation and business success in the tech ecosystem, the Deloitte Technology Fast 500 provides an annual ranking of the fastest-growing public and private companies in North America.
Last year, Texas claimed 26 winners on the list. 13 of those were in Dallas-Fort Worth, including Crayon, Aligned, Brainvire Infotech, o9 Solutions, Compass Datacenters, Qentelli, Alkami, and more.
A prestigious ranking
Deloitte believes that technology can be used to benefit people and make our lives better. The awards program, now in its 28th year, is one of the most prestigious rankings for tech companies large and small.
A key differentiator of the awards is the program's recognition of companies, not just individuals and leaders.
"Each year, Deloitte's Fast 500 recognizes innovative companies in the North Texas business community, shining a bright light on their growth accomplishments," said Dan Berner, North Texas Managing Partner, Deloitte LLP. 
Those businesses are in good company: In the last 10 years, there have been more than 300 IPOs of Fast 500 winning companies.
"I look forward to seeing the diverse display of innovative approaches this year's North Texas applicants bring to the table," Berner said.
A track record of success
Being included in the Deloitte Technology Fast 500 can give businesses a boost in terms of visibility and credibility. Fast 500 winners themselves tout the award's benefits, with one saying, "The Fast 500 has had an immense impact on our brand awareness. It's helped on several fronts, including recruiting, raising capital, new customers, and enhancing employee morale." 
Two five-time winners of Fast 500 also noted the program's strength, adding "Fast 500 leveled us up from a scrappy startup to an industry leader" and another said, it "strengthened our brand and solidified our reputation as a trustworthy company that can deliver results".
How to apply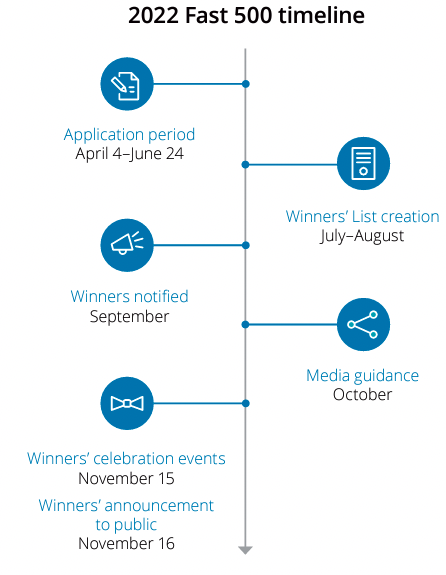 Combining technological innovation, entrepreneurship, and rapid growth, Fast 500 companies are on the cutting edge and are transforming the way we do business today. 
To apply for the Deloitte Technology Fast 500, you'll need to submit an application that includes information about your company's revenue growth, innovation, and other factors. Deadline for 2022 submissions is July 8.
There is no fee to apply. Awards are presented during local invitation-only winner celebration events across the country
About the program
Fast 500 companies—large, small, public, and private—span a variety of industry sectors and are leaders in hardware, software, telecom, semiconductors, life sciences, fintech, energy tech, and more.
The Technology Fast 500 ranking is compiled from applications submitted directly to the Technology Fast 500 website and public company database research conducted by Deloitte Services LP. Technology Fast 500 award winners for 2022 are determined based on percentage fiscal year revenue growth during the period from 2018 to 2021. The ranking includes both public and private companies.
Are you eligible?
To be eligible, companies must have been in business for at least four years and be headquartered within North America. In addition, companies must:
Have base year (fiscal year 2018) operating revenues of at least $50,000 (U.S.)
Have current year (fiscal year 2021) operating revenues of at least $5 million (U.S.)
Have a growth rate of at least 75%: Growth rate is computed as  [(FY2021 revenue – FY2018 revenue)/FY2018 revenue] x 100
Own proprietary intellectual property or proprietary technology, which must be sold to customers in products or services that contribute to most of the company's operating revenues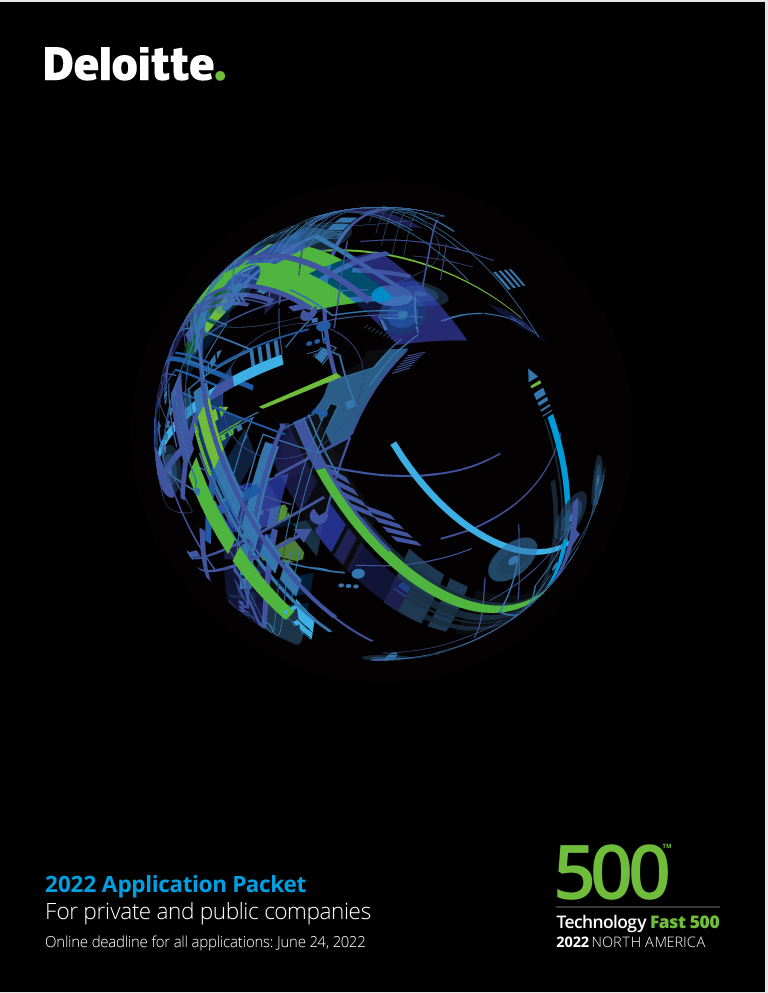 For more details, click here for more information on the Fast 500 awards, and subscribe to receive Fast 500 program updates.
Go here to get the Deloitte Technology Fast 500 information packet. You'll find details on the application process and helpful checklists, as well as public and private application forms to review.  
©2022. This story was produced and published for Deloitte by Dallas Innovates' Content Studio. The story was updated on June 27, 2022, at 10:50 a.m. with the extended application deadline of July 8.

Get on the list.
Dallas Innovates, every day. 
Sign up to keep your eye on what's new and next in Dallas-Fort Worth, every day.