A signature development is coming to Addison Circle to be built around the upcoming DART Silver Line station—and the Addison City Council just signed up its master developers.
At its meeting yesterday, the city council named multi-family developer AMLI Residential and Stream Realty Partners as master developers for the 18-acre transit-oriented project, which will cost an estimated $472 million.
Addison has been working toward this since 1983, the year DART was created. That's when it began accumulating property around the former Cotton Belt rail line and planning for how its use as part of a transit-oriented development. DART is now a key partner in the project, through what the town calls an "innovative" ground lease structure allowing the inclusion of DART's train and bus stations in the project.
'Significant economic impact for Addison and the region'
Addison City Manager Wes Pierson says the city waited for the time to be right before proceeding with the project.
"The town leadership has postponed any development on this significant parcel in anticipation of a light rail station in Addison," Pierson said in a statement. "Now that we have a more comprehensive DART timeline, we've been able to select a master developer to help us achieve the vision adopted by the City Council, which will have a significant economic impact for Addison and the region and will truly set Addison apart from other recent developments in the area."
Addison Circle Park will be a green space anchor
The new development will be adjacent to Addison Circle Park, giving it a green space anchor for residents and visitors alike. The 10-acre master-planned park hosts special city events, including "one of the top 10 fireworks shows in the country," the town says. It's also home to a new interactive fountain, public art, and more.
Addison sees the development as expanding and solidifying the town's reputation as a "premier regional destination" by offering an imaginative development theme, distinctive architecture, and a mix of uses. The planned high-density lifestyle center has been designed to integrate seamlessly with Addison Circle, which the town says has been recognized as "a pioneering example of new urbanism."
From a 13-story multifamily building to a 45,000-SF entertainment complex
According to the town, Phase One of the project will include:
• A 6-story Class A office building with 150,000 square feet of leasable space and 9,000 square feet of ground-floor retail
• A 13-story luxury, multi-family building with "exceptional amenities" and an additional 9,000 square feet of ground-floor retail
• A 7-story luxury, multi-family building with "exceptional amenities" and an additional 5,000 square feet of retail space
• A 650-car parking structure with additional ground-floor retail
• A 45,000-square-foot entertainment complex operated by The HUB, a Texas-based creator of entertainment venues and restaurants with an emphasis on daily events and festivals. THE HUB's original location is a noted attraction near Seaside, Florida.
Addison hopes to break ground on the project in Q2 2023. Phase one is slated to be completed in mid-2024 to coincide with the completion of DART's Silver Line station. 
Additional phases include an office complex with an additional 150,000 square feet of space, a boutique hotel, and an additional parking structure all on the current DART parcel. The total cost for the development is estimated at $472 million.
AMLI and Stream share Addison roots
AMLI and Stream Realty Partners both have roots in Addison. AMLI built the AMLI Addison luxury apartment community on Quorum Drive, and AMLI SVP of Development Joe Bruce says he's excited about being involved with the Addison Circle development again.
"Taylor Bowen and I worked on the original development plans for Addison Circle and are thrilled to be part of the team that helps 'complete the circle,'" Bruce said in the statement. "Addison has been a great collaborative partner, and we're proud to be selected to help create this walkable, livable [transit-oriented development.]"
Strea has had a long presence in Addison, including serving as the real estate broker for the Colonnade Office Complex and other buildings in the town.
"We recognize Addison's importance as a business hub for this region and anticipate extraordinary demand for the office space created as a part of this project," said Brad Dornak, Stream's director of development. "As we come out of the pandemic, businesses are re-evaluating their office needs. They're looking for developments which are rich in amenities. This development fulfills every possible need, including ease of access, great dining, beautiful green space, and more."
Cushman & Wakefield solicited project proposals
In 2020, real-estate services firm Cushman & Wakefield was given the role of soliciting proposals from developers with the capability to deliver the project.
"Chris Harden and his team at Cushman & Wakefield took the time to listen to our needs and to help us envision how Addison can create a dynamic destination where North Texans will come to live, play and work," Addison Mayor Joe Chow said in the statement. "While we were presented with several great proposals, as we evaluated each, it became clear that the AMLI/Stream vision for Addison aligned with our strategic plans and our hopes for the future."
Factors in AMLI/Stream's favor were the potential tax revenue generated by the development and their experience and financial capacity, the town says. Additionally, all proposals were evaluated for their impact on DART ridership, the creation of walkable and bikeable connections, shared parking allocation, and a commitment to environmental sustainability.
Here's a look at more renderings of the project: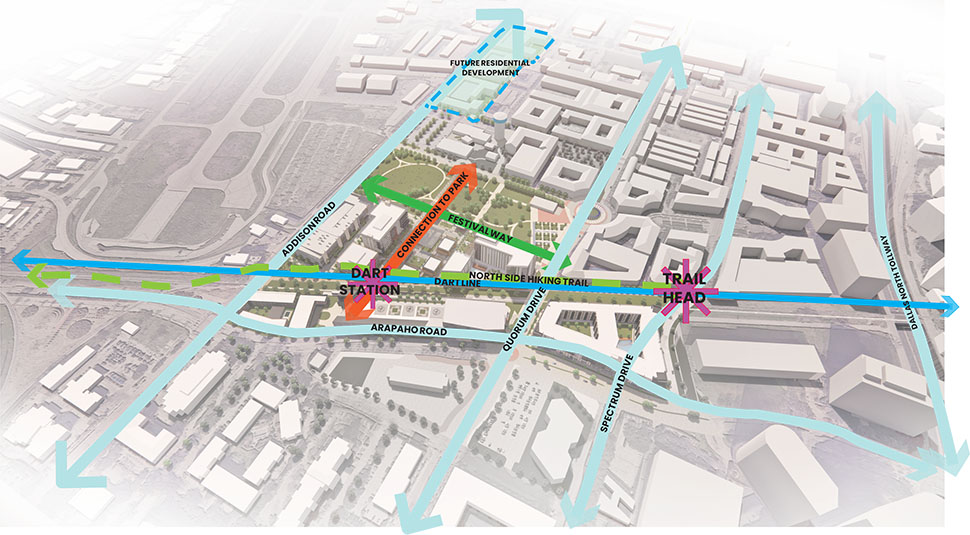 Get on the list.
Dallas Innovates, every day.
Sign up to keep your eye on what's new and next in Dallas-Fort Worth, every day.