This week, the UTD Institute for Innovation and Entrepreneurship held its annual Big Idea Competition where cash prizes were awarded to students, alumni, and faculty founders who pitched their most innovative ideas to a panel of judges in advance of the event.
This year's competition culminated with an awards ceremony during Global Entrepreneurship Week that featured a conversation with Ross Perot Jr. and Anurag Jain on the entrepreneurial ecosystem in North Texas.  
The Institute for Innovation and Entrepreneurship hosts the Big Idea Competition to give students, faculty, and staff the opportunity to develop and pitch their most innovative business ideas. Launched in 2007, the BIC has become one of North Texas's largest university startup competitions.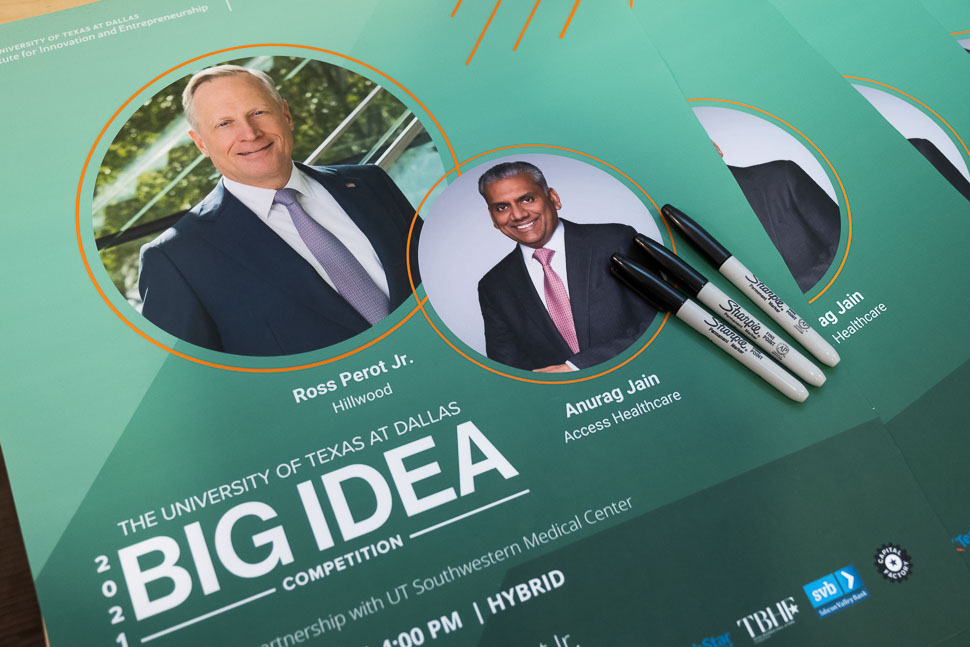 The competition offers four pitch tracks: student, alumni, research commercialization, and the UTDesign Startup Challenge. This year, Capital Factory presented the first-ever biotech+ challenge award at the event where startups in digital health, medical devices/diagnostics, and therapeutics competed for $50K.  
The crowd heard from a roster of university leaders and ecosystem influencers and icons, including UTD President Richard Benson, JSOM Dean Hasan Pirkul, Erik Jonsson School of Engineering and Computer Science Dean Stephanie G. Adam, Dr. Joseph Pancrazio, Sanaz Okhovat, and more. Blackstone Charitable Foundation's Erica Lock, Capital Factory's Bryan Chamber, and folks from Techstar Group were also on the agenda.
The emcee for the evening was Hannah Davis, the current host of Good Morning Texas. Davis kicked off the event by telling the audience why she thinks the North Texas community is so special: It's the entrepreneurial spirit.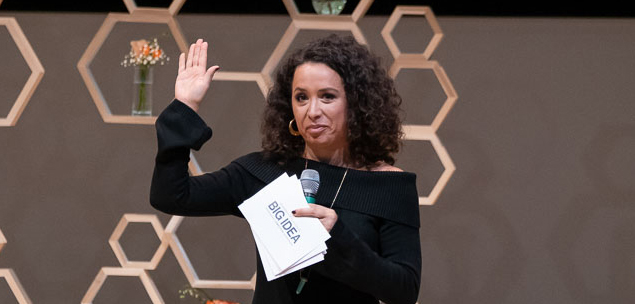 "Men and women in this community build the careers and businesses they want" said Davis. "If there's a problem, they will solve it." She said she felt like the proverbial 'kid in the candy store' with the sheer number of ideas, solutions, and businesses that were about to be presented. 
This year the competition will award a grand total of $415,000 to startups, including these:
Big Idea Competition Winners
Student Track ($25,000)
Bonsai
Shashank Vinay Kumar, BS'22 (ECS)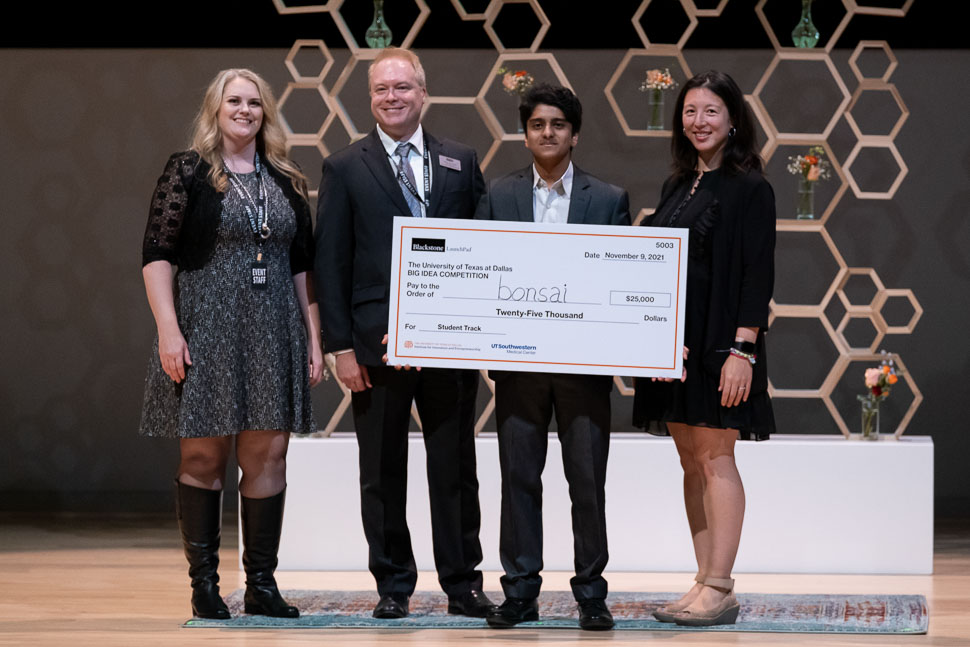 Bonsai is redefining the future of customer engagement through personalized, lightning-fast AI ticket resolution and accelerated lead generation for all sales and customer support teams.
Alumni Track ($25,000)
Tangilble Intelligence
Austin Howard, MS'09, PhD'14 and Matthew Coburn, BS'13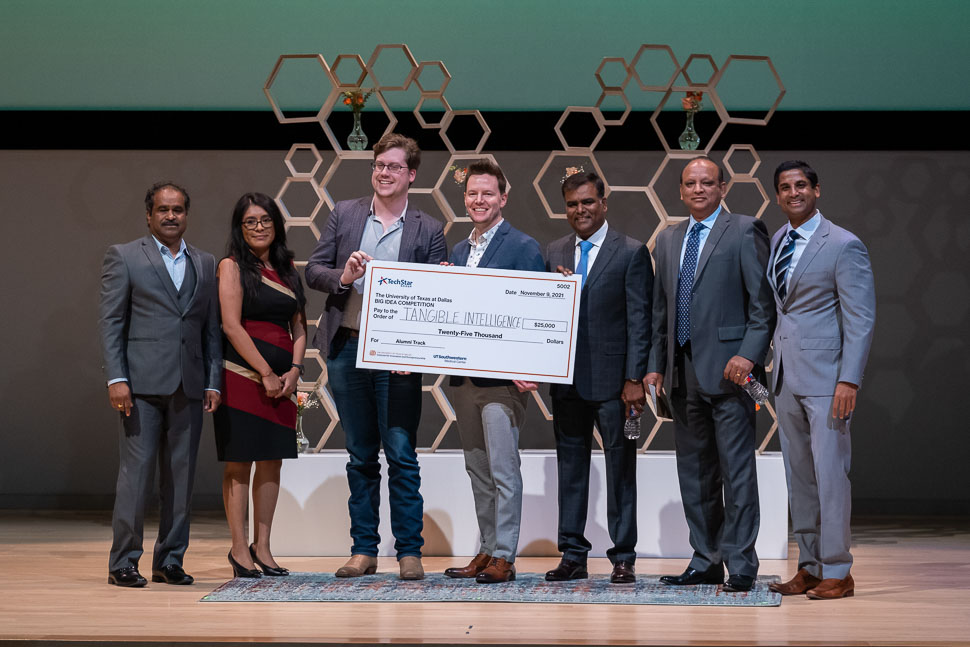 Tangible Intelligence creates Business as a Service offerings. Services and tools are purpose-built to solve your business's rote and mundane work, freeing your workforce to focus on innovation and creativity, and unleash the true value of a company and team.
Research Track ($100,000)
Qualia Oto
Benedict Voit, BS'08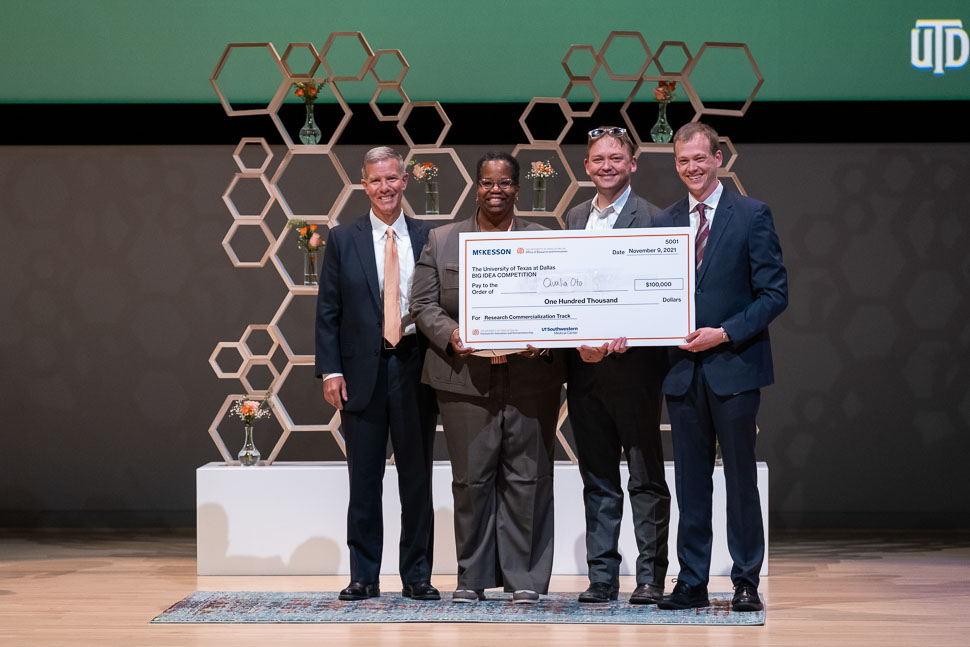 Qualia Oto uniquely designs hydrolytically-stable, softening polymers with a more biocompatible surface to improve the lives of individuals through better hearing assistance.
UTDesign  ($20,000 each)
Food Magnet
Mercedes Johnson, MBA'23 (JSOM)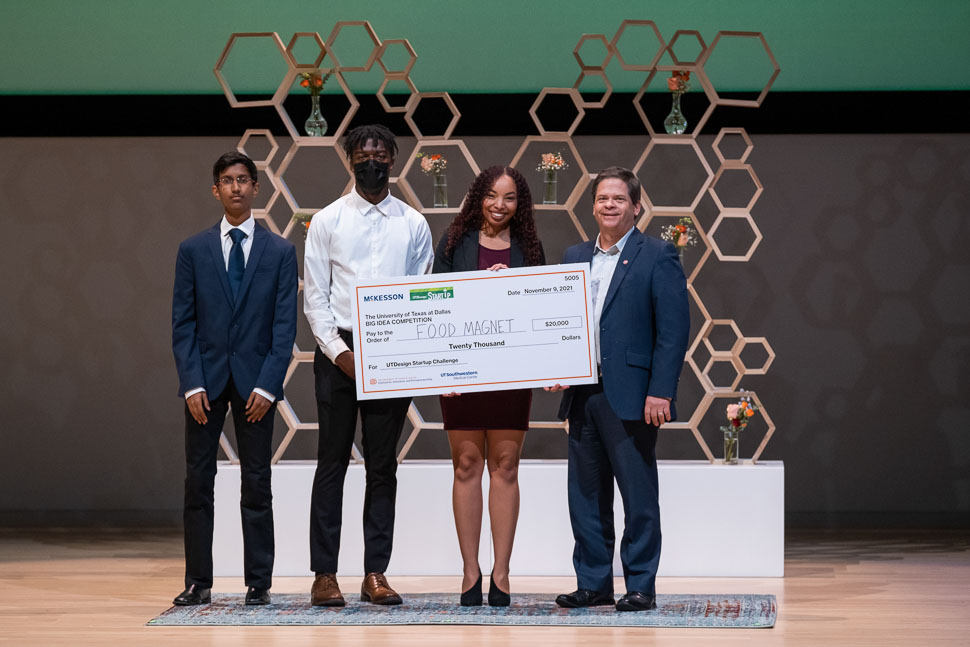 Food Magnet is the Uber of the food truck world.
Lawn Exec

Rakeen Murtaza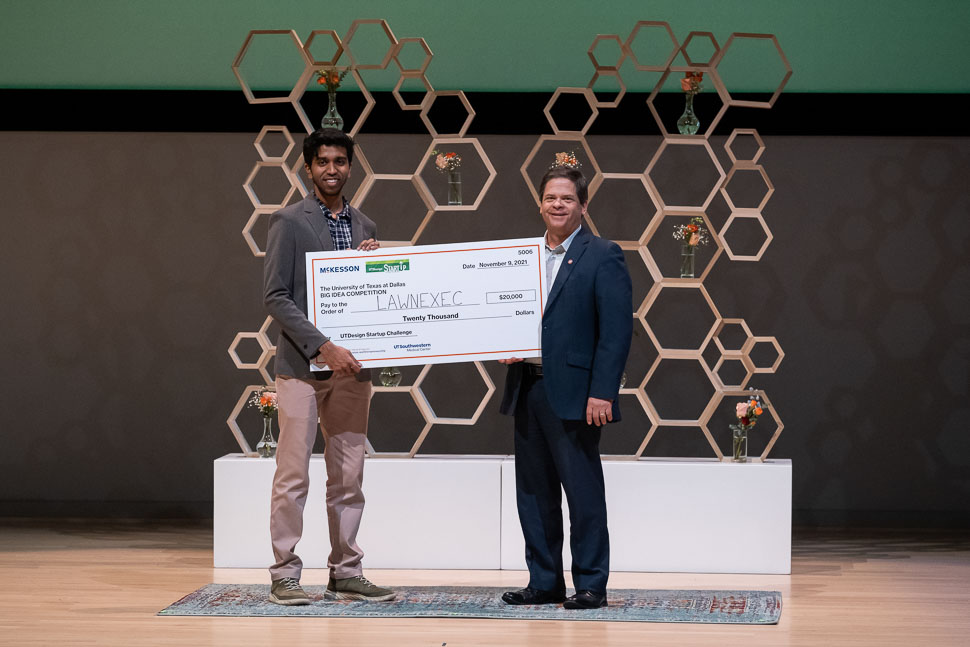 Capital Factory Investment Challenge ($50,000)
De Oro Medical Devices
Sidney Collin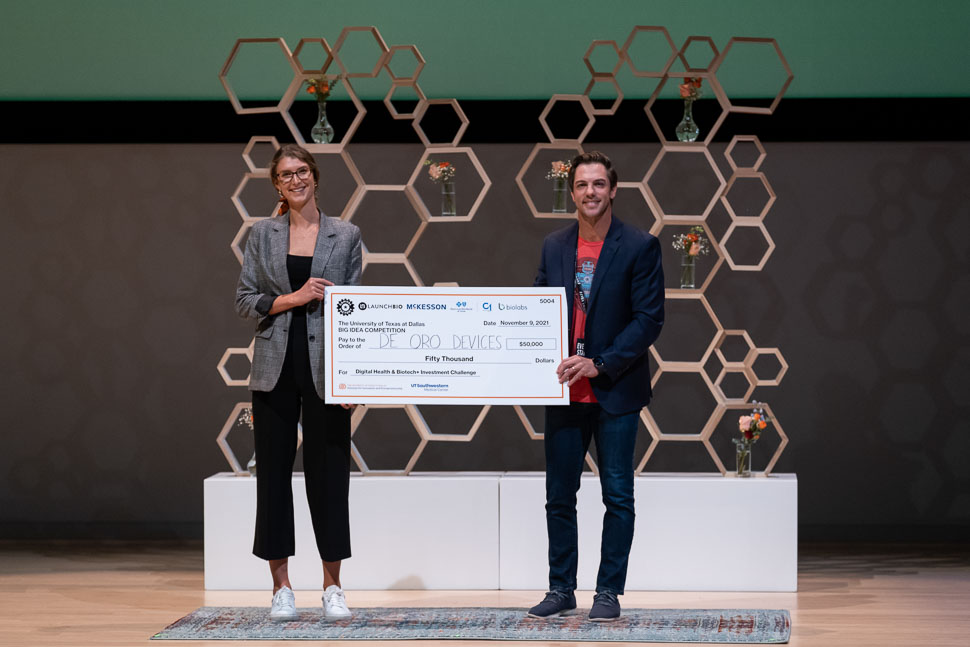 A small device with massive power, NexStride, is the first multi-cue daily assist mobility device that attaches to any standard cane, walker, or walking pole.
Student Runners Up ($5,000 each)
Forgot or Knot
Jason Hendricks, MS'22 (JSOM)
Forgot or Knot creates a memorable gift experience that deepen customers' relationships with their family, friends, and/or clients.
Food Magnet
Mercedes Johnson
Food Magnet was also the winner for the UTDesign prize.
Bright Owl
Sofia Babool, BS'22 (BBS)
Bright Owl helps parents and students access affordable, virtual, high-quality tutoring.
Alumni runner up ($5,000)
Hermtac
Kevin Patel, BS'06 & MBA'10 (ECS & JSOM)
HERMTAC designs antimicrobial bespoke telehealth case systems for Veterans Affairs various clinical use cases as they transition to a field and home-based primary care first model.
Nuooly
Rosalie Robinso, MS'15
Nuooly is an exclusive community uniting and empowering Independent Professionals to unlock their full potential. We target Independent Professionals who are business focused and have 8+ years of experience in their field (lawyers, accountants, etc.).
Research Runners Up ($25,000 each)
GrapheneTX
Duck Yang, Department of Chemistry
GrapheneTX offers aminated graphene (AG) powders with different particle size and nitrogen content. This ecofriendly method of production allows
Phinomics
Massa Shoura, BS'10, MS'10, PhD'13, PhD'15
Phinomics is a biotechnology company that brings circular-DNA-based technologies to the cancer-diagnostics/therapeutics and immunogenomics markets.
UT Southwestern will announce two other awards at a later date.
Additional Finalists
Capital Factory's Biotech+ Finalists
Sphere
Owen Muir, M.D.
Sphere brings affordable, accessible and ground-breaking acute mental healthcare to self-funded employers nationwide.
BioLum Sciences
Edward Allegra
Predictive maintenance condition monitoring tool can be used by subject matter experts to produce rich operational insights in a matter of days.
Inspector IR Systems
John Redmond
A research, development and device company focused on portable COVID-19, opioid and cannabis detection solutions.
Design 1 Bio
Bryan Presley
The Design 1 Bio™ Screening Platform simulates the phenotypical behavior of in vivo dormant and migrating cancer cells in a 3D single cell format. The analysis allows doctors to optimize prescriptions to treat and beat recurring cancer.
Paldara Pharmaceuticals
Beau Blanchard
Innovative microbial gel coating for medical devices preventing medical implant infections throughout treatment.
Closing with Ross Perot Jr. and Anurag Jain
The two long-time business partners behind early-stage venture fund Perot Jain sat down for an on-stage conversation. Ross Perot Jr. (Chairman, Hillwood) and Anurag Jain (Chairman, Access Healthcare) founded the VC firm to help build disruptive, industry-transforming companies by partnering with innovative entrepreneurs. Jain kicked things off with questions for Perot Jr..
Perot Jr. said talent, the central location, and diverse demographics are a few of the many reasons Texas—and Dallas—have attracted so many newcomers. 
There's one basic reason companies have set their sights on Texas: "After COVID, factories in our state never shut down. In California, they shut down the factories," he said. "That attitude and can-do spirit is what will allow us to continue to grow."
Jain asked Perot Jr. if he had any advice for the people in the audience that are looking to build companies. 
"First, you have to have a great idea—and if you have that idea you need to really be focused on that idea," said Perot Jr."Then you have to have great passion and great energy behind it."
The partners talked about how things can quickly change when you bring your idea to market. Perot Jr. says that the ability to be flexible and open-minded is key.
"Talk to the market, and if the market gives you great feedback then listen to that feedback. Make sure you are adapting to the market," he said.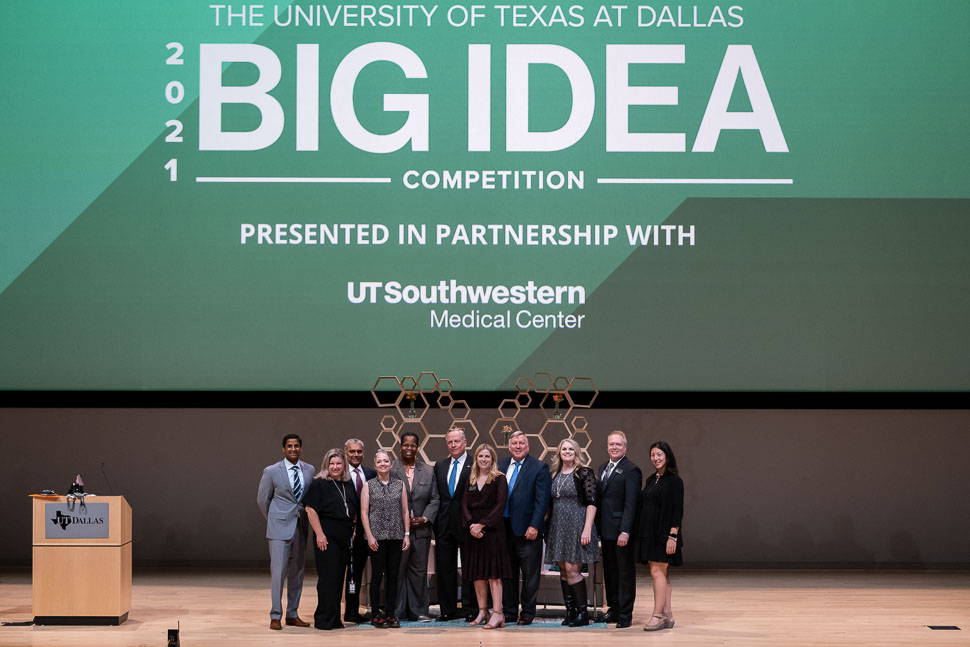 All photos courtesy of UTD.

Get on the list.
Dallas Innovates, every day.
Sign up to keep your eye on what's new and next in Dallas-Fort Worth, every day.