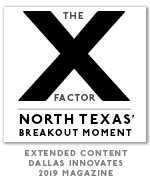 Today, Anurag Jain is sitting atop the corporate and investment world, despite having first arrived in the U.S. almost 25 years ago via a 20-hour low-cost smoking- section flight from India to Detroit.
Jain previously told D Magazine, "I got off [the plane] in this new country, and I'm just like, 'Where is my story going to be?' I still remember not being able to afford coffee."
Fast forward to the present where Jain—managing partner, Perot Jain, and chairman, Access Healthcare—is taking the lead in investing in early-stage startups with a recent emphasis in B2B emerging tech including AI, AR/VR, big data, cybersecurity, and blockchain. Given this investment approach, Jain has a lot to say about emerging technologies and the business climate that surrounds them. If North Texas is to take its place in the pantheon of tech hubs, Jain says four ingredients are vital to such a breakout moment.
He calls it the "X" factor: the marketplace in big enterprise companies moving to the region, top talent coming here from around the world, capital from local family offices and VCs, and a catalyzing force that fuels the moment.
It's also the inspiration behind the headline of our feature story on Dallas-Fort Worth's breakout moment in the newly released Dallas Innovates 2019—The Magazine.
We delve deeper into his thoughts on the opportunity North Texas is poised to embrace, and what exactly has to happen in order to achieve the "X" factor.
What are your thoughts on North Texas having a 'breakout moment' at this point in time?
I completely, 100 percent agree with the thesis. We had a partners' meeting—I guess what, ten days ago?—where I didn't use those exact words, but I said, "This is a pivotal moment for us." I was talking about Perot Jain at that point in time. I'll tell you what I said and I think it applies here. I said, "Look, there's lots of Fortune 50, Fortune 100 companies moving to Dallas." It's 26 or so Fortune 100 companies that have moved to Dallas, right?
---
Be a Dallas Innovator: Sign up for our e-newsletter to get what's new and next every day.
---
We've had family offices that dabbled in early-stage companies, but they're here in a big way—and there's a lot of long-term patient capital here. We've always had a lot of talent. This is probably among the top five hubs for IT tech talent, but I think [it's] more patient, long-term IT talent, versus in some areas where people are switching jobs all the time.
I think you just get better talent, and that's one of the reasons people are coming here, to be honest. That's why companies are coming here. I think there's talent across the board—and of course, I'm concerned about it running out—but there's enough talent today.
What drives this ecosystem is that these companies will need more innovation. You talk to all the big companies and one of the problems they have is, they don't have enough internal innovation for one reason or the other, right? The way they bridge that gap is to buy that innovation by buying companies or buying people who have built that innovation.
If you fast forward that movie, basically the entire ecosystem has to be built where entrepreneurs can come in and build companies around all of these technologies that ultimately will be sold locally or will deliver service. It doesn't have to be sold. [A company] can deliver services locally to this huge marketplace. Moreover, I would say a B2B marketplace is important. B2B is where I think the huge infrastructure, innovation, and technology and all that is built out.
Is there something special here with the alchemy of that mix of enterprise, entrepreneurs, education, and other pieces?
I think the word you used is perfect. It is alchemy, right?
There are some, what I would call, accelerators. It's very interesting that in our own little backyard Dallas, most of us don't compare to the New Yorks of the world or the San Franciscos of the world. But actually, that moment [is a] different version of a New York or San Francisco. A more B2B version. That's coming. 
If you go back, the first technology companies like TI and EDS created a wealth of talent that we're still harnessing. To be perfectly honest, they got spun off—they created more companies underneath—but they brought this innovation and this talent to Dallas that I think will be an advantage. We have some of these "X-Factors" that are suddenly just coming all together.
What do you mean by North Texas becoming a different version of New York or San Francisco?
If you look at [our] communities, they have a lot of large companies. They have large communities of people migrating to those places. You see more cutting-edge ideas being built and moved on from. Why does all that happen? We can go to different areas, but essentially two or three things at the end of the day, [start] a marketplace.
For me, the marketplace is the Fortune 100 companies that are coming here. They are hungry for new stuff, and they will need an ecosystem to be built around them. Just them coming is not enough. They want other things: You have a marketplace.
Second thing is you have talent. Everybody will tell you that we have talent. We have a good pool of talent, starting from the TI and EDS days.
The third thing that you need is capital. We've got more family offices per capita than most cities in the US.
If you have the three elements—which is a market—you've got the people, the talent, and you've got the capital. Then you've got this what I would say the 'X Factor,' which is a crystallizing moment, a catalyzing moment. You put all of these things together in a pot, but alchemy doesn't happen until you have a spark. You see what I mean? A spark is that catalyzing moment.
The catalyzing moment is these companies coming at the same time and people moving here, a mass migration of people from the coasts and around the world coming here. All of that happening at one short period of time creates that spark or that catalyzing moment. If it happens slowly, it sometimes doesn't catalyze. You find all the ingredients and nothing happens. If it happens rapidly, it may get that spark to go to the next level.
What creates that spark?
Companies coming is great, but I think it's local community leaders standing up and saying, "Hey, our time has come," and encouraging other entrepreneurs and encouraging the local ecosystem, figuring out the holes in the ecosystem and trying to fill them up. When I say local communities, I mean our mayor does a great job, the mayor in Plano does a great job. … And there are the Ross Perots of the world that invest locally.
---
READ NEXT: The X Factor: Four Ingredients are Turning North Texas into a Rising Tech Power
---
It's the leadership that's so great in this part of the world. That's one of the reasons companies are coming here. We make decisions more quickly, we get things, we're more nimble.
We're nimble because community leaders will come together and say, "We need to do this." They make decisions quickly—whether it's government, whether it's public leaders, or whether it's private entrepreneurs. That leadership that is the group in the city, you have to give them credit. They get things done.
The question is, who has to step up? If anybody. That's a great point about Mayors in various areas around the region being able to work together, be nimble, and say, "Hey, this is happening, let's all be part of this thing."
Right. Whether it's building the tollway, right? I'm just making an example, whether it's building the infrastructure so we don't have gridlock or whether it's thinking of the fact that we have good talent now, but we won't have enough if this many companies come. Encouraging migration means we need housing, we need appropriate mechanisms, and we need to do all this quickly. We need tax breaks for these companies that come in.
We need, you know, a Ross Perot sort of celebrity [who says]: "I will invest in local entrepreneurs, [who] go build companies because I know those companies will need that innovation engine." All of that counts.
Do you have any big takeaways on what's happening right now?
I think that when you're in the eye of the storm, it's actually the quietest. Sometimes you don't see the thunder clouds that are coming around you. Sometimes I feel like we're in that, where all of this is kind of coming together. Maybe some people see it, maybe you see a little bit on the traffic on the roads, but if you don't zoom out and see all the different pieces coming together, you'll miss what is about to happen here.
One of the things that does need to happen is we do need a plan to build a better innovation ecosystem. We do need to encourage more entrepreneurship. We do always need to keep our eye on the ball for finding the right talent. Because how much talent you have with the kind of growth we're talking about — it will become constrained. So we'll have to continuously think about that talent for the future.
This Q+A was edited for brevity and clarity.
A version of this article was first published in Dallas Innovates 2019—The Magazine.
---
Dallas Innovates 2019: The Digital Edition
Dallas Innovates 2019—The Magazine explores the region as a rising tech hub that will shape the future of innovation. The theme of our second annual print publication, "A Breakout Moment," explores why now is the time for the region to grab its place in the tech universe.

Get on the list.
Dallas Innovates, every day.
Sign up to keep your eye on what's new and next in Dallas-Fort Worth, every day.