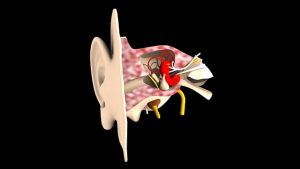 Surgeons at the University of Texas Southwestern Medical Center in Dallas have helped to pioneer a new method to extract tumors from the ear canal that cause vertigo. The announcement made earlier this month changed the face of vertigo-curing surgery which used to require that a large piece of the skull be removed.
Vertigo is often the result of the inner ear and leaves sufferers feeling as though they are spinning or dizzy, making everyday life a challenge. For some patients, vertigo is caused by tumors in the inner ear that would require extensive surgery to remove which are also known as acoustic neuroma.
This minimally invasive procedure sees surgeons able to remove the tumors in the inner ear through the ear canal, not only eliminating the risks of the more invasive surgery, but reducing recovery time as well. The procedure, originally developed in Italy, was performed by the UT Southwestern team on two patients with an endoscope.
According to Science Daily, this procedure was the first such surgery completed in this country but there is more studies that need to be done into the long-term effectiveness of this. Regardless, the new less invasive procedure results in less pain and a much faster recovery time.
The original operation to remove an acoustic neuroma involved shaving a portion of the head and then using a saw to remove a portion of the skull. This would provide surgeons access to the tumor which could then be removed, the skull returned into place, and then a several days long hospital stay for patients to recover.
The new endoscopic procedure utilizes a camera that is attached to the endoscope, and then using a small incision in the ear canal surgeons are able to carefully remove the tumor.  Throughout the surgery the endoscope provides a visual of the entire procedure, and this is not the first, nor the last, pioneering endoscopic procedure that UT Southwestern has developed.
Along with this procedure, the team at UT Southwestern is looking to develop less invasive procedures to repair ear-drum holes, removing rare tumors, and less invasive alternatives to nearly every invasive operation they perform.
---
Delivering what's new and next in Dallas-Fort Worth innovation, every day. Get the Dallas Innovates e-newsletter.