From New York City to Paris, Ultravision International's LED displays are changing the outdoor advertising game with proprietary technology that's lighter, cheaper to install, and uses less electricity than traditional screens.
The Farmers Branch-based company just finished installing a 10-foot by 18-foot display in the Châtelet-Les Halles Commuter Rail Station in Paris, France and started running content in June. It's the highest resolution LED display the company has ever installed.
Ultravision plans to go after the indoor advertising market next with even higher resolution screens that could be placed in shopping malls or venues such as the American Airlines Center.
It manufactures the LED boards in Texas and sells them around the world, competing with the established brands such as Samsung and Daktronics.
"We're a little company that came up with a better, more innovative way to manufacture LED displays and we've been able to prove out that it works," said owner and CEO Bill Hall.
WHAT MAKES THEM DIFFERENT
Hall founded the company in 2010 after he saw how little innovation had come to the LED industry. For years, LED screens required large steel boxes to hold the power supply and other electronics. This generated a lot of heat and required fans or forced airflow to keep it cool.
"We focused on trying to get rid of that steel cabinet," Hall said. "We went all the way back to basics and said, 'How do we redesign this whole thing?'"
Ultravision came up with individual 1-foot by 2-foot LED panels each with their own power supply and internal controls that can easily be stacked as high or wide as needed. The panels are daisy chained together using special cables that carry both data and electricity. The content can be controlled through the cloud from anywhere in the world.
"People at the time said we were crazy and it would never work. It was a huge fundamental change in our industry. For 15 years, LED displays had always been done the same way."
BILL HALL
The result is an LED screen that's modular and can be mounted to a steel frame at a fraction of the cost, weight, and energy consumption of traditional panels.
"It was wholly unique," Hall said. "People at the time said we were crazy and it would never work. It was a huge fundamental change in our industry. For 15 years, LED displays had always been done the same way."
They've since gotten more than 20 patents on the screens, the cables, and other technology.
Ultravision has eight LED screens in Times Square, the most of any company, including a 17-story vertical display. It also has the most screens of any company around the London area with 45 different displays. That includes a 240-foot by 10-foot display on Cromwell Road with six different screens that can display various messages to passing motorists.
"It's actually in two ZIP codes it's so long," Hall said.
The screens are on pulleys and can be raised or lowered to create different eye levels. They have to be dependable under all conditions.
"These displays run 24 hours a day, seven days a week," Hall said. "Cold, rain, sleet, snow. Anything you can throw at them and they have to look beautiful because our clients are selling advertising on them."
Ultravision delivers the displays in large wooden crates that contain all the screens, steel beams, and cables necessary to put it together. 
"We ship it with the computer and with everything you need to install the display," he said.
LOOKING TOWARD THE FUTURE
Ultravision has focused its attention on outdoor displays along the road or atop a building with resolutions up to 7,800 diodes per panel. Its next panel in development now could double that to nearly 16,000 diodes per panel, high enough resolution for pedestrian traffic inside a shopping mall, for example.
The goal is to move into the on-premise retail advertising market using the same modular LED panel technology, Hall said.
It's experimenting with 3-D technology and working to make the screens thinner and lighter.
SEEING THE LIGHT
Ultravision also wants to bring new innovation to the old traditional roadside billboards.
"We've taken the electrical consumption down by 90 percent, which is a big deal to the owners of the billboard."
BILL HALL
The company uses LED lights that are energy efficient and dissipate heat out the back. But most importantly, they have light-directing optics on top that spread the light evenly.
"We spread the light on a flat surface so it's just as bright in the corners as it is in the middle," Hall said. "It's pointing the light in different directions all over the billboard."
Traditional lights on a billboard use 3,200 watts of electricity and each billboard needed four to eight. Ultravision's lights need 300 watts and each billboard only needs two.
"We've taken the electrical consumption down by 90 percent, which is a big deal to the owners of the billboard."
STANDING OUT IN A COMPETITIVE INDUSTRY
The biggest challenge Ultravision faces is getting its name out there among all the big-name competitors, Hall said.
"We lose deals today because people don't know about us," he said. "And we're not as big as Panasonic or Samsung or some of the other competitors and the customer doesn't know about us. Usually if we have a chance to talk to the customer about our product, we win."
Part of that is telling its story, he said.
The company makes all its panels at a facility in Houston. Most of its competitors import them from Asia, Hall said.
It has almost 50 employees, 25 in Farmers Branch with the rest at the Houston facility.
Before Ultravision, Hall helped grocery stores develop their own gas stations to compete with the convenience stores. Then, he founded Fuel Rewards, which gave shoppers a discount on gasoline after shopping for food.
For now, his focus remains on innovating digital advertising boards.
"We're still trying to grow and develop every day," Hall said.
PHOTO GALLERY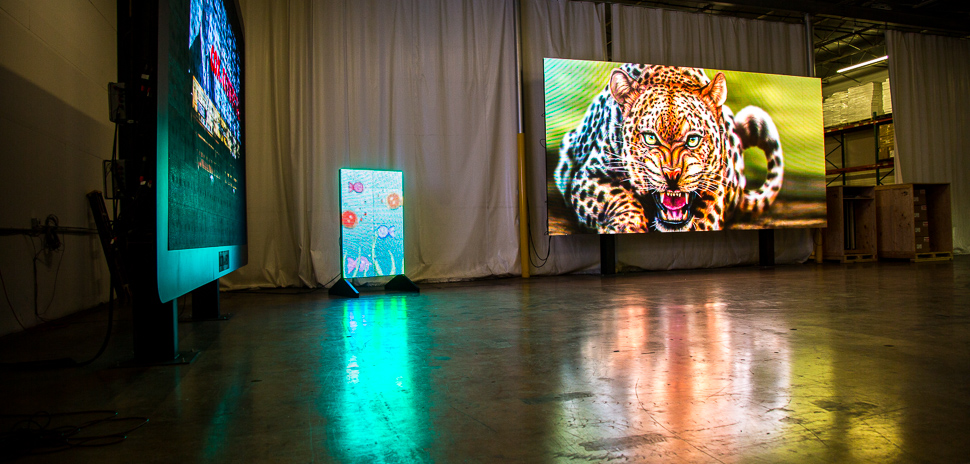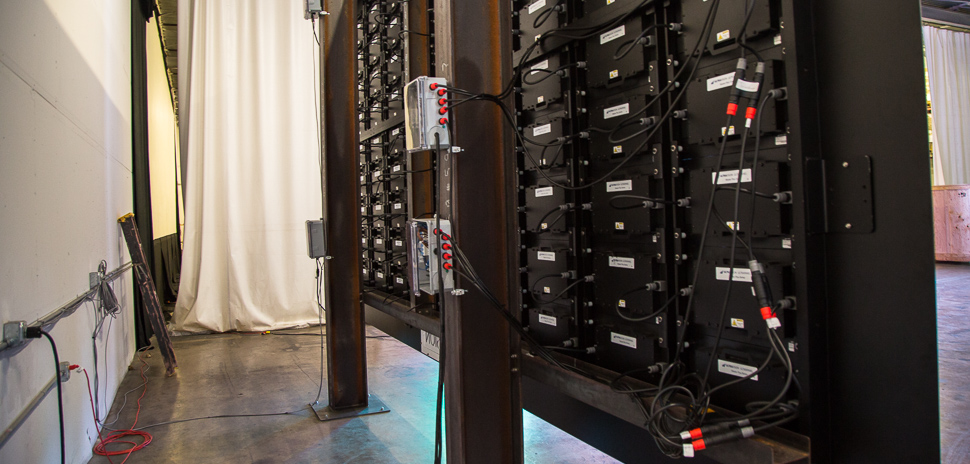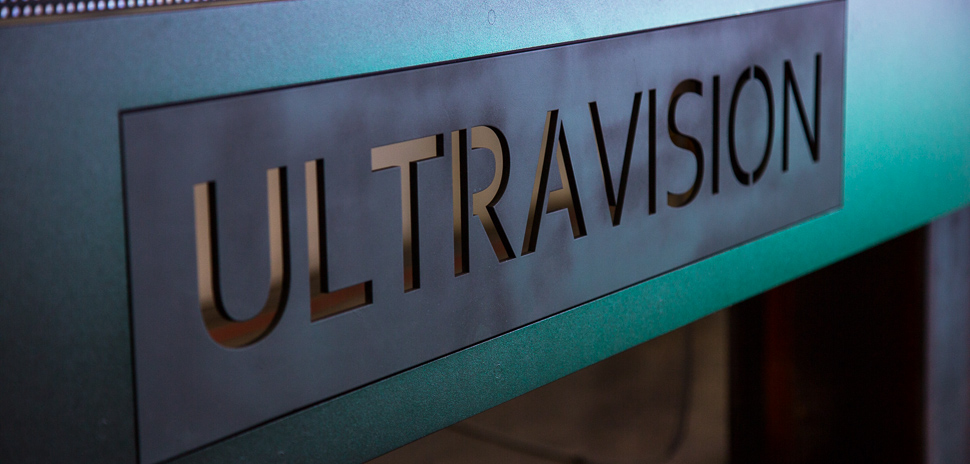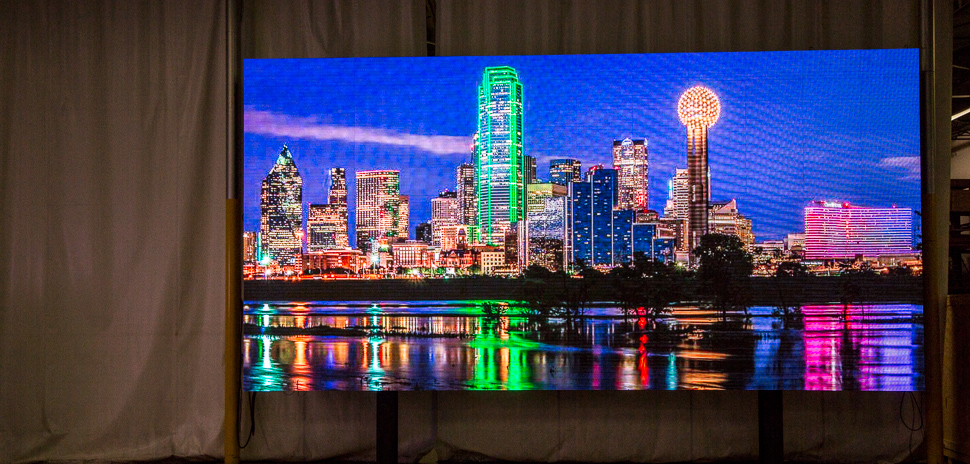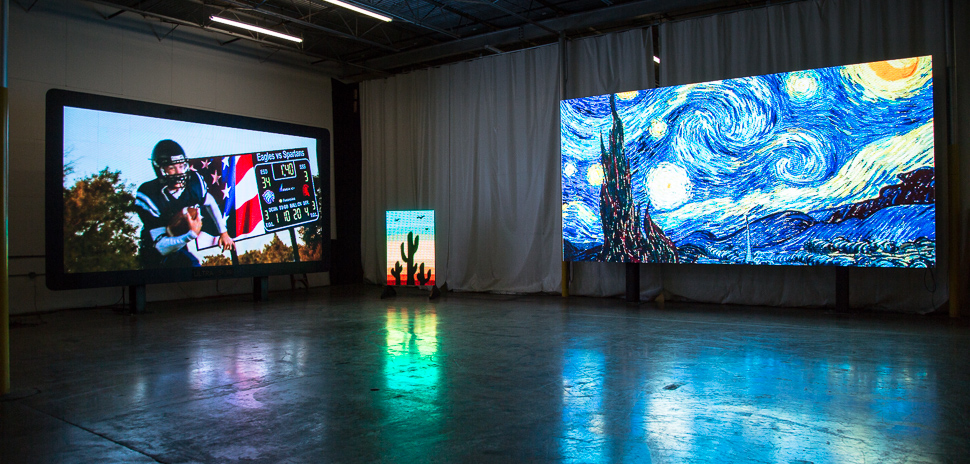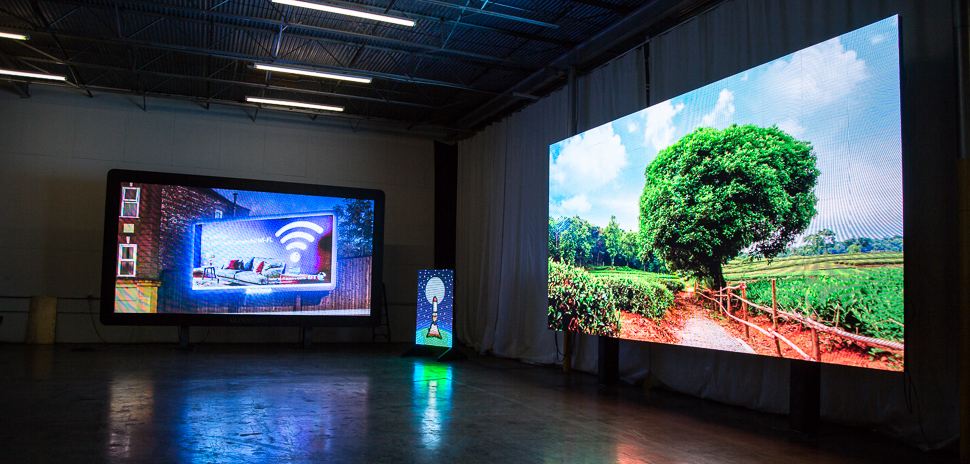 [Gallery photos: Chase Mardis]
---
Dallas Innovates, every day