Plano-based Toyota Motor North America put nearly 2,000 of its employees on the road together in a partnership with Carma Technology Corp. in a yearlong pilot program it called world's first shared-commute and private-carsharing service.
The pilot program was aimed at finding ways to reduce traffic congestion in cities, and it recorded more than 12,000 verified-occupancy trips and 200,000 shared miles over the course of the year using Ireland-based Carma's verification technology. Lawrence Mulligan, Carma's CEO, says the partnership with Toyota is a key first step in unlocking gridlock in cities. The carsharing pilot program showed the potential for high-occupancy travel incentives and technology to help eliminate rush-hour traffic, according to a statement. The pilot succeeded in doubling the U.S. average car occupancy rate at peak travel times to 2.18 persons. 
And, although the pilot program has ended, the next deployment of the technology already is in the works.
34 hybrid Toyota cars available for shared commuting
The pilot included a fleet of 34 hybrid Toyota cars that were available for shared commuting in 21 neighborhoods across the Dallas-Fort Worth area. The cars were available to reserve on-site during the day for personal errands. That's a significant figure because research has found an occupancy rate of 2.14 would eliminate traffic congestion in cities, and even small reductions in traffic volume offer an outsized impact on reducing traffic.
"Sustainable transportation is a key pillar of our environmental action plan at Toyota Motor North America."
Jaycie Chitwood
Carma describes itself as a leader in high-occupancy commuting verification technology, and in the pilot program with Toyota, Carma's proprietary app-based technology allowed participants to receive driving approval, make bookings as a driver or rider, and access vehicles in the program without a key via Bluetooth.
The tech behind automatically verifying vehicle occupancy is based on a Carma patent dating back to 2007.
Its next deployment will be in a partnership with North Central Texas Council of Governments and the Texas Department of Transportation (TxDOT) for drivers to earn toll discounts on TEXpress Lanes by using the app to automatically verify they have at least two people in their car.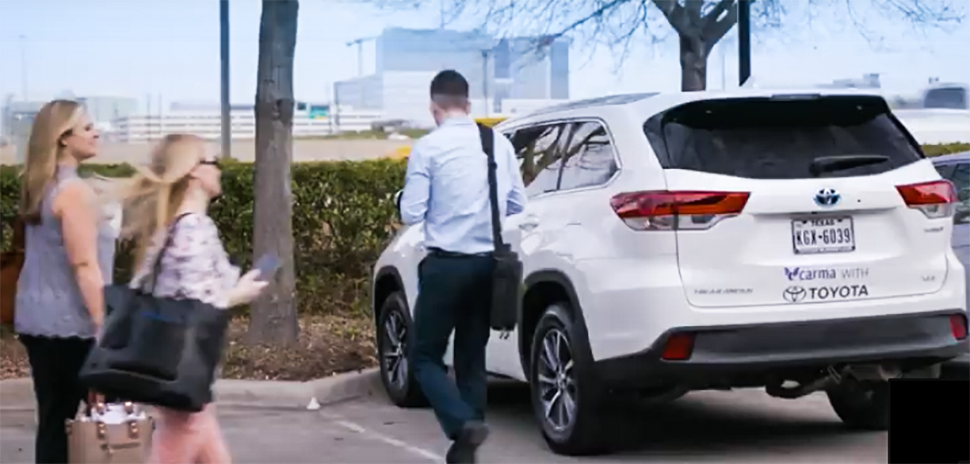 A goal of the pilot with Toyota was to demonstrate that a focus on car occupancy is the first step in solving the rush hour traffic problem in U.S. cities, Carma CEO Lawrence Mulligan said in a statement. He said Carma was delighted with the results of the pilot as well as the fact more than 90 percent of Carma users found the app easy to use.
Driving benefits beyond reducing traffic congestion
The pilot promoting ridesharing also played into Toyota's efforts in sustainability and environmental awareness as a way to reduce pollution and congestion throughout North Texas.
"Sustainable transportation is a key pillar of our environmental action plan at Toyota Motor North America," said Jaycie Chitwood, manager of strategic partnerships for Toyota. "Our partnership with Carma demonstrates this commitment by providing team members with a convenient, affordable and environmentally-friendly alternative to driving alone that reduces congestion and carbon emissions in Plano."
"I have met so many new people that work in different departments I would never have met if it wasn't for this car sharing program."
Kay Frano
Program participants also realized benefits simply because they were carpooling with co-workers. Testimonials from participants include statements such as: "I met a lot of new people at Toyota through Carma, which has actually come in useful more than once in cross-department collaboration. It is much more than a ridesharing service;" "You drive brand new vehicles, you save money, you reduce miles on your own vehicles," and "One of the most valuable aspects of it is connecting with people from all parts of Toyota who I probably would not have met otherwise."
Toyota Market Planning Strategist Kay Frano summed it up this way: "It's been really great for networking. I have met so many new people that work in different departments I would never have met if it wasn't for this car sharing program."
While the environmental and networking benefits are a positive in encouraging carsharing, the core problem the pilot program between Carma and Toyota sought to alleviate was traffic congestion.
The issue is considered a nonlinear problem where reducing peak-hour traffic volume by only 2 to 5 percent would result in reducing the total delay for drivers by 27 to 35 percent. Research suggests simply doubling the car occupancy rate in U.S. cities would essentially end rush hour gridlock every weekday.
The Carma/Toyota pilot, although limited to a single company's workforce, demonstrated it not only met, but exceeded, the goal of doubling average car occupancy.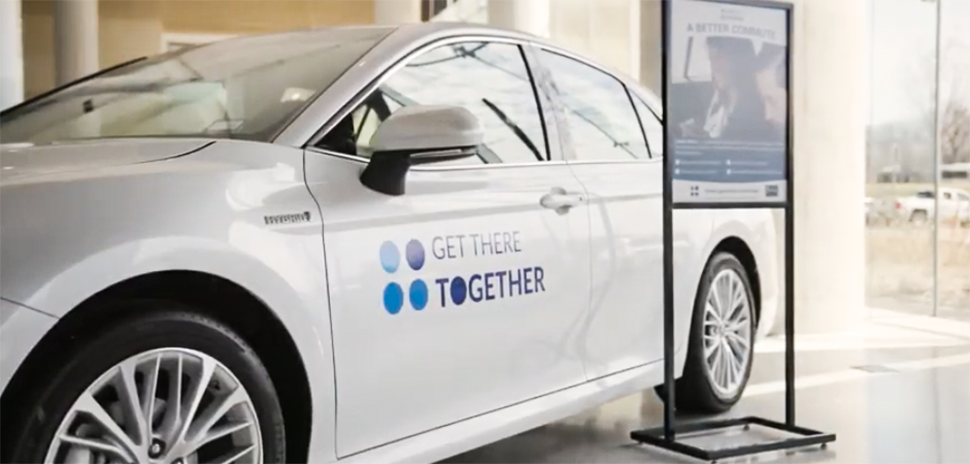 Get on the list.
Dallas Innovates, every day.
Sign up to keep your eye on what's new and next in Dallas-Fort Worth, every day.